Weekend Forecast for March 28-30, 2014
By Reagen Sulewski
March 28, 2014
BoxOfficeProphets.com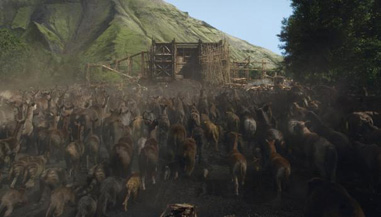 ---
Spring's run of unusual blockbuster candidates continue this week with a very strange combination of director, cast and subject. Real mass appeal films are just around the corner, but this might do for now.

It's hard to think of a filmmaker whose style is less suited for mass market success than Darren Aronofsky, especially once he passed on the Batman franchise. But then, there's no one I can think of better suited to a story about devotion and obsession than him, so perhaps the story of Noah is a perfect fit after all. Russell Crowe stars as the title figure, as a man charged by God to build an ark to save his family and all the animals of the world from a great flood. Meanwhile, local marauders jealous of Noah's really nice boat demand a spot when the flood happens, although they simultaneously insist it won't occur.

In addition to Crowe, the cast also includes Jennifer Connelly as Noah's wife, Emma Watson as his adopted daughter, Ray Winstone as Tubal-cain, the leader of the marauders, Nick Nolte, Kevin Durand and, in what feels like it could be the greatest "and" billing of all time, Anthony Hopkins as Methuselah. While my favorite telling of this story is and always will be Billy Cosby's ("Riiiiiight. What's an ark?"), perhaps there's room for a more modern take on the story. And hey, if people looking for religious movie will give modest business to an amateurish, strawman-filled production like God's Not Dead, then perhaps a more professional production that's at least based on *something* can do quite a bit better.

Although this looks like nothing quite so much as a biblically-set 2012, the production values are certainly high quality, and with a little more grounded (ha!) story and Oscar calibre actors,this has a decent shot at success. Although early trailers were... not good, reviews have come in surprisingly strong, and the advertising push has been good in mainstream circles, which should lead to a bit of a breakout. I'd look for a weekend of $36 million here.

When Arnold Schwarzenegger returned to acting after his political interlude, he found an action audience that had both dwindled in numbers and had largely forgotten him. His films since then have largely been met with yawns, and Sabotage (I'm tellin' alla y'all) looks to be much the same.

Schwarzenegger wins the prize for the least likely person to star in an Agatha Christie adaptation, as this is a loose play off Ten Little Indians, though I presume Christie never had DEA agents in mind for her mystery. After a successful raid on a drug house, Schwarzenegger's team (including Terrence Howard, Mirelle Enos, Sam Worthington and Josh Holloway, among notable actors) starts getting knocked off one by one in bizarre and elaborate ways. As the body count rises, suspicions are heightened about the loyalties of the remaining team members. And then there's bullets – lots and lots of bullets.

Last January's The Last Stand opened to just $7 million, and Escape Plan, which reunited him with Sylvester Stallone, didn't fare much better, with just $10 million. There's little to distance this, if at anything at all, from either of those films, and this is just another sign of how the action world has passed Arnold by. I'd look for about $8 million this weekend.

Opening in limited release is Cesar Chavez, the biopic of the California migrant labor leader who rose to notoriety in the 1960s. Micheal Pena stars as the title character, with the film chronicling his life, rising from poverty to national attention. Also starring in the film are America Ferrara, Rosario Dawson and John Malkovich, which doesn't make this the most star-studded film ever. However, with a targeted release, this could find an audience, particularly among Hispanic communities. On 664 screens, this should find about $4 million on opening weekend.

Multiple expansions also make this weekend interesting, with the aforementioned God's Not Dead, The Grand Budapest Hotel and Bad Words all making big jumps in venue counts. For the first, it's not likely to make much difference, as similar to last month's Son of God, it's due for a big drop as first-weekend rush factor looms large, in addition to direct competition from the big-budget religious film. Despite the increase of 300 or so screens, it should drop to about $5 million.

Wes Anderson's film, however, almost triples its screen count, and seems to be building as it expands. The whimsical caper film might be the most commercial of Anderson's career as audiences start to twig to his unique viewpoint on filmmaking. It's worth noting that Moonrise Kingdom, as odd a mass market film as there was before this one, managed $45 million two years ago. I'd look for $7 million this weekend.

Bad Words, Jason Bateman's theatrical directorial debut, hits wide release after a couple weekends of not so remarkable limited release. He's directing himself in a story about an overgrown manchild who discovers a loophole to enter a national spelling bee and beat up on a bunch of fourth graders while swearing at them. Either you're on board with this or you're calling Child Services; there's little in between here. I'm not seeing the commercial breakout in the limited release numbers, and this should sit at around $2 million for the weekend.

Now, on to the returning films proper – Divergent won the weekend handily with $54 million and became Hunger Games Jr., with the sequel getting a greenlight after just one day of release. While this film is likely headed for a big second week drop, proving that there's an audience willing to shell out for the first weekend is an enormous part of the battle for profitability. I'd give this $25 million for the second frame.

Muppets Most Wanted was a significant step backwards from the last Muppets movie, opening only to $17 million. The joy of having Muppets back on the big screen clearly wore off in the couple of years between that film and this one, though one could imagine that these could continue on well at this level for another few outings. Of course, there's the inevitable drop off in quality, so we're likely to need another reboot in a decade or so, unless someone comes up with a brilliant idea for a new film. Give this $10 million this weekend.

Mr. Peabody & Sherman, the other family film out there right now, suffered a bit of a dip in its third weekend, but should hit the $100 million mark in a couple of weeks or so. For this weekend, it should hit about $7 million.