Weekend Wrap-Up
Need for Speed Lacks Fuel at Weekend Box Office
By John Hamann
March 16, 2014
BoxOfficeProphets.com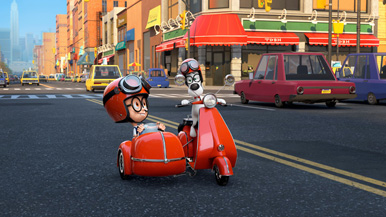 ---
It's an interesting weekend at the box office and not for the usual reasons. We have a mini-blockbuster in DreamWorks' Need for Speed, and a Tyler Perry release, so there should have been some pop at the top of the box office. Surprisingly there was no pop, and the intrigue comes in the bottom half of the top ten this weekend, with Veronica Mars and The Grand Budapest Hotel.

The top 12 movies at the box office are filled with interesting stories. DreamWorks releases Need for Speed with Breaking Bad star Aaron Paul through Disney; Tyler Perry steps up to the plate (again) with The Single Moms Club, his last with Lionsgate; Wes Anderson has a film in the top ten, despite being on only 66 screens; Veronica Mars comes back to life; and Frozen tries to stay in the top ten the weekend before it comes out on Blu-Ray. It was a weekend where the smaller films went big, and the big films went small, as Mr. Peabody & Sherman climb their way to number one.

Yes, last weekend's number two film, Mr. Peabody & Sherman – which finished $13 million behind 300: Rise of an Empire in the last frame – has climbed into the top spot this weekend. The animated Fox release held decently this weekend, earning $21.2 million from 3,951 venues. It fell 34% compared to its $32.2 million opening, an okay but certainly not fantastic drop for an animated movie that did not break out over opening weekend. It is, however, a similar trend to how Fox's last animated March release fared. The Croods, released in March 2013, opened to a higher $43.6 million, and then fell a similar 39% in weekend two. After that point, it never saw a drop higher than 37% until its tenth weekend. The Croods had an excellent opening-to-total multiplier of 4.3, but didn't have demographic competition until that 10th weekend. On the other hand, Mr. Peabody & Sherman has to deal with Muppets Most Wanted next weekend and then Rio 2 in weekend six.

That puts the opening-to-total multiplier for Mr. Peabody & Sherman at much more risk, but at this point, it looks like the Fox release will earn at least $100 million stateside against its $145 million budget. Because of that large budget, it needs to do at least $150 million domestically, with the assumption it doubles that gross overseas. These days, pics need to earn three times that production budget worldwide to see a profit from the theatrical release, as worldwide marketing costs drive up the cost. Will Mr. Peabody & Sherman earn $435 million worldwide? It's extremely doubtful, but The Croods managed the feat. It earned $187 million domestically and a killer $400 million overseas to earn a profit for Fox. I don't see lightning striking twice, as the opening for The Croods was $11 million higher on the domestic front, and we have seen similar opening results in other markets. Finishing number one this weekend will help its fortunes, but it's too little, too late with some decent competition preparing to assault. So far, Mr. Peabody & Sherman has earned $63.2 million in North America.

Finishing second is last weekend's number one film, 300: Rise of an Empire. The fact that Need for Speed didn't open in number one or number two is bad. The even worse thing is that the 300 sequel imploded in its second frame. After debuting to $45 million, 300: Rise of an Empire earned only $19.1 million this weekend, good for a hefty drop of 58%. The original 300 fell 54% in its second weekend, but opened $35 million higher than the sequel. Given these amounts, the sequel should have held better than the original, but didn't. Currently, it looks like Rise of an Empire will exceed $100 million at the domestic box office if it can improve its percentage drop next weekend, but looks to earn about half of the $210.6 million the original earned. On the overseas front, the original earned a more muted $245 million, an amount the original may match, given its $87 million overseas debut last weekend. This one cost $110 million to bring to the screen, and a worldwide total of $330 million should be in the cards. 300: Rise of an Empire has earned $78.3 million so far at the domestic box office.

Third is Need for Speed, the $66 million video game adaptation made by DreamWorks and released by Disney. The Aaron Paul starrer opened to a slim $6.6 million on Friday, a number that goes even lower considering that $1.1 million of that was earned on Thursday night. Marketed like crazy, Need for Speed failed to connect with audiences as the weekend tally came in at $17.8 million from 3,115 venues. Studios should have learned by now that video game adaptions are bad ideas, whether you are Super Mario Bros. ($8.5 million opening, $20 million domestic, $48 million cost), Final Fantasy: The Spirits Within ($11.4 million opening, $32.1 million total, $140 million cost) or Street Fighter ($6.8 million opening, $33 million finish, $35 million budget). Even with Angelina Jolie as Lara Croft, Paramount lost money on both films after all costs are considered.

I can't fathom why Aaron Paul would have chosen Need for Speed after coming off of the critically acclaimed Breaking Bad. Reviews were horrific and the badness of this should have been present at the script-only stage. At Rotten Tomatoes, Need for Speed gathered 129 reviews and only 27 were positive, resulting in a fresh rating of only 22%, lower than Pompeii and Son of God. The B+ Cinemascore provides a little relief, but again, with Aaron Paul up front and Need for Speed fans there on opening night, the Cinemascore is not a helpful bellwether in determining the future of the film. Need for Speed was expected to earn $25 million this weekend, but crashes instead. It is not ikely to get back on the road after this weekend.

Non-Stop has another solid frame this weekend, as the Universal thriller enjoys its third weekend with another double-digit gross. The Liam Neeson actioner earned another $10.6 million and fell a respectable 33% compared to last weekend. Made for only $50 million, Non-Stop has now earned $68.8 million stateside, and may be Universal's third $100 million release of 2014, after Ride Along and Lone Survivor. Non-Stop moved past Liam Neeson's other, recent, non-Taken action films, as The Grey earned $51.6 million and The Unknown earned $63.7 million. Next up for Neeson is A Million Ways to Die In the West, the new film from the creator of Ted and Family Guy, Seth MacFarlane.

That puts Tyler Perry's The Single Moms Club way down in fifth this weekend. Obviously, Single Moms wasn't a draw for the Perry fan base, as this one managed only $8.3 million in ticket sales this weekend, albeit only from 1,896 venues. This marks the first time a Tyler Perry directed film has failed to open in the double digits, with Daddy's Little Girls being the former lowest with an $11.2 million opening in 2007. The good news for Perry is that his next film is one where he doesn't direct, as the multi-hyphenate appears in David Fincher's next film, Gone Girl, due for release in the fall.

Sixth goes to The LEGO Movie, now in its sixth weekend. The LEGO Movie earned another $7.7 million as it dropped only 29% compared to its previous frame. From Warner Bros., The LEGO Movie has pulled in $236.9 million domestically, along with $141.5 million in foreign sales. That totals more than six times the production budget of $60 million.

Seventh is Son of God, as Jesus hangs in for a third weekend. The Fox release earned another $5.4 million, and brings its total up to $50.9 million.

Eighth goes to Wes Anderson's The Grand Budapest Hotel, despite being out to only 66 venues, or 3,885 fewer than Mr. Peabody & Sherman. Grand Budapest Hotel took in $3.6 million from those 66 venues, giving it an average of $55,152. After two weekends in limited release, the Fox Searchlight release has earned $4.8 million, but has already earned $10 million from just a few territories overseas.

In ninth is Frozen, as the Disney feature manages to stay in the top ten all the way from opening weekend to its Blu-ray release date on Tuesday. Frozen earned another $2.1 million, declining only 28%, despite being in its 16th weekend of wide release. It has pulled in $396.4 million since its release began on November 22, 2013, and has also earned $630 million from overseas ticket buyers.

Tenth goes to the Kickstarter success story that is Veronica Mars. Despite being released on VOD the same day as in theaters, the Veronica Mars movie still earned $2 million from only 291 venues. Donors raised $5.7 million to bring the film to screen, so to have this success out of the gate should drive more filmmakers (and fans) toward this method of crowd-funding a film.

Overall this weekend, the top ten had some interesting stories in it, and the overall top 12 tally of $101.6 million beat last year's score. A year ago, Oz the Great and Powerful was on top for a second weekend, with the top 12 pulling in $96.2 million. Next weekend brings Divergent, the latest YA attempt at success, and Muppets Most Wanted, the sequel to the 2011 reboot.