The Amazing Race Power Rankings
By Kim Hollis
March 15, 2014
BoxOfficeProphets.com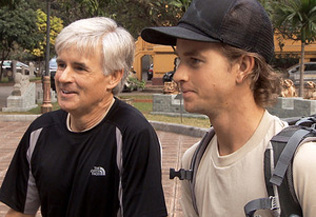 ---
Now that we're a few legs into the race, some trends and patterns are beginning to emerge. We have a couple of teams that look to be head and shoulders above the competition, while others are showing that they can learn from history and avoid the sorts of mistakes that have impacted them in the past. After having recapped the most recent leg (and without a non-elimination!), here's the way I see these teams stacking up.

1) David & Connor (Father/Son – Team Murphy's Law) – This pair showed us the skill and ability that we saw during their first stint on the race. They were able to overcome a mistake that had them raft past their check-in point to win last week's leg of the race. Now that they're back in the winning habit, I wouldn't expect to see anything deter them save a catastrophic injury. When facing adversity, they still collaborate and cooperate, and errors like the one they made last week are rare for them. They'd be the easy choice for #1 if it weren't for…

2) Jet & Cord (Cowboys) – The brothers from Oklahoma are doing just about everything right this season. Like David & Connor, they don't let adversity cause antipathy between them. They've made a lot of savvy moves, such as handing off their extra Express Pass to a team they knew would use it immediately, thereby putting it out of play. They still have their own Express Pass in their pockets, and they seem to have a natural ease when it comes to completing the challenges required of them on the Race. Last week, they had no trouble with the rapids, and the duo seems to be savvy when it comes to selecting the right tasks and/or person for the job. I think there's a pretty clear separation between these top two and…

3) Leo & Jamal (Afghanimals) – I struggled with placing these guys in third because they annoy me and I'm not sure how much of their Race success to date is skill versus luck. So far, though, they have shown that they can learn from the mistakes they made in the previous game. They could easily have lied to the Cowboys in order to gain an advantage in the leg, but realized that such a short-term gain wasn't worth the potential U-Turn that could follow at some point down the line. Additionally, they're not nearly as abrasive this time around. Perhaps they're just getting a better edit, but these two are coming off a lot better than they did during their first appearance on The Amazing Race. One other potential advantage is that they're not encumbered with allies like the Ice Girls from the last game. Still, I'd say that Leo & Jamal are effectively tied with…

4) Flight Time & Big Easy (Harlem Globetrotters) – We know that this pair has the desire to win and the ability to be competitive, because they've absolutely shown those qualities in their previous seasons. This year, they haven't been great and they haven't been terrible. They're strictly a middle-of-the-pack team. Of course, in every leg of the race, the real goal is simply "don't be eliminated," so they're doing exactly what is required of them. It just feels like they're playing it a little safe so far, but I wouldn't rule out the idea that they might just be pacing themselves. Under any circumstance, I like their chances a lot better than…

5) Margie & Luke (Mother/Son) – I would have expected some sort of wipeout from Luke by now, knowing his emotional volatility and occasional immaturity. Perhaps because Margie has been insistent on taking the lead for the most part, they've managed to do okay. There were some signs of vulnerability last week, particularly during the building of the raft and the stress of the journey on the rough rapids, but they were able to pull through all right mainly on the strength of the fact that they were amongst the first set of teams to arrive in Malaysia, giving them a head start. You know that Luke is going to do something to set them back at some point, though. That might just open the door for…

6) Brendon & Rachel (Big Brother/"Team Fetch") – It was a tough week for Brendon & Rachel last week. A lot of their troubles were really due to no fault of their own. After starting the leg in first place, they were the only one of the early teams to get caught in traffic, thereby putting them in the back of the pack on the second plane to arrive in Malaysia. During the rafting portion of the challenge, we saw a little bit of Bad Rachel come out, but to his credit Brendon was able to deal with their craft coming apart in a calm, efficient manner. Sure, they were at risk of losing, but we've certainly seen the two of them in situations where adversity affected them in a far more negative way. Since it was just one bad leg, we still have to put them ahead of…

7) John & Jessica (Newly Engaged Couple) – Jessica is fine, but John is far too prone to make boneheaded mistakes. Watching him endeavor to put a raft together was actually painful. The problem is, even when Jessica knows he's wrong, she never challenges him. At some point, this is going to lead to their eventual elimination from the race, but even so I still think they're better than…

8) Jennifer & Caroline (Country Singers) – Their biggest problem this season is that they don't have anyone to flirt with, and thus they're up against it when they find tasks/directions/instructions that are difficult. And they don't seem willing to stoop to trifling with the Afghanimals (though to Leo & Jamal's credit, they might not be susceptible this year since they understand that the Ice Girls were actually a liability for them last season). I'm sure the girls thought that it was their coquettish nature that convinced the Cowboys to hand over their Express Pass, but we all know that is not the case. Jen & Caroline were lucky enough to get on that early plane last time, but at some point, they're either going to get lost, fail to read a clue properly, or align themselves with the wrong team.

The good news for Jennifer & Caroline is that it does look like a meltdown is in the offing for Margie & Luke (well, specifically Luke), and also that they've got a decent enough lead on Brendon & Rachel and John & Jessica at the moment that elimination may not be in the cards for them tomorrow night. But evaluating on performance and potential, they're the team with the least skill remaining.

Daron Aldridge returns to take over the recap this week, which seems timed about properly for a non-elimination, actually. Check in Monday to see how it all played out.