Friday Box Office Analysis
By David Mumpower
March 15, 2014
BoxOfficeProphets.com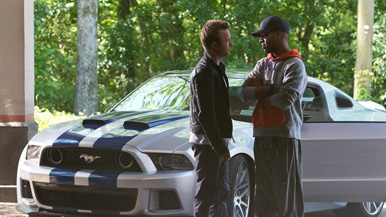 ---
Movie audiences felt no urgent need for speed yesterday, much less the desire to watch yet another Tyler Perry release. While the heralded new releases were disappointing, a couple of small scale titles were excelling. Before the weekend is over, however, the second most popular movie last week should sneak into first place in North America. That is not good news for Aaron Paul and Tyler Perry.

Paul's first attempt as an action hero, Need for Speed, was the top movie yesterday. The Disney release garnered $6.6 million worth of box office. That is the type of debut that places the videogame adaptation in the range of 2005's The Transporter rather than the Fast & Furious series, the holy grail of automotive franchises.

Need for Speed did not struggle due to lack of advertising. Starting with the Super Bowl, Disney pushed the title hard. In addition, Paul did everything he could, making appearances on everything from the guest show circuit to WWE Monday Night Raw. Still, potential movie-goers recognized the movie for what it was, a generic clone with no Vin Diesel or The Rock to justify the cost of a ticket.

The trailers, while prevalent, also lacked the kind of money shot that could have enticed them to attend. There simply was not much of a need for Need for Speed. It should gross about $18.2 million for the weekend while doing well enough overseas to justify its middle-sized production budget of $66 million.

If Tyler Perry's career suddenly died, would it make a sound? If so, you may have heard that chord struck last night as Tyler Perry's The Single Moms Club earned less on its first day in theaters than any other film he has ever directed. The Single Moms Club managed a paltry $3.2 million, a total that is significantly lower than Daddy's Little Girls, his previous bomb. That title managed $4.6 million (on a Wednesday!), or 44% more. There is no sugarcoating what a disappointment this movie has proven to be.

Perry recently announced that his longstanding agreement with Lionsgate was not renewed in 2014. The Single Moms Club was the last project on the slate, and there are two perspectives about yesterday's results. The first is that Perry is right to look elsewhere since Lionsgate dropped the ball on the marketing of what was a very personal project for him (The Single Moms Club was inspired by his aunt). The competing point of view is that the bloom is off the rose on the Perry brand, at least for now.

Since the point of saturation on Tyler Perry movies was reached a couple of years ago, there is no real point in the two parties continuing their agreement. In reality, the truth lies somewhere in the middle. Lionsgate was barely a mid-major when a modest $5.5 million production entitled Diary of a Mad Black Woman became a surprising $50 million blockbuster. Now, Lionsgate is one of the savviest distributors in the industry, while Perry himself is a name brand. The Single Moms Club has fallen through the cracks a bit as the post-divorce release that neither party was incentivized to support ardently. I had presumed that Perry's presence as writer, director and star would be enough to entice viewers. Clearly, I was wrong. The Single Moms Club should gross about $9 million this weekend before becoming as quickly forgotten as Tyler Perry Presents Peeples.

The bottom of the charts this week provides some intrigue. The best performer on Friday in terms of per-location was once again The Grand Budapest Hotel. The latest Wes Anderson masterpiece grossed almost $1.1 million from only 66 locations, and is positioned to earn about $3.3 million this weekend. And that may not be the most impressive limited release.

Veronica Mars, the little Kickstarter that could, was such an X-factor this weekend that most people refused to hazard a guess about its box office. I was on record as saying the movie would struggle to earn $1 million this weekend, and I say that as a passionate fan of the series. To my pleasant surprise, the day and date release attained $1 million on Friday from only 291 locations, a number that is small in terms of our ordinary box office discussions. In terms of ramifications on the movie industry, especially for exhibitors, it is a stunning turn of events. With a per-location average of $3,450, a movie that most people (myself included) watched at home still managed to perform better than Need for Speed ($2,132) or The Single Moms Club ($1,688).

Last weekend's new releases experienced very different fates yesterday. Peabody & Sherman fell only 32% from $8 million to $5.5 million. It is in line for a $22 million weekend, which should be good enough for first place. Meanwhile, 300: Rise of an Empire technically won the battle yesterday with $5.8 million. It will not win the war, though. After spending eight days in first place, 300-er should be surpassed today and tomorrow. With a 67% Friday to Friday decline, it also has shown the tell-tale signs of frontloading, so it will need a strong overseas performance to recoup its $110 million budget. With $17.5 million this weekend, it should be at $77 million after 10 days in theaters but with limited upside moving forward.