Weekend Forecast for March 14-16, 2014
By David Mumpower
March 14, 2014
BoxOfficeProphets.com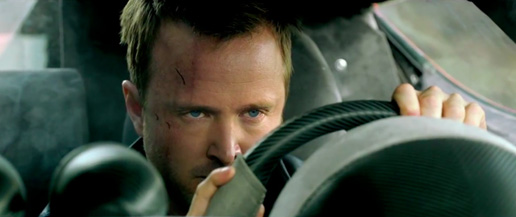 ---
Yo, bitch! Mr. White is going to be so proud of me. I'm starring in a MOVIE!

Yes, folks. Now is the time to face reality. Breaking Bad is over, and the best we can hope for these days is an Aaron Paul movie vehicle that is little more than a glorified knock-off of Fast & Furious. Also, I'll say what we're all thinking: I miss Gus Fring.

Aaron Paul is in a unique situation. The 34-year-old actor has just finished starring in arguably the most critically acclaimed television series of the 2000s. Still a young man by everyone's standards outside of Hollywood, Paul has the rest of his career ahead of him, but virtually no credentials as a feature film lead actor. He was one of the bad guys in Last House on the Left, but unless you're the world's biggest Garfunkel & Oates fan, you don't know what that is. Paul is basically a blank slate as an opener.

He does have a couple of things going for him. He developed a loyal following due to his sympathetic turn as long-suffering meth maker Jesse Pinkman. While Bryan Cranston received most of the fawning media praise, Paul was a two-time Emmy winner in his own right and possesses unique countercultural appeal – arguably the most since Peter Fonda in Easy Rider. As an icon of 420 culture, Paul claims rare popularity in the coveted young adult male demographic. Conveniently, those are exactly the same consumers studios seek to entice with theatrical adaptations of video game premises.

That opinion is the optimist's perspective. The pessimistic viewpoint is that Need for Speed is an obvious Fast & Furious imitator. Alternately, if we want to be low-rent about it, it has some elements of The Transporter, Death Race and Hitman. Hitman is arguably the strongest comparison because it also starred a lead actor from a critically beloved series and was an action film based upon a video game. The star of that film, Timothy Olyphant, now walks a tightrope between starring in his own television series and the occasional middle tier theatrical release. That is Aaron Paul's likely future.

This weekend, all that matters is how many adolescent and virtually adolescent males want to see fast cars and explosions. Need for Speed has been heavily advertised, and was even given the honor of a Super Bowl spot. Torn between the popularity of car films and the saturation of them, I'm leaning toward the former by projecting a $27 million opening weekend. Independent of how well the movie does this weekend, Paul should prove popular during pilot season for the next several years until he finds a new series that sticks.

I do not want to call Tyler Perry an egomaniac; however, we must face facts. Tyler Perry presents a movie approximately every four months these days. If not for a strange copyright issue involving Lee Daniels and The Butler, the only other director in the industry who has demanded such an egotistical moniker is Quentin Tarantino. And the film that bore Tarantino's name was Hero, a production that in no way involved him. Of course, if you can create a couple of box office hits out of thin air every year simply by adding your name to them, you'd do it as well.

The latest release is Tyler Perry's The Single Moms Club, with a premise that sounds vaguely similar to a popular 1996 comedy titled The First Wives Club. That movie, starring Bette Midler, Diane Keaton and Goldie Hawn, was #1 for three straight weekends. The Single Moms Club does not have such lofty expectations. It does, however, possess a stellar cast. Also, the film is a true Tyler Perry project, which he wrote, directed and starred in, unlike Tyler Perry Presents Peeples.

Perry is unquestionably one of the hardest working people in the movie industry, and his audience has demonstrated a great deal of loyalty to him over the years. While I am not expecting a breakout performance here, $16.8 million would be a very strong debut for a title released in only 1,896 venues. And we look forward to having this same discussion again in a few months.

There is one other title of note this weekend, although it is probably not going to be a box office factor. The infamous Veronica Mars Kickstarter has finally produced a movie. Show creator Rob Thomas brokered a deal with Warner Bros. in partnership with its digital division wherein the studio promised to release the film theatrically if Thomas could persuade loyal fans to invest $2 million in the project. As a point of honor, I should note that I was one of the investors, so I do have a degree of bias towards this project. As a box office analyst, I think it is a fascinating story.

For years now, BOP has chronicled the changing dynamics of movie exhibition. Veronica Mars instantly becomes the most heralded day and date release thus far. The catch is that none of the major exhibitors was interested in advancing the timetable of their inevitable extinction. Regal, the #1 chain in the world, flatly refused to show Veronica Mars. A deal was eventually brokered with AMC Theatres which allowed the distributor to rent out the venues. In exchange for paying the rental fees, Warner Bros. will claim all of the box office.

The catch is that most of the box office has already been paid in advance. Once of the Kickstarter reward levels included a free ticket to the movie. Moreover, another reward level included a digital copy of the film, which is great news for this particular Veronica Mars fan. Since I am in Regal's backyard, I would have to drive four hours to see the film on opening weekend. Yes, I have done that before, but only for a Serenity advanced screening. So, I will be watching the movie on Vudu this weekend. Not only is it available to people who supported the kickstarter, but it is open for purchase tomorrow as well.

Projecting box office is a virtual impossibility with all the moving parts. What I can say for certain is that the Thursday advance screenings were more difficult to get than Springsteen tickets. Given how few there are, you should not read too much into that. Veronica Mars could realistically make no box office of note, or it could be a shocking performer. No matter what actually happens, it will be one of the most discussed sub-$5 million debuts of all time. Veronica Mars was recognized as one of our Top Film Industry Stories of 2013. The actual release phase of the film is every bit as engrossing.