Weekend Wrap-Up
300 Sequel Fails to Rise to Original's Glory
By John Hamann
March 9, 2014
BoxOfficeProphets.com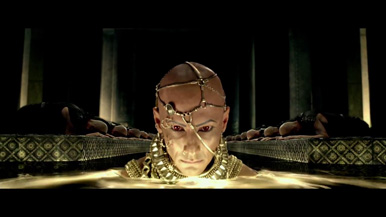 ---
Remember in the old days when an original opened to $40 million and the sequel did $70 million? For 300, and its sequel 300: Rise of an Empire, the reverse is true.

The first weekend in March has become the home of the hoped for mini-blockbuster, ever since 2007 when 300 debuted to a massive $70.9 million after a huge, $28.1 million opening day. The following year, Roland Emmerich's laughable 10,000 B.C. tried to pull the same trick, but earned $35.9 million on its way to a $269 million worldwide gross (not enough for a $105 million-budgeted movie). The same weekend in 2009 brought Zack Snyder's Watchmen, which almost pulled off the 300 trick. It debuted to $24.5 million on its first Friday, of which $4.6 million came from Thursday, leading to a weekend of $55 million (the great start led to failure, as it had four follow-up weekends of 60% drops, and a final domestic tally of only $107.5 million, or an opening-to-total multiplier of less than 2.0). 2010 brought Alice in Wonderland, which opened to a dizzying $116 million, and went on to earn over a billion worldwide.

2011 gave us the massive flop that was Mars Needs Moms ($150 million budget, $39 million worldwide), and in 2012 Disney followed up that disaster with John Carter, the $250 million picture that earned $73 million stateside, but $284 million worldwide. Last year, Oz the Great and Powerful earned a 300-like $79 million in its opening weekend before going on to earn a half-billion worldwide against a $215 million budget. This weekend has become about delivering big budget projects to entice the spring crowd, and this weekend we get 300: Rise of the Empire at a cost of $100 million, and Mr. Peabody & Sherman at $145 million.

Our number one film, as expected, is 300: Rise of an Empire, this time without Zack Snyder in the director's chair (he produced instead) and Gerard Butler as King Leonidas (the King is dead). The sequel is also without the deafening buzz the first created, as that completely original look is no longer that, and we've seen so many sword and sandal epics since then that 300: Rise of an Empire is more akin now to Wrath of the Titans ($33.5 million opening). The Thursday preview gross for Rise of an Empire came in at $3.3 million, which, for a blockbuster, is a middling amount, and was a strong indication that the sequel would not reach $50 million over its opening frame. The Friday number was reported as $17.7 million, but in reality, it was $14.4 million, once the Thursday amounts are removed. That's half of what the original's Friday was seven years ago, and now had to deal with sequel front-loading over the rest of the weekend.

The original 300 had a weekend multiplier (weekend gross divided by Friday gross) of 2.52. There were showings of the original at midnight on Thursday, which would have led to the lower multiplier, but it was front-loaded because of the buzz, not the opportunity to see it at midnight. This time around, the multiplier was similar, at 2.56, which gave 300: Rise of an Empire at weekend gross of $45.1 million. This was just slightly ahead of what tracking was expecting (they got it right for once), but this time around Warner Bros. and Legendary Pictures spent $100 million bringing the sequel to the screen, instead of the $65 million spent on the original. So, we've got a sequel that opened to a little better than 60% of the original and cost $35 million MORE to make. The Cinemascore came in at a B, lower than the original's A-, and reviews were worse as well. The original scored a 60% fresh rating, whereas the follow-up came in at 43% fresh. Considering the fact that this one needs to earn $300 million worldwide to find a profit, it's got a lot of strikes against it. However, it should be able to earn at least $100 million domestic and $200 million overseas (it already has $88 million from international venues), but it all feels like a missed opportunity for the viewer and fan, as well as the studios.

Second this weekend goes to Mr. Peabody & Sherman, a costlier affair than 300: Rise of an Empire, but one that has a much better shot at legging out a win. Produced by DreamWorks Animation and distributed by 20th Century Fox, the kid-friendly Mr. Peabody & Sherman did $8 million on Friday night, but had much better legs throughout the weekend than the R-rated 300 sequel. It had a Saturday figure of $14.5 million, and turned that into a weekend take of $32.5 million, good for a solid weekend multiplier of 4.06. Like Rise of an Empire, tracking was on the spot for Mr. Peabody & Sherman, as they were calling for an opening in the $30-35 million range. Fox put it out to 3,934 venues, and that massive amount of screens brought an only okay average of $8,261. Legs are going to be necessary, as this original will need a multiplier approaching 5.0 to match the budget, a multiplier that even The LEGO Movie won't approach.

The $145 million film was a big gamble for the studio, as the source material for Mr. Peabody & Sherman would not be known to kids, and only to some adults. Mr. Peabody was part of the Rocky and Bullwinkle show from the 1960s, which means those that watched the original are likely past their child rearing years. It also doesn't appear to be as fresh as The LEGO Movie. Initial reviews were stellar, but then subdued somewhat leading up to release. As of today, Mr. Peabody & Sherman had a fresh rating of 77% at RottenTomatoes, a figure that is okay, but well back of the 96% fresh The LEGO Movie, and Frozen's 89% fresh rating. The Cinemascore has to give the studios hope, as it came in at an A, which matched the LEGO event film. The other good news is that Mr. Peabody & Sherman has already been in release overseas for a few weekends, where it has already grossed $40 million, which will help take the pressure off the domestic gross. It has another weekend to work on its own in the next frame, before Muppets Most Wanted comes down on March 21st, and then Rio 2 hits on April 11th.

In third spot this weekend is last weekend's number one, the Liam Neeson actioner Non-Stop. After debuting last weekend to $28.9 million and facing serious competition from 300: Rise of an Empire this weekend, Non-Stop held up fairly well considering. The Universal release earned another $15.4 million and dropped 47% from its opening frame. Taken this is not (Taken dropped 17% in weekend two), but considering what's out there, Non-Stop should be happy with anything around (or better than) a 50% drop. This is only a $50 million film, and after two weekends, it already has a domestic take of $52.1 million, and had earned $20 million overseas prior to the start of this weekend. An $80-$90 million domestic haul is still in the cards, and a $100 million plus finish would give Universal their third $100 million earner of 2014 after Ride Along and Lone Survivor.

Fourth is The LEGO Movie, which is enjoying its fifth strong weekend. The Warner Bros. release earned another $11 million, off 47% as it takes a slight hit from Mr. Peabody & Sherman are now on the scene. The $60 million release has already amassed $225 million stateside, and has earned an additional $136 million overseas. Mr. Peabody is drooling.

Son of God drops to fifth for Fox, as the bottom drops out for the faith-based film. After opening to $25.6 million last weekend, Son of God earns only $10 million this weekend, dropping 60%. Considering the majority of the film was pulled from a mini-series and had a reported budget of $22 million, those behind it should be happy with a gross so far of $41.5 million.

The rest of the top ten are the also rans, all earning around $3 million or less. The Monuments Men, in its fifth weekend, earned another $3.1 million. It fell 37% compared to last weekend, but has a domestic cume of $70.6 million against a $70 million budget. It has also rung up $39 million in overseas sales.

Seventh is Relativity's 3Days to Kill. It earned another $3.06 million this weekend and dropped 38%. The $28 million Kevin Costner release has pulled in $25.6 million, so will have to rely on overseas markets to find a profit. Given the title and the reviews, this is a result everyone should be happy with.

Eighth is Frozen, now in its 15th weekend of wide release and still in the top ten, despite Mr. Peabody & Sherman and The LEGO Movie. Frozen earned another $3.01 million and was off 17% compared to the previous frame. It has a domestic gross of $393.1 million and international earnings of about $616 million. At this rate, $400 million domestic will be tough to hit, but heck, this is Frozen, so anything could happen.

Ninth is Best Picture winner 12 Years a Slave. Despite coming out on home video last Tuesday, 12 Years was still able to pull in $2.2 million this weekend. That's an uptick of 123% as Fox Searchlight added 700 theaters this weekend. The gross moves the award winner's total up to $53.1 million, and has also earned $90 million overseas, against a budget of only $20 million.

Finally in tenth is Ride Along. The Universal comedy featuring Kevin Hart and Ice Cube spends a final weekend in the top ten with a total of $2.004 million. It's in a virtual tie with RoboCop, which earned $2 million flat. Ride Along has earned $130 million to date, while RoboCop's domestic total is $54.7 million (along with $136 million overseas).

In limited release this weekend, Wes Anderson's Grand Budapest Hotel was swinging for the record books in limited release. Out to only four theaters, the follow up to the under-appreciated Moonrise Kingdom earned a wild $800,000, giving it a venue average of $200,000. That's a record for best average for a live-action release, besting Anderson's previous record holder Moonrise Kingdom, which had a location average of $130,749.

Overall this weekend, the box office failed to stay on par with last year when Oz the Great and Powerful opened. The top 12 films this year brought in $130.9 million, where last year, Oz led them to $128.3 million. Next weekend we get a video game adaption in Need for Speed (with Breaking Bad's Aaron Paul in the driver's seat) and another Tyler Perry film, this time called The Single Mom's Club.