Weekend Wrap-Up
Jesus vs. Liam Neeson: A Box Office Showdown
By John Hamann
March 2, 2014
BoxOfficeProphets.com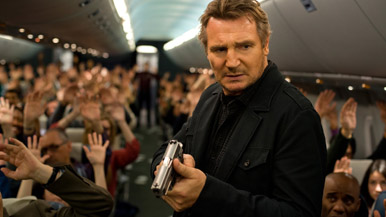 ---
This weekend at the box office answers the age-old question: If Liam Neeson and Jesus were to face off in a box office battle, who would win? The answer: Neither (but they both do very well).

Yes, the faith-based moviegoer faced off against fans of the old-school action thriller, all over a moviegoing weekend punctuated by the Oscar ceremony on Sunday. I always find it kind of sad that only a couple of Oscar players are in the top 12 this weekend, including the multi-nominated American Hustle and the ageless unicorn of the box office, Frozen, which is nominated for animated film and song. We are left with a top 12 that is filled with a lot of less-than-great titles, and a top three that towers over the rest.

Universal's Non-Stop is number one, putting Liam Neeson back on top (again) in another of his one word title action releases that he has become known for, through movies like Taken, Taken 2, The Unknown, and The Grey. The box office for Non-Stop falls into familiar territory for Neeson, as it opened to $10.1 million on Friday night ($0.72 million came from Thursday screenings), and that was translated into a weekend gross of $30 million, which is ahead of The Grey ($19.7 million opening), Unknown ($21.9 million opening), and Taken ($24.7 million opening). The weekend multiplier (weekend gross divided by Friday gross) for Non-Stop came in at 2.97, which is on target for a film like this, despite the Oscar ceremony on Sunday night. The debut is right in Neeson's wheelhouse, and the film should go on to earn at least $60 million and follow that up with an even stronger gross overseas.

While this likely won't be a leggy hit that Taken was, Neeson often surprises. Currently, Non-Stop has a rating of 58% fresh at Rotten Tomatoes, with 90 reviewers finding something to like out of a possible 155; top critics liked it slightly more at 61%. In 2008, Taken's "tomato-meter" was exactly the same, at 58% fresh, and the film went on to earn almost six times that of its opening weekend ($24.7 million opening, $145 million domestic finish). Taken also amassed an $81 million overseas take, so it earned $227 million worldwide against a $25 million production budget. Non-Stop earned a very solid A- Cinemascore, but I have a steady belief that Cinemascores are useless in movies where the star has a fanbase, like Neeson in Non-Stop.

For Universal, this is another early-year success for the studio, this time in association with Silver Pictures, home of the ageless king of hit-and-miss, Joel Silver. After Universal released Ride Along ($125 million domestic) and Lone Survivor ($122 million domestic) at number one already this year, Non-Stop gives them their third hot title only nine weekends into the movie-going calendar year. Universal now takes March and April off, before releasing Neighbors with Seth Rogen and Zac Efron in May, as well as A Million Ways to Die in the West from Seth McFarlane. After that they have the Dumb and Dumber sequel, and then Unbroken at Christmas, which is a script from the Coen brothers, directed by Angelina Jolie. It appears to be a good time to be Universal.

Finishing second is Son of God, the Jesus film from Survivor producer Mark Burnett, and his wife, Touched by an Angel's Roma Downey. Much like a nature documentary from Disney, Son of God is pulled from The Bible miniseries that aired to big ratings on The History Channel last year. So, despite already seeing it, and a rotten rating of 23% at RottenTomatoes, Son of God still earned $26.5 million at the box office (there's a joke in there about sheep, but I promised to lay off). The audience, which had already seen it, still gave it an A minus Cinemascore, despite paying for something they had already seen on TV. It started Thursday night, earning $1.2 million, and grossed $9.4 million on Friday (but that included the Thursday figure). Its weekend multiplier was 2.8, which means it slowed down some on Saturday in terms of box office sales. Compared to other faith-based films, this one provides a middle ground, as Passion of the Christ opened to a zillion dollars, and all the rest came in at less than $10 million.

Finishing third this weekend is The LEGO Movie, the breakout hit from Warner Bros., Village Roadshow, and the folks at LEGO. The LEGO movie came into the weekend with $188 million, leaving me to wonder how much this one still had in the tank after three consecutive frames at number one. As expected, its fortunes are starting to fade somewhat, but it still had a solid weekend in its fourth frame. The LEGO Movie earned another $21 million, which means it was off 33% from last weekend's $31.3 million haul. While a fairly significant drop, the fourth weekend is still in the top 25 fourth weekends of all time. The domestic total for The LEGO Movie has now reached $209.3 million, as it crossed the $200 million mark on Saturday, its 23rd day of release. That makes it the 63rd fastest to get to $200 million, but the second fastest to $200 million for a film released in February. Only The Passion of the Christ did it faster, earning $200 million in a slim 12 days, after its February 25th release date. The LEGO Movie is also approaching the $100 million mark overseas, which means this one has now earned more than five times its $60 million production budget worldwide.

Fourth is The Monuments Men, George Clooney's World War II flick. The Monuments Men earned another $5 million and declined 37% compared to last weekend. This one has held on much longer than I expected, as has a gross so far of $65.7 million, against a production budget of $70 million. It is just getting started overseas, where it has pulled in just over $25 million so far.

Landing in fifth is 3 Days to Kill, the Kevin Costner-trying-to-emulate-Liam Neeson release from Relativity. After opening to $12.4 million last weekend, 3 Days got rocked by Non-Stop this weekend, as it earned only $4.9 million. That gives it a woeful drop of 60%, and leaves me wondering why Relativity positioned this release the way it did. The risk on 3 Days wasn't huge, as it cost only $28 million to make, but opening this film last weekend was a large mistake for a studio that doesn't have a film in release in May, June or September. 3 Days to Kill hasn't had an overseas release yet, but may do okay over there due to Luc Besson's name being associated with the title. The Family, Besson's flick with Robert De Niro and Michelle Pfeiffer relocating their mob family to France, earned $36.9 million domestically, and $31.3 million overseas. 3 Days has earned $20.7 million so far in North American venues.

Sixth is Robocop, the missed opportunity from Sony. Now in its third weekend, Robocop fell 54% to only $4.5 million this weekend, which follows a drop of 55% last weekend. Sony is lucky that this one is performing well away from North America, as the $100 million production has pulled just that overseas. Unfortunately, it's going to need at least another $100 million if it the studio wants to pull a profit, and that certainly isn't happening stateside. So far, the domestic take for Robocop is $51.2 million.

Seventh goes to the laughable Pompeii, which debuted last weekend to $10.3 million, or about $10 million more than what it deserved. In its second weekend, the Paul W.S. Anderson release took in only $4.3 million, giving it a drop of 58%. It did get a decent start overseas, earning more than $20 million, but this one cost $100 million just to bring it to the screen, so it has a lot of worldwide work to do before it comes close to finding a profit.

Eighth is Frozen, our only Oscar nominated release in the top 10. Frozen earned another $3.6 million, dropping a still small 18% compared to last weekend. The Disney release has also now crossed the billion dollar mark worldwide, with a tally of $611 million overseas. Domestically, Frozen has earned an astounding $388.7 million.

About Last Night is ninth this weekend, and is the perfect case of how the mighty fall. After an opening Valentine's Day Friday take of $12.9 million, About Last Night hasn't had a weekend total even close to that amount. After a second weekend of $7.5 million, the Screen Gems release continues to fall, pulling in only $3.4 million this weekend. The good news is that this one cost only $12.5 million to make, so a gross so far of $48.3 million has exceeded the 3x multiplier a film needs to see a profit.

Ride Along is in tenth place in its seventh weekend. The Universal release earned another $3.1 million, good for a drop of 34%. The $25 million comedy has now pulled in $127.2 million from the domestic box office.

In other box office news, Paramount re-released Anchorman 2: The Legend Continues this weekend, to mixed results. Despite re-cutting it with hundreds of new jokes, audiences weren't buying it. The film earned $1.3 million this weekend from 1,317 theaters. Finally, The Wind Rises, from Japanese director Hayao Miyazaki, earned $1.6 million from only 496 venues.

Overall this weekend, thanks to a strong top three, the box office was able to overtake last year's totals. A year ago, Jack the Giant Slayer was on top, leading the top 12 to $92.8 million. This year, the top 12 earned a much better $xxx.xx million. Next weekend could be big. Warner Bros. releases 300: Rise of an Empire, the sequel to the $71 million opener from 2007, and Mr. Peabody & Sherman, the new animated release – with great early reviews - from Fox.