They Shoot Oscar Prognosticators, Don't They?
If I Were an Academy Member...
By J Don Birnam
March 1, 2014
BoxOfficeProphets.com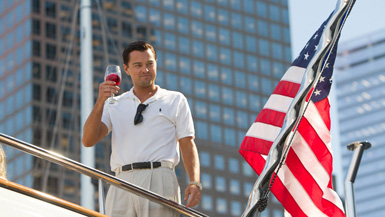 ---
We have talked for weeks about what "they" will pick. We also know from the 2014 Calvin Awards the solid top ten picks of the year from the BOP staff. How about a quick detour, before doing final predictions, into what this lowly Oscar prognosticator would pick for Best Picture if he had an Oscar ballot?

As usual I begin with caveats. This is definitely a solid year in which all nine nominees are good or great movies. There is no Blind Side or A Serious Man there to raise eyebrows. Thus, ranking a movie low this year feels almost unfair, as if the movie was not good, but a low ranking should not be taken as an indictment of the movie.

The more important preliminary note: what does "Best" even mean? At the heart of that question is the crux of all arguments and debates about the Oscars and awards more generally. Humans, after all, are the ones that select what is "Best." As such, our decisions are bound to be subjective, personal, and even arbitrary. Because there is no consensus (nor should there be) about what makes the "Best" movie of the year (is it technical achievement, an inspiring story, a successful production, long-lasting historical value, critical acclaim?), any choice is likely to raise more questions than it answers and inevitably raise controversy. The Academy foisted no easy task on itself when it decided to anoint the best of the year.

So here goes. If I had an Oscar ballot, I would rank the Best Picture nominees as follows.

9. American Hustle. There is nothing really wrong with David O. Russell's character drama, but there is something lacking to it - it is not particularly inspiring or thought-provoking, it contains little to no nested layers or deep meanings. It is superb if considered almost a slapstick comedy, but simply good if seen as a serious drama. The acting is fantastic, particularly Jennifer Lawrence's, but in a year with so many awe-inspiring films, I would have to place this movie last on my ballot.

8. Her. Her is a fantastic movie, but this type of quirky flick is simply not my cup of tea. The BOP staff loved it, demonstrating (thankfully) much more sophistication in our overall taste than that which I possess in my own individual preferences. It is a singularly original and creative movie, with a strong emotional undercurrent, about which nothing negative can really be said. Just chalk me up as one who is much more into traditional story-telling - again, I confess a somewhat unsophisticated taste when it comes to these things. Hence, Her would be eighth.

7. Dallas Buyers Club. I wavered between placing Her and this movie at #7, but gave the edge to Dallas on the strength of the two fantastic performances that are likely to net the movie Academy Awards. The movie tells a compelling, important story about an unlikely hero. Its main flaw, to me, is its disjointed narrative. The story skips through key details of the main character's ordeal, including exactly how he came upon different drug sources when a prior well had dried up. Instead, the filmmakers decided to focus on pulling heartstrings by emphasizing the character's humanity, where I think viewers would have appreciated the logistical feat that the main character had to pull off. It would have been the most powerful testament of all to Ron Woodroof's iron will and devotion to his cause. A good movie, but just a few inches shy of great in my book.

6. Nebraska. When I first saw this movie at the New York Film Festival I was not sure what to make of it, as I have always appreciated Alexander Payne's pieces but never loved one. But Nebraska stayed with me and grew on me as the days went by. The acting is magnificent. The script is sharp, witty, and undeniably humanistic, and the cinematography stunning. Other than Her and another movie that I have ranked higher, it is the story most introspective about people and on the emotions and passions that drive us and hamper us. The characters are delightful and the story highly amusing. A very strong entry, one which given the Best Director nomination may well have been one of the Best Picture five in the old years of five nominees.

5. Captain Phillips. I also struggled with this placement, between Nebraska and Phillips, but ultimately gave the age to the Somali-pirate action movie based on its higher technical achievements. Like Nebraska, Captain Phillips features award-worthy performances (Tom Hanks gives arguably one of the best performances of his career) and a gripping story (if differently gripping than Nebraska). It also exhibits impeccable directing and editing, to dramatic and tension-inducing effect. The undercurrents of the narrative are also solid, as the movie avoids the obvious clichés of vilifying an easy enemy or excessively glorifying a tempting hero. It is thus storytelling at its best, and would be a strong contender for Best Adapted Screenplay if my #4 entry was not a shoo-in to win that Oscar.

4. 12 Years a Slave. I thought long and hard before placing the Best Picture frontrunner in fourth place, because I am well aware of the historical importance of the film and its filmmakers' recognition by the Academy. My main problem with the flick was similar to my bone with Dallas Buyers Club - the narrative structure sped over and sometimes even confused the passage of time, not a good thing for a movie with a period of time in its title. Its lead character's performance, while solid, pales in comparison to the rest of the cast's - Paul Dano, Sarah Paulson, Lupita Nyong'o, Michael Fassbender and Alfre Woodard all give, in my opinion, much more nuanced performances than Chiwetel Ejiofor's arguably two-dimensional performance. Still, the movie is a technical marvel, a haunting and crucially important feat, and a stunning directorial achievement. It would make a strong Best Picture winner - certainly a more deserving one than most of the recent winners of that prize.

3. Philomena. What can I say? The heart likes what the heart likes. One thing a person quickly learns while making these lists is to not be so harsh on the Academy and its choices (for the most part). Philomena is neither as important nor as impressive as 12 Years a Slave, but the main character was endearing, the story amazing, and the overall feeling while the credits roll uplifting. On top of that, the movie features a fantastic performance by Judi Dench, a superb soundtrack, a beautiful message about the importance of kindness and forgiveness, and a nuanced and complex view of how people's believes affect these values. Unlike Slave, I must also confess, it is a movie I have seen repeatedly and could see many times over. Simply put, I liked this movie more than the six others, perhaps for reasons I cannot quite explain, but that I simply know in my mind and heart. They, scratch that, we, vote for what we like.

2. Gravity. This year's other Best Picture front-runner is nothing short of a technical masterpiece of movie making. As I have said before, the snobbery over the lack of a "story" is both factually incorrect and profoundly misguided. Gravity's story is beautiful and compelling, its artistry and symbolism nuanced and profound. But even assuming Gravity has a terrible script, so what? One need spend only a few minutes understanding the various complex and innovative ways in which Cuarón and his team put together this movie to be in utter and complete awe at their creativity, ingenuity, and perseverance. To compare it to another Best Picture winner panned for its supposed lack of story, having the vision and ability to build an almost exact replica of the Titanic and make it sink and float at will is at least as if not more important than writing a compelling script. Moviemaking is about inspiring audiences, but there is no reason why it cannot also be about entertaining them, and about pushing the limits of technology to achieve artistic moments never before imagined. On top of all of this, Gravity is a gripping, edge-of-your seat thriller that I predict will age well even on smaller screens. A deserving winner, should it manage to pull it off, to say the least.

1. The Wolf of Wall Street. Because of the preferential ballot and because Wolf has no chance, if I were an Academy member, it is clear that my ballot would essentially be a vote for Gravity. But why did I place Wolf number one? In my view, this controversial biopic is one of Martin Scorsese's many masterpieces. I have seen the movie three times and each discovered new layers of ingenuous social and political commentary that one can appreciate if willing to look past the offensive and scandalous sexual and drug abuse scenes. The movie features the best performance of Leonardo DiCaprio's storied career, and an incredible performance by a newcomer to the scene, the stunning Margot Robbie. It is also the most urgent and currently relevant, as its message is clear: we have been hoodwinked by Wall Street, an institution so powerful both culturally and legally that even the government cannot really stop them. Most of Scorsese's movies have been received with controversy and skepticism - from Taxi Driver to Raging Bull to The Last Temptation of Christ, picketing and derision were common. But oh if only more movies would seek to enrage and engage people in these difficult subjects rather than simply zombie-fy us. In any case, despite the controversies they engendered, all of those films have ended up on the winning side of history and are now hailed as American classics. It may seem hard to see it today, but I expect the same to become true of The Wolf of Wall Street, which is easily my favorite movie of the year.

Final predictions are next, for real this time.