Weekend Wrap-Up
Lego Three-Peats While Pompeii Blows
By John Hamann
February 23, 2014
BoxOfficeProphets.com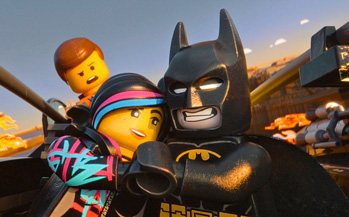 ---
It's the post-President's Day, post-Valentine's Day frame, and after three days of huge ticket sales last weekend, most of the box office goes back into hibernation mode, unless you are The LEGO Movie, of course.

The LEGO Movie, from Warner Bros., Village Roadshow, and well, LEGO, three-peated this weekend, our second consecutive movie to win three weekends in a row, after Ride Along did it through mid to late January. After a long weekend where it earned $49.8 million over three days, and a massive $62.5 million over four days, even a juggernaut built of LEGO had to come back to earth a bit this weekend. After a Friday gross of $7.3 million (down 43% from Valentine's Day), the animated 3D release stormed back over the remainder of the weekend, earning $31.5 million. That means that The LEGO Movie was off 37% compared to the three-day portion of last weekend, but still managed a 4.2 weekend multiplier, which means LEGO is not going to fade away easily. A third weekend over $30 million puts it with the top 20 third weekends ever, as Gravity's $30 million weekend put that film at number 20. Frozen's third weekend was $22.6 million, good for 59th place amongst third weekends.

The challenges will now get tougher for The LEGO Movie. Next weekend, it will likely not be number one, as Liam Neeson and Jesus face off in Non-Stop and Son of God (too bad they aren't BOTH action movies), with both films debuting on more than 3,000 screens. The weekend after that, even bigger hitters come to the plate in the form of the sequel 300: Rise of the Empire, and the animated Mr. Peabody & Sherman. For now, though, prospects are still strong for a $200 plus million finish, as The Lego Movie has a gross to date of $183.2 million, against a production budget of only $60 million. Overseas, it has earned more than $50 million, which means The LEGO Movie has already earned four times its production budget worldwide, and has yet to open in some big territories, like Japan and Australia. The sequel has already staked a claim to one of the biggest weekends in 2017 – May 26th. Better look out, Marvel.

Finishing a fairly lame second is 3 Days to Kill, a badly titled star vehicle for comeback artist Kevin Costner. After showing up in Man of Steel and Jack Ryan: Shadow Recruit, Costner went back to leading man status in 3 Days to Kill. The result is lower than the opening weekend of Last Vegas and several football fields away from something like Taken. The unholy triumvirate of Luc Besson, McG, and Costner got 3 Days to Kill (a title I would be okay with if Tarantino was directing Danny Trejo in something) to open to $12.3 million this weekend, after an opening Friday at $4 million. The fact that it went beyond $10 million and out-earned Pompeii should earn it some credit. It's Costner's biggest above the title release since The Guardian ($18 million opening) in 2006, when Ashton Kutcher was still a name. Relativity put 3 Days to Kill out to only 2,872 venues, so you can see even the studio didn't have a lot of faith in it.

Why so little faith? It received worse reviews than a Paul W.S. Anderson's Pompeii, and tied the same Paul W.S. Anderson film with its Cinemascore. At Rotten Tomatoes, only 25% of overall critics found something to like, and of the top critics at the site, that number drops to 16%. The Cinemascore comes in as a B (which could be for Bad), and audiences gave it the collective shrug and moved on. The good news for Relativity is that 3 Days to Kill cost only $28 million to make, a number this one could match stateside. Next up for Costner is Draft Day, which has Ivan Reitman (Ghostbusters) behind the camera, a significant step up from McG.

Third place goes to Pompeii, the new film from the director of Mortal Kombat, Solider and several Resident Evil movies. The historical disaster movie debuted to $10 million this weekend from 2,658 venues, and maybe wasn't as bad as some were expecting, as it earned a 30% fresh rating and a B Cinemascore. The problem here is that the budget is listed at $100 million, and whoever greenlighted that amount should have their head checked. Even if they sold tickets for $1, there aren't 100 million on the planet who would want to see this movie.

Fourth spot goes to the 2014 version of RoboCop, and even though this shouldn't have been a Valentine's Day movie, RoboCop gets blown away compared to last weekend. Last Friday, RoboCop made $6.8 million; two days ago it made $2.6 million, off 62% compared to the Friday before. Making matters worse is the fact that RoboCop was a Wednesday opener, which means there should have been no rush on its first Friday. Over the entire second weekend, RoboCop earned only $9.4 million, which means it was off 57% compared to its opening Friday-to-Sunday. For a film that cost $100 million to make, a second weekend below $10 million is not good news whatsoever. The only positive takeaway for this Sony release is that it made $30 million over its first six days domestically, and has pulled in $100 million away from North America. So far on the domestic front, RoboCop has earned $43.6 million, and looks like it will top out between $50 and $60 million.

Fifth is The Monuments Men, George Clooney's World War II Nazi art heist movie. After a fairly strong second weekend, thanks to the holiday Monday, even The Monuments Men gets taken down this frame. The action comedy earned $8.1 million and fell 48% compared to the three-day take last weekend of $15.5 million. The Sony release needs to match the $70 million production budget stateside, and then let the overseas grosses find the profit for this one. So far, with a gross of $58.1 million, that $70 million target is still in play, and the film is slowly rolling out overseas, where it has earned about $10 million so far.

Sixth goes to About Last Night, which we now know was the big, big winner of the Valentine's Day Friday last weekend. Last Friday, About Last Night earned $12.9 million on Valentine's Day alone, and then earned only $2.3 million this Friday, giving it a Friday-to-Friday drop of 82%. Over the weekend proper, About Last Night could only find $7.4 million, which means it declined 71% from its $25.6 million opening weekend. For Screen Gems, they spent only $12.5 million to make this one, so a gross so far of $38.2 million isn't too bad.

Ride Along finishes in seventh place, which means we have two three-peaters in the top 10. The Kevin Hart/Ice Cube comedy earned another $4.7 million in its sixth weekend and dropped 46%. The $25 million Universal release has pulled in $123.2 million so far.

Like usual, the only non-LEGO film that doesn't take it on the chin is Disney's Frozen, as it enjoys its 13th straight weekend in the top 10. Frozen earned another $4.4 million this weekend, which means it was down a not-terrible 30% compared to last weekend. With a domestic gross now of $384.1 million, Frozen passes Finding Nemo, the second biggest Pixar release after Toy Story 3, and Harry Potter and The Deathly Hallows Part 2, which grossed $381 million. It will likely finish its run as the 19th biggest domestic release ever, as #18, Transformers: Revenge of the Fallen, grossed $402.1 million. Worldwide, Frozen is approaching the billion dollar mark, as it has taken in about $980 million. Fun Fact: Since the turn of the millennium, only six other films have spent 13 or more consecutive weekends in the top ten: Avatar (14 weekends), Crouching Tiger, Hidden Dragon (14), Traffic (tied with 13), A Beautiful Mind (15), Chicago (16), and My Big Fat Greek Wedding (18).

Ninth goes to Endless Love, another one of these Valentine's Day flowers that is wilting badly after a week in release. Endless Love fell 80% from Friday-to-Friday, and earned only $4.3 million this weekend, off 68% compared to last weekend. A Nicholas Sparks movie this is not. Endless Love cost Universal only $20 million to make, and it has a gross so far of $20.1 million.

Finally in tenth is Winter's Tale, another Valentine's Day chocolate that has gone bad and is being thrown out. After earning $7.3 million last weekend, this Warner Bros. release fell 71% to $2.1 million this weekend, after audiences figured out that this isn't a great film. Winter's Tale cost $60 million to make, and has a gross so far of $11.2 million.

Overall, the box office was way down from last weekend's three-day top 12 take of $160.4 million, but that was expected due to the holidays. This weekend the top 12 earned $97.9 million thanks to The LEGO Movie. Last year, over the same weekend, the top 12 earned $88.5 million as both Snitch and Dark Skies tanked, leaving the three-weekend-old Identity Thief in top spot. Next weekend brings Non-Stop, a Liam Neeson actioner on an airplane, and the Jesus movie, Son of God, with no Mel Gibson association this time.