Friday Box Office Analysis
By David Mumpower
February 22, 2014
BoxOfficeProphets.com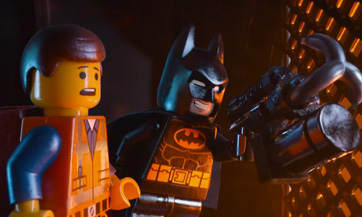 ---
Two new movies entered the marketplace this weekend, and their lone competition was two-time champion The LEGO Movie. A big budget 3D movie and a Kevin Costner film should have no trouble winning the weekend, right? RIGHT?

For the third consecutive weekend, The LEGO Movie will be the #1 movie in America. The Warner Bros. instant classic fell 43% to $7.3 million yesterday, which sounds troublesome until I note that it effectively matched the combined total of the weekend's new releases. Also, all of the major titles in release last Friday received the traditional Valentine's Day Friday bump. Maybe you don't think The LEGO Movie is romantic, but that's because you do not already have The Simpsons House assembled in your living room. As a LEGO VIP, I was able to buy it before it was released to the general public. On a seemingly unrelated note, I may be biased toward The LEGO Movie, which is headed toward a $29 million weekend.

Meanwhile, Relativity and Kevin Costner had 3 Days to Kill; alas, audiences were unwilling to kill two hours with this Taken clone written by Luc Besson, the Taken guy. North American consumers once again told movie studios what they've been saying for 20 years now. Kevin Costner hasn't been an accepted box office lead since The Bodyguard. This point may or may not be reinforced again with the upcoming April release Draft Day.

The bad news for 3 Days to Kill is that a $4 million Friday should lead to a $12 million weekend. On the plus side, international prospects are strong thanks to the drawing power of Besson's team. Also, the movie cost only $28 million to produce so it's probably going to wind up being a financially viable if not lucrative title, even if no one in North America remembers it that way.

What if Sony released a $100 million 3D production in 2,658 locations and nobody showed up? That's the reality we are facing today as the appropriately named Pompeii grossed a pathetic $3.4 million. Pompeii did little to distinguish itself from a previous 2014 3D release that bombed, The Legend of Hercules. That film earned $3.2 million on its first day and has current domestic box office of roughly $18.5 million. It also cost $30 million less to produce, so Pompeii's biggest claim to fame so far is that it's the biggest bomb of 2014 to date. Pompeii's strongest selling point on paper was 3D lava, and the trailers didn't even focus on that, instead making the project look like a Gladiator rip-off starring one of the dudes from Game of Thrones.

On a note that may be amusing only to me, Paul W.S. Anderson, the current husband of Milla Jovovich, directed Pompeii. She was previously married to Luc Besson. So this was a terrible weekend for the various husbands of Jovovich.

For the same reason as mentioned with The LEGO movie, all of last Friday's new releases were down dramatically yesterday. RoboCop fell 62% to $2.6 million (and was a really lousy date movie if any of you did that on Valentine's Day, incidentally). About Last Night absolutely cratered, falling a near-historic 82% to $2.3 million. It's going to be a textbook example of a one-day box office wonder as its first day total of $12.9 million represents roughly 40% of its current total of $33 million.

The love may be endless, but the box office for Endless Love is short and sweet. It collapses 80% to $1.5 million and will not be in the top ten much longer. Despite what the groundhog said, Winter's Tale is suffering from an early spring, as it plunged from $3.7 million last Friday to $670,000 yesterday. That is an 82% drop, and more important, is a box office killshot. Winter's Tale is effectively done with $9.8 million.