Weekend Wrap-Up
Lego Movie Destroys Sturdy Monuments at the Box Office
By John Hamann
February 9, 2014
BoxOfficeProphets.com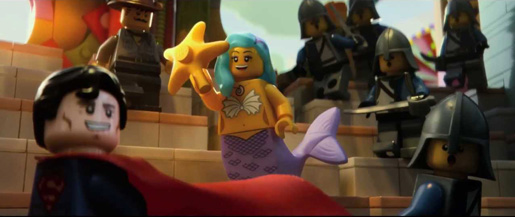 ---
The Lego Movie did this weekend what the Seahawks did to the Broncos last weekend. For The Lego Movie, obliteration is about the only word that describes it, as like Frozen, we have another animated success story that is turning the box office rule book on its head.

Yes, what Frozen did for girls over the last 11 weeks, The Lego Movie is doing for boys this weekend, delivering quality entertainment to our youngsters and our young at heart. The Lego Movie found the box office sweet spot this weekend, joining the biggest top 10 non-summer, non-Thanksgiving/Christmas openers ever. Also opening this weekend is George Clooney's Monuments Men, the once Oscar positioned, star-studded World War II film, that got moved by Sony into February because "the visual effects weren't going to be ready" by its original release date (or, Sony saw it and wasn't impressed). And finally we have Vampire Academy, the ridiculous cross between Hogwarts and Twilight, a film that should not be seen by anybody.

Our number one movie is The Lego Movie, the perfectly advertised, perfectly scheduled, and almost perfectly made movie, starring Lego characters. The Warner Bros. release got started on Thursday night, earning an expectedly quiet $400,000 – at this point, tracking seemed right, calling for a $45-$50 million weekend. The 3D animated flick was positioned correctly, with The Nut Job fading and Frozen relying on a sing along re-release to keep its 10-weekend momentum going. The Lego Movie's Friday number came in at $16.75 million (or $17.1 million with Thursday included), and at that point I knew we were looking at something special. If it was frontloaded, The Lego Movie would likely see a weekend multiplier between 3.5 (a $59 million weekend), and 4.0 (a $67.4 million weekend), as at its most basic this is a toy movie for kids, and Saturday and Sunday were going to outgross Friday regardless how many adults showed up on opening day. I'm a 42-year-old, and would really like to see The Lego Movie, and have been curious about this weekend multiplier for a while.

In the end, The Lego Movie earned $30.9 million on Saturday, an 80% increase over the Friday number, and earned an estimated $21 million on Sunday. The weekend total for The Lego Movie became $69.1 million, giving the Warner Bros. release the second biggest weekend total for the month of February, behind only The Passion of the Christ, which took in $83.8 million in 2004, and ahead of Hannibal, which earned $58 million in 2001 (note the longstanding records in February). Warner Bros. put The Lego Movie out to 3,775 venues, and it earned a stellar venue average of $18,307. It opened in the same ball park as Frozen ($67.4 million), and the Pixar trio – Up ($68.1 million), Brave ($66.3 million) and The Incredibles ($70.5 million). This is extremely solid company, as all of these films had much better release dates than The Lego Movie.

Made by Village Roadshow and Lego Systems, and distributed by Warner Bros., The Lego Movie cost its makers only $60 million to bring to the screen. Compared to films like Frozen, Up and Brave, it was relatively cheap, as the comparisons all cost more than $150 million to make. The studios broke the rule book by opening this one so early in February. The former biggest animated film to open in February is Gnomeo and Juliet, the forgettable release that debuted in third with $25.4 million in 2011. The maybe more well-remembered February animated release is Coraline, which is the second biggest animated opener for the second month, and it started with only $16.8 million, an amount The Lego Movie opened to on its first day.

The marketing has been in play for months, but I believe the TV ads really put The Lego Movie up over the top, as it directly engaged adults as well as kids. Adults were able to see the humor, the characters and the filmmaking within these short spots, and the music caught everyone's attention. Then the reviews came, and they were nothing short of spectacular. Currently at Rotten Tomatoes, The Lego Movie has only four negative reviews out of a possible 113, leaving it with an uber-fresh rating of 96%. The Cinemascore also came in at A, so the filmmakers have put forward a great product and a sequel is already scheduled. Going forward, The Lego Movie is positioned extremely well. President's Day is next weekend, so a drop higher than 30% would be a surprise, which means this one will have easily earned $100 million by the end of next weekend. It then has until March 7th – a full month to operate – before another animated feature hits the scene in the form of Peabody and Mr. Sherman. This is an amazing start for a new super-franchise, and the future definitely looks bright.

Finishing second is The Monuments Men, George Clooney's true story of museum curators going to war to steal art back from the Nazis. With a star-studded cast that includes Clooney, Matt Damon, Bill Murray, Cate Blanchett and John Goodman, and a plotline that screams Oscar, one had to wonder why Sony pushed this one from a prime December release to this weekend, which can be bleak at best. Clooney said that visual effects weren't ready, but if they could finish Wolf of Wall Street in time for Christmas release, one has to wonder.

Thanks to the all-star cast, The Monuments Men still opened okay, earning $22.7 million from 3,083 venues. It managed to succeed despite reviews on the dismal side, as it is currently 33% fresh, with 49 good reviews out of a possible 148. Word-of-mouth seems decent enough, though, as the Cinemascore was a B+. The Monuments Men could easily have pulled a Labor Day and died like last weekend's opener, which earned only $5 million, but instead its cast shines and draws crowds. The Monuments Men cost $70 million to make, and the cast and plot line should be able to deliver strong overseas results, so it will be interesting to see how The Monuments Men performs in the end.

Third spot goes to the film that has been number one for the last three weekends, Ride Along, starring Ice Cube and Kevin Hart. Despite the new competition and losing 67 venues, Ride Along still held up well for Universal, pulling in $9.4 million in its fourth frame. That's good for a decent drop of 22%, and pushes the film over the $100 million domestic mark in its fourth weekend. Remember, this one cost the studio only $25 million to make, so a gross so far of $105.2 million and a finish around $125 million is pretty spectacular. Kevin Hart fans don't have long to wait for another release of his; he stars in About Last Night, which opens on Valentine's Day next weekend.

Dropping from second last weekend to fourth this weekend is Frozen, the Disney release that has been in wide release for an amazing 11 weekends. With new animated competition and a run that has gone one forever, Frozen's weekend gross dipped to $6.9 million this weekend, a drop from last frame of 23%. Considering the studio launched the sing-along version last weekend, Frozen could have easily tanked this weekend, but continues to hold decently, despite a domestic gross so far of $368.7 million. Four new films will likely push ahead of it next weekend, which means it will likely be out of the top ten in two weekends. The $150 million Disney release has also racked up more than half a billion in overseas dollars and has become the ninth biggest non-sequel worldwide release ever, at approximately $910 million.

Fifth goes to That Awkward Moment, the comedy that debuted last weekend to a muted $8.7 million. The Focus release surprisingly held up decently this weekend, pulling in $5.5 million, and dropping 37%. The $8 million Zac Efron release has a total so far of $16.8 million.

That puts Lone Survivor into sixth. The Mark Wahlberg war pic earned another $5.3 million and fell 25%. Lone Survivor is the other January release from Universal that broke the $100 million mark, as it has a gross so far of $112.6 million.

Vampire Academy opens in a sad seventh spot, as audiences spotted stupid from a mile away. The ludicrous looking Harry Potter/Twilight mashup failed miserably this weekend, opening to only $4.1 million. The even better news is that it should be gone by next weekend, as Valentine's openers should wipe this one off the map.

In eighth is The Nut Job as it gets exactly that from The Lego Movie. The Open Road release earned only $3,8 million as it declined 48% from its fourth place perch last weekend. The $42 million rodent film has now earned $55.1 million.

Jack Ryan: Shadow Recruit drops to ninth, following fifth place finish last weekend. The Chris Pine release earned $3.6 million in its fourth frame, falling 32%. Domestically, Shadow Recruit is a disappointment, earning only $44.5 million so far against a $60 million budget. Overseas though, it has fared better, pulling in $61 million so far.

Tenth is Labor Day, last weekend's romantic drama miss. After opening to $5.2 million last weekend, Labor Day can only find $3.2 million this weekend, equalling a drop of 38%. The $18 million Paramount release has a gross so far of $10.2 million.

Dropping outside of the top ten for the first time in eight weekends is American Hustle, my current favorite for a Best Picture Oscar. Hustle earned $3.1 million and declined 25%, as Sony gave up about 600 theaters. It has a gross so far of $138.2 million. Gravity earned another $1.7 million this weekend, and drops 17%. It has a domestic gross of $266.5 million, and a worldwide take of $700 million, against a $100 million budget.

Overall this weekend, the box office is large compared to last weekend's top 12 of only $70 million. A year ago, the box office was led by Identity Thief with $34.6 million, but the top 12 took in only $86.2 million. This weekend, thanks to an $80 million plus 1-2 punch, the top 12 earned $139.4 million. Next weekend has Valentine's Day on a Friday, and a President's Day weekend to match. Openers include About Last Night with Kevin Hart, Endless Love from Universal, the remake of Robocop and Winter's Tale, the fantasy with Colin Farrell and Russell Crowe.