Weekend Wrap-Up
Super Bowl Wins Box Office Weekend
By John Hamann
February 2, 2014
BoxOfficeProphets.com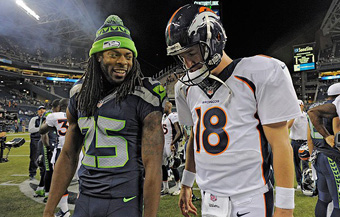 ---
A risk-adverse Hollywood is on full display this weekend, as studios trot out already dead Oscar losers (Labor Day), and fledgling comedies no one will remember in a month (That Awkward Moment). The winners of the weekend are repeats, as Ride Along finishes number one for the third straight weekend and Frozen rises again.

Yes, Ice Cube, Kevin Hart and Ride Along proved to be the number one film in North America for the third straight frame, as the Universal buddy comedy continues to… well... ride along. Ride Along finished the weekend with a score of $12.3 million, which is certainly not spectacular, but the three-peat will keep the film a discussion point in the press. It fell a rather large 42% in weekend three as the Super Bowl plays a factor, but the gross this weekend pushes it further towards $100 million. It will see that amount by the end of next weekend - its domestic gross already sits at $93 million.

Ride Along's three-peat is much like that of Tropic Thunder, Ben Stiller's war comedy that also featured Robert Downey Jr. and Jack Black. Tropic Thunder earned $11.5 million to take the number one spot in weekend three, only winning by default when Vin Diesel's Babylon A.D. flopped. I remember Tropic Thunder for the three-peat, but it should be remembered that the film that took down The Dark Knight's run of four consecutive weekends at number one. Had better films been released, Thunder would not be remembered, much like Ride Along. Still, this $25 million Universal release has now earned almost four times its budget stateside, and matched with Lone Survivor, this weekend ends an extremely successful January for the studio.

The big surprise is that Frozen has finished in second place, with Disney going outside the box this weekend to keep their constant revenue generator going. Now in its tenth weekend of wide release, Disney released a "singalong" version of Frozen and the experiment appears to have worked. Frozen earned another $9.3 million and was up compared to last weekend by 2%. At this point in its run ($360 million and counting), it should be hemorrhaging screens (still on 2,754 screens) and audiences, but with the innovation of the singalong, Frozen gains new life again. Holding next weekend could be tough, but if Disney can position this one for Valentine's Day, it could end up with $390 million.

The Frozen phenomenon continues, as this is the fourth highest gross for a film in its 10th weekend, behind Slumdog Millionaire's $12 million, and ahead of E.T.'s $8.4 million. Considering the fact that we are talking about one of the leggiest movies of 1980s and an Oscar winner that came up from the ashes, the animated picture is in some pretty powerful company. Frozen crossed the $350 million mark on Wednesday, becoming one of only 27 films ever to reach that mark domestically. It has also crossed the $500 million mark overseas, with Disney handling the release in all territories except a handful.

New release That Awkward Moment opens in an ugly third this weekend, as Zac Efron tries to resurrect a career that has had him appearing in four films over the last two years that failed to earn a million dollars. The opening for That Awkward Moment came in at $9 million, too soft to gain any kind of traction with a few big releases coming next weekend. Focus Features released the film to 2,809 locations, and it garnered a venue average of $3,208.

Sold as a movie for women, but looking more like a movie for guys, this muddled messaging didn't help Awkward Moment, and neither did its Super Bowl weekend release date. It did outgross the cost to make the film ($8 million), and obliterated the pick-up cost ($1.5 million), but the pick-up would have brought advertising costs with it as well. That Awkward Moment didn't receive great reviews and earned a blah B Cinemascore, so this one is going to be a distant memory in about two weeks.

Fourth is The Nut Job, and while it's certainly no Frozen, this silly animated adventure from upstart Open Road seems to keep bringing the kids in. The Nut Job earned another $7.6 million in its third weekend, and was off 37% from its $12.1 million take last weekend. Made for a comparatively small $42 million (Frozen cost $150 million to make), Open Road has turned The Nut Job into a winner, with a gross so far of $50.2 million. It is sneaking up on Open Road's biggest release ever, The Grey with Liam Neeson, which took in $51.6 million during its run. It is going to need to find some overseas success to find a real profit, but at least it's not carrying a loss. I expect The Nut Job to be kneecapped next weekend by The Lego Movie, which has had an ever-present marketing campaign over the last few weeks.

Fifth goes to Lone Survivor, Universal's other big winner early in 2014. After a second place finish last weekend with $12.9 million, the bottom fell out, with the Super Bowl providing heavy Sunday competition. This weekend, Lone Survivor pulled in another $7.2 million, dipping 45% in the process. The good news for the $40 million release is that it crossed the $100 million mark on Saturday, its 24th day in wide release. It is Mark Wahlberg's seventh film to earn more than $100 million domestically, and provides Peter Berg further damage relief after Battleship. Survivor has earned about $6 million overseas, and should finish on the domestic side with about $125 million.

Sixth is Jack Ryan: Shadow Recruit, and to its credit it hasn't folded since opening poorly three weekends ago at $15.5 million. This weekend, Paramount's Jack Ryan film earned another $5.4 million, so after opening softly, it has seen drops of 41% both last weekend and this weekend. Made for $60 million, the Chris Pine starrer has found $39 million on the domestic side, but is approaching $50 million overseas.


Seventh goes to another Paramount film with troubles, and this time it's Jason Reitman's new release, Labor Day. Like Jack Ryan: Shadow Recruit, Labor Day was to be a Christmas release. Shadow Recruit was to be Paramount's blockbuster, and Labor Day was to be their chance at Oscar glory. Instead, both went up in flames and were pushed to January. This information was no secret, so it would appear that Paramount did not put a lot of effort into promoting Labor Day, and the result is an opening weekend of only $5.3 million from 2,584 venues. The good news for the studio – and likely part of their release decision - is that Labor Day cost only $18 million to make. I doubt it will earn that much domestically, but after a small amount of overseas business, no one is going to be too hurt with this release. However, it is somewhat disheartening to see the director of Juno, Up in the Air and Thank You for Smoking have another film go up in flames, much like his 2011 Charlize Theron film, Young Adult.

Eighth is American Hustle, which continues to use a string of Oscar nominations to propel itself forward. Hustle earned another $4.3 million and was off 39% compared to last weekend. It is now tied as David O. Russell's biggest film of his career, as its running total of $132.1 million is exactly the same as Silver Lining Playbook's final total. Tomorrow it can make the claim of being his biggest box office release ever.

Ninth is The Wolf of Wall Street, Paramount's third film in the top ten this weekend. Wolf earned another $3.6 million and fell 35% compared to last weekend. It has earned $104.1 million domestically, and has cleared $120 million abroad.

Finally in tenth is I, Frankenstein, which stumbles toward the exit. The $65 million Lionsgate disaster turned in a second weekend gross of only $3.5 million after flopping last weekend with a debut of $8.6 million. That means the Aaron Eckhart release drops 59%, and has a gross to date of only $14.5 million.

In other box office news, Gravity had another big weekend, its 18th, as the Alfonso Cuaron release came back into IMAX theaters, helping it to earn $2 million this weekend. That's a tiny 1% drop from last weekend'stotal, and brings its domestic gross up to $264 million. Gravity has pulled in more than $425 million overseas, and is approaching $700 million worldwide.

Overall, the box office was up slightly from last year's Super Bowl weekend, but not by much. The top 12 films this weekend earned $75.1 million compared to a year ago when they earned $68.9 million. Next weekend could be interesting. Sony releases The Monuments Men, another film that was pushed from awards season to February and is surrounded by questionable reviews; The Weinstein Company releases Vampire Academy, a Twilight/Harry Potter combo from the director of Mean Girls and the writer of Heathers; and Warner Bros. releases The Lego Movie, a high-energy kids film with character names like Lord Business, Spaceman Benny and Batman.