Top Chef Power Rankings
By David Mumpower
January 29, 2014
BoxOfficeProphets.com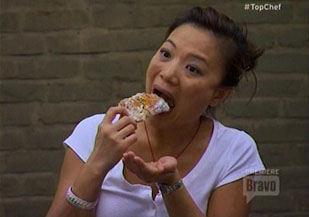 ---
Ohana means family. Family means that nobody gets left behind or forgotten. And that concludes the extent of my knowledge of the great state of Hawaii. Yes, a couple of folks from BOP are from there but I prefer to absorb all knowledge from Lilo & Stitch. You have to respect a young girl whose dog has a chainsaw.

Anyway, Hawaii is the new location for the Top Chefs, all five of them. What is odd about that particular number is that there are only three contestants remaining in the winner's bracket. Carlos and Louis were left in a cliffhanger during the most recent episode of Last Chance Kitchen, which is – let's be honest – a dick move by Bravo. Anyway, the winner of that battle may or may not return to the competition this week.

I suspect that the situation will be handled similar to last year where someone (let's call him Louis) will earn re-entry after tonight's elimination. They could just as easily do so prior to tonight's Elimination challenge, which would be no fairer to the remaining players. Last season, the two players who were screwed were Sheldon and Brooke. Neither of them ever appeared in Last Chance Kitchen yet Kristen was required to do nothing extra to claim the Top Chef title. As much as I like Kristen Kish, I have always viewed Brooke Williamson as the true champion last season for just that reason. Hopefully, that aspect of balancing the Last Chance Kitchen entrant with those in the winner's bracket is taken into consideration over the next three episodes. No matter what happens, the ranking of the remaining three players in the winner's bracket is cut and dried.

1) Shirley
As I have said over the past several seasons of power rankings, Top Chef is the easiest to judge in that there are measurable results to evaluate. Independent of whether I believe Shirley is the most talented chef this season, she is far and away the most impressive. With eight victories, the Beijing native has more wins than the other two players combined. And one of them is Nina.

Shirley is also easy to root for. She is quick to laugh, congenial in a team setting, and self-confident in all facets of cooking. Shirley has been honest about her struggles throughout Top Chef: New Orleans. On at least three different occasions, she has indicated that her experiences with the show have aided her evolution as a chef. In her own words, she has "found (her) voice" thanks in large part to the presence of Emeril Lagasse as well as a conversation on a shrimp dock. Coincidentally or not, all of her victories but one have occurred since that encounter with the locals. Shirley has not been described as the biggest threat this season by other chefs. In terms of performance, however, she has distinguished herself as the finest player during season 11.

2) Nina
The player who intimidates others, however, is undeniably Nina. Since the season premiere, she has been targeted by the others. Well, it is difficult to target someone on Top Chef. She is the clear and present danger according to her opponents, though. I have also mentioned throughout the season that the episodes seem to be crafted as if she will be in the finale. I have to believe that this is still the likely outcome even if the odds suggest there is only a 40% chance of it. Well, the odds are 50% since somebody has been eliminated already during Last Chance Kitchen. We simply do not know the identity of that player yet.

3) Nick
Then again, my other supposition is that Nick will be joining Nina and, well, nothing that has happened lately has indicated he deserves such an honor. Nick has narrowly avoided elimination so often by now that I suspect he is a cat, possibly a twin cat that swallowed his other twin in the womb in order to borrow their lives as well. Stating the obvious, Nick is far and away the worst player remaining in the winner's bracket.

Nick is also no better than Carlos and probably worse than Louis. Before you send angry messages about the Carlos aspect, I would remind you that they actually squared off twice last week. Carlos was the victor in the heads up battle. Nick finished slightly above his Chicago frenemy in an individual challenge that was not technically a one on one competition. Simply stated, Nick seems like a good family man who would not be a worthy Top Chef champion.

4) Louis
I have slotted him above Carlos for the simple reason that after Last Chance Kitchen ended, I re-watched the commercial for tonight's episode. The winning chef is not revealed save for a portion of their midsection and arm. That person does not wear a wedding ring. During Last Chance Kitchen, Louis does not wear his ring while Carlos even keeps his on while cooking. As such, I believe Louis wins. Frankly, he is the more naturally skilled chef anyway.

5) Carlos
I quite like Carlos and I suspect that his food is divine. Still, I have grown to agree with the opinion espoused by most of his competitors that he is too limited in his cooking. Perhaps limited is not even the right word. Carlos does have multiple years of training as a French chef, too. He simply chooses to cook the style he enjoys. I respect and even admire his decision to remain true to his heritage. I also happen to believe that it impinges upon his ability to win the title of Top Chef. With only five players remaining, I believe that only three would be worth champions. The only male I would slot in that category is Louis.