Weekend Wrap-Up
MLK Jr. Weekend Rides Along Thanks to Openers, Oscars
By John Hamann
January 19, 2014
BoxOfficeProphets.com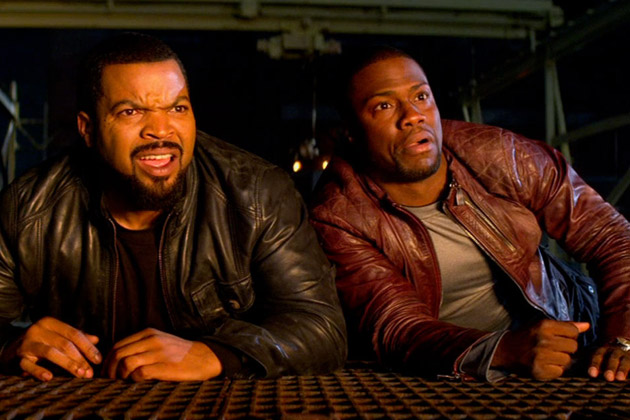 ---
What happens at the box office when you have a number of strong openers, recently anointed Golden Globe winners, and recent Oscar nominations? We get Boxing Day at the box office, where the word "boxing" is used in the sporting context, or in the "out with the old, in with the new" way. It's moving day at the movies this weekend, as the garbage gets taken out, and we no longer have to talk about Paranormal Activity: Franchise in Trouble or The Legend of Hercules.

Yes, with two movies, Hercules and Paranormal Activity: The Marked Ones, being the only new wide releases to come out since Christmas Day (24 days ago, if you're counting), and with both of them already out of the top 12, audiences were hungry for new product. Add heightened awareness due to Oscar nominations and Golden Globe winners to the mix, and we have a lot to talk about. Openers included Ride Along with Kevin Hart and Ice Cube, Jack Ryan: Shadow Recruit with Chris Pine and Kevin Costner, The Nut Job, the animated film that seems more like Walking With Dinosaurs than competition for Frozen, and Devil's Due, a typical bad January horror film. Add to that the expansion of some Oscar nominees that have already gone to pasture, and we've got a big weekend.

Our number one film of the weekend is Universal's Ride Along, which – before we even get into any numbers – crowns Kevin Hart as The Next Big Thing. Ride Along didn't just win the weekend, it broke out in a big way, earning $41.2 million from 2,663 venues, giving it a smokin' venue average of $15,485. Made for only $25 million, Ride Along went straight to profit compared to production budget, and will easily earn the marketing spend back in a few weeks. Ride Along could be our second $100 million earner of the year if we count Lone Survivor, which really opened in December (but on one screen). Ride Along got started Thursday, taking in $1.1 million from previews, and then hit Friday hard with an additional $13.4 million on top of that Thursday preview number. It still has another strong day to go thanks to the holiday Monday. Ride Along has broken the record for a January opening, surpassing Cloverfield's 2008 debut of $40.1 million.

Universal and Cube Vision certainly assembled the right team to cash in this weekend. While Ice Cube hasn't been overly active in movies lately, he still commands an audience, as he did in Barbershop ($75.8 million), its sequel ($65.1 million), Are We There Yet? ($82.7 million) and 21 Jump Street ($138.5 million). Kevin Hart, though, is definitely the new thing, as his last concert film, Let Me Explain, earned $32.2 million despite costing about eight bucks to make. Hart also found success in Think Like a Man, which has a lot of connections to Ride Along. Think Like a Man was the breakout success story of April 2012, when it used a smart release strategy to open to over $33 million, and maintained that success, pulling in $91.5 million at the domestic box office.

Tim Story directed Ride Along, and was also the helmer for both Think Like a Man and Ice Cube's Barbershop. Will Packer's Rainforest Films joined along with Cube Vision and Universal to produce Ride Along, and Packer was also present for Think Like a Man. Story and Packer will also be onboard for Think Like a Man 2, with Hart also added as a producer. Universal has already greenlit a sequel for Ride Along, and hopefully it will actually be of higher quality than this weekend's release. Ride Along garnered 72 reviews at RottenTomatoes, and all but 12 were rotten, giving it a fresh rating of only 17%. What it lacked in critical notices, it may make up for in word-of-mouth, because it scored an A Cinemascore. After a breakout debut weekend, Ride Along will likely have another weekend to dominate since only one new release hits theaters on January 24th.

Finishing second is Lone Survivor, and thanks to the Martin Luther King Jr. long weekend and a small expansion, the war movie with Mark Wahlberg holds nicely. Lone Survivor took in $23.2 million over the Friday-to-Sunday portion of the weekend, dipping a not bad 39% in the process. It's important to keep in mind the amount of new and expanding product this weekend, and the effect these have on holdover releases. Universal, with the top two releases this weekend, was able to secure 114 additional screens for Lone Survivor, bringing its total up to 2,989 venues. The $40 million-budgeted film is on its way to $125 million at the domestic box office, but its foreign chances might be more subdued given the nature of the film. For Peter Berg, Battleship is now officially behind him, as Lone Survivor has already outdone the sad domestic gross of the blockbuster, which came in at only $65.4 million (the $209 million film was bailed out by an overseas take of $237.6 million). Lone Survivor and Ride Along mark a great start to the year for Universal, as they didn't have two $30 million plus openers until mid-April of last year.

Pulling up in third is The Nut Job, and while it will be a footnote in box office history, the fact that it finished ahead of Jack Ryan: Shadow Recruit could make it a franchise killer (the last time, it was Ben Affleck, this time, squirrels). The Nut Job, from upstart distributor Open Road Films, debuted to $20.6 million. The studio put it out to 3,427 theaters, thinking that it would be the only animated title in the top ten, considering Frozen opened two months ago, and Walking With Dinosaurs would be four weeks old. Little did they know that Frozen would still be earning $10 million plus this weekend. So, with a small production budget of $42 million, this one is very much like Free Birds, which was from another new-to-animation distributor, Relativity Media. Free Birds opened to a slightly worse $15.8 million and finished with $55.2 million, against a $55 million production budget. With nothing cooking for kids until the February 7th debut of The Lego Movie, Open Road has a few weekends to work without competition, except from the seemingly always there Frozen. Unfortunately for the kids, and worse for parents, The Nut Job is not a very good movie, scoring only a 13% fresh rating, and a B Cinemascore.

That pushed Chris Pine and Jack Ryan: Shadow Recruit down to fourth for the weekend, an ugly start for what should have been the rebirth of a franchise. Based on the character from the late Tom Clancy, audiences provided a collective shrug this weekend, as Jack Ryan could only pull $17.2 million from 3,387 venues for Paramount. This has to be disappointing for the studio, as they had assembled a strong cast (Pine, Kevin Costner, Keira Knightley) and had a decent director in Kenneth Branagh (Thor, Hamlet). This was to be a Christmas release, and Paramount should have stuck to their plan, as this weekend was even busier than Christmas Day and has no guaranteed legs like holiday films tend to show. The budget for Jack Ryan: Shadow Recruit was a fairly affordable $60 million given those involved. If this one manages $45 million domestically and $60 million overseas, Paramount could make out at least okay, but I wouldn't expect to see a Shadow Recruit 2 any time soon.

With all the new releases, Frozen is down in fifth place, which is new low territory for the animated film that has been in wide release for eight weekends. Despite the new competition from The Nut Job and the length of its release thus far, Frozen still did okay, earning $12 million and dropping 19% from the previous weekend's take of $14.7 million. This weekend's score is the fourth biggest for a film in its eighth weekend, behind Titanic, Avatar and Home Alone (which did $12.6 million in weekend eight) and ahead of E.T. the Extra Terrestrial, which pulled in $10.4 million in its eighth frame. Frozen has now earned an amazing $332.6 million since opening, and joins the top 30 domestic earners of all-time list, as it moves ahead of Forrest Gump, which earned $329.7 million.

Sixth is American Hustle, as its 10 Oscar nominations and three Golden Globe wins (including Best Picture, Comedy or Musical) propel it past The Wolf of Wall Street, which has been leading it over the last few weekends. With the awards muscle behind it, Hustle was able to earn another $10.6 million, giving it a 28% increase over last weekend's take of $8.3 million. Sony's $40 million awards player has now grossed a fantastic $116.4 million domestically, and is just gaining steam overseas with a take so far of around $25 million. The sun should continue to shine on Hustle until the Oscars are handed out on March 2nd.

Finishing seventh this weekend is our final opener, Devil's Due. As soon as anyone says "found footage" I am not interested, and it appears audiences are following suit. From Fox, Devil's Due debuted to only $8.5 million from 2,544 venues. It is 20% fresh at RottenTomatoes and earned a D+ Cinemascore. You've been warned.

August: Osage County doubled its venues this weekend and slightly increased its audience compared to the previous frame. August earned $7.6 million from 2,051 venues, compared to last weekend when it earned $7.2 million from 905 screens. The weekend to weekend increase is 6%, and it has a gross to date of $18.2 million.

Ninth is The Wolf of Wall Street, as the Paramount title with the big $100 million budget seems to be struggling a bit to keep up. Wolf earned an additional $7.5 million this weekend, off a not bad 15% compared to the previous frame. The Wolf of Wall Street earned half the Oscar noms as American Hustle, and as a result it falls behind with regards to box office. The good news is that the Leo DiCaprio swear fest has earned $90.3 million and should cross the $100 million mark in two weekends. Overseas, it is approaching $40 million.

Saving Mr. Banks, which earned a single Oscar nomination, finished in 10th place for the weekend. Its $4.1 million indicates a weekend-to-weekend decline of 37%, and its domestic total now sits at $75.4 million. It has only just gotten started in overseas venues, where it is approaching the $10 million mark.

Films sent packing from the top ten this weekend include Spike Jonze's Her, which was nominated for Best Picture plus four other Oscars. Still, audiences still seem to be shying away from what appears to be one of the better films of the year. Her earned $4.1 million and dropped 24% despite the nominations. It has a gross so far of $15 million. The Hobbit: The Desolation of Smaug also got the boot this weekend, finishing 12th with a gross of $3.9 million. Finally, The Legend of Hercules fell from third last weekend to 13th this weekend, dropping a searing 62%. Good riddance to bad rubbish.

Overall, the box office is quite healthy thanks to numerous openers and happy holdovers. The top 12 films earned a stellar $160.5 million this weekend, way ahead of both last year's MLK weekend when the top 12 took in $117.5 million (led by Mama), and the 2012 weekend at $115.1 million. Next weekend is historically soft, and brings only one opener, I Frankenstein, which looks bad to the camp degree.