Weekend Forecast for January 17-19, 2014
By Reagen Sulewski
January 17, 2014
BoxOfficeProphets.com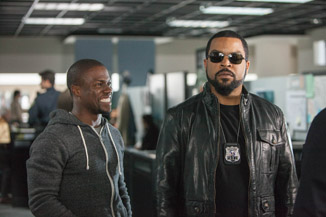 ---
Given the last few years, it might be time to stop using the word "unusually" in concert with "strong" when talking about January releases. Of this week's four new wide releases, two look like legitimate hits that could have had a summer (let's say... August) release, while the other two, well, at least they were cheap to make.

Ride Along features that pairing between Ice Cube and Kevin Hart that we've always (?) wanted. Hart plays a man dating Cube's sister. Since he's a police detective and doesn't think Hart is man enough to date his sister, his only natural option is to hijack him into a ride along to see what he's made of. Before you can say "misuse of department property", we're into a buddy comedy filled with intimidation and dangerous negligence.

This film also threatens the nation's precious stockpile of "Kevin Hart is really short" jokes, which started to accumulate after his standup concert films, but have slowly been whittled away in his feature films and Ride Along seems to consist of nothing else. It's like making a coat out of spotted owl down – sure you can do it, but leave some for the rest of us, okay? Anyhow, the ride along turns into a pursuit of one of Atlanta's most notorious criminals, inevitably pressing Hart into a fish-out-of-water role where he has to be involved in bringing down a gun racket. As one does when on ride alongs.

Part Training Day, part 48 Hours and maybe a little Stakeout in there for good measure, this is a thoroughly derivative film. And what else would you expect from director Tim Story, who never met an original idea in his life? But derivative is probably just the thing for a breakout film for a comedic talent – something to let him run away with the film and not get in his way. Hart has danced around stardom in recent years and this seems as good as any film to break him out. That both he and Cube have crossover appeal can't hurt. I'd look for an opening weekend of about $26 million.

While January has definitely come a long way in terms of box office potential, it's still a strange place to plop a potential franchise starter. Jack Ryan: Shadow Recruit is the latest attempt to reboot the Tom Clancy character, a brilliant CIA analyst pressed into active duty after uncovering a secret terrorist plot. Chris "ALL THE FRANCHISES!" Pine takes the title role, with Keira Knightly as his fiance and Kevin Costner as his mentor, finally being welcomed back into major releases, after this and the new Superman. Kenneth Branagh does double duty as the film's director and also its main villain, which means no one could tell him how ridiculous his Russian accent is.

Films have struggled how to make espionage sexy since the Cold War ended, but the reemergence of Russia as a world player has revitalized this genre (remember Air Force One, when the Russian president just did whatever the US ordered him to? Good times, good times). The film appears to play it safe, and anyone expecting a Hunt For Red October, or even a Patriot Games, is probably out of luck. Things look rather generic, and the crackling dialog usually present in these films seems to be replaced by bland declarative statements, and side plots about how it's tough to build a trusting relationship when you lie for a living. You know, we've never seen that explored in a spy thriller before! Bold choice, screenwriter David Koepp!

There's nothing entirely wrong with this approach to the film, but it isn't a recipe for taking a franchise to a great new height. The phrase "perfectly adequate" springs to mind, and isn't that a pull quote for the ages! Pine hasn't exactly been amazing outside of Star Trek either, which doesn't spell awesomeness for the financials of the film. Opening in 3,387 venues, it should manage about $20 million this weekend.

Animation gets a new entry with The Nut Job, though discerning parents are likely to convince their kids to skip this one. An independently produced film, it features the voices of Will Arnett, Brendan Fraser, Katherine Heigl and Liam Neeson, among others, in a story of a nut heist by a bunch of Central Park squirrels. While the animation doesn't look *terrible*, it does look like a rather thin story and more puns on the word "nut" than feel appropriate for a children's film. Reviews have savaged this, but most animated films seem to have some kind of floor, and a weekend of around $10 million seems plausible.

Fresh on the heels of the unimpressive figure of the latest Paranormal Activity, we have yet another found footage horror film, Devil's Due. Starring Zach Gilford of Friday Night Lights fame and Allison Miller of Terra Nova (which is to say of no fame at all) as a young married couple who find themselves with a missing night during their honeymoon. This ends up with them being pregnant, and while documenting the pregnancy, they start to notice strange and off-putting things, but leading to erratic behavior from the wife. Can you guess what it is from the title? No spoiling it for anyone who doesn't understand puns!

Horror films typically need some kind of push to get box office, particularly if they don't star anyone really familiar to audiences. Devil's Due doesn't seem to have the juice behind it for one of these, so I'd expect a rather modest opening weekend of about $7 million.

Lone Survivor was a surprisingly strong entrant into the box office last weekend, with $37.8 million, easily winning the top spot. The Mark Wahlberg-starring, Peter Berg-helmed story of a covert operation gone wrong in Afghanistan, Lone Survivor appeared to push all the right buttons for war movie aficionados, and ranks among Wahlberg's highest opening movies. While it scored two Oscar nominations in technical categories, it was otherwise overlooked, and should see a regular drop to around $20 million this weekend.

The remaining relevant films this weekend all have Oscar connections: Frozen is nominated for Best Animated Feature and Best Song, but really, it's hard to imagine anyone that was waiting for that news to see it, as those were foregone conclusions. It should earn about $10 million this weekend.

Oscar nominations typically provide a little push for films, but the real prizes are typically in wins, and for films that are not currently in a lot of theaters. As such, we should see some minor blips for The Wolf of Wall Street and American Hustle, with bigger jumps for August: Osage County, Gravity, 12 Years a Slave and Dallas Buyers Club, all of which get big bumps in screen counts, some from an initial expansion, and some coming back into theaters. Look for the best of these to top out at around $9 million, with some of the older films with smaller venue counts coming in with just a couple of million.