Top Film Industry Stories of 2013: #2
Disney and the Delightful, Wonderful, Splendid, Very Good Year
By Kim Hollis
January 12, 2014
BoxOfficeProphets.com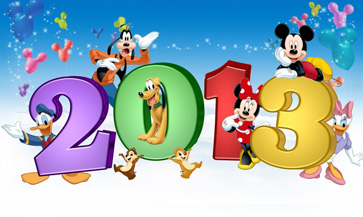 ---
Since 1937 with the release of Snow White and the Seven Dwarfs, Disney has been synonymous with top-notch entertainment. When the company followed up its 2009 purchase of Marvel Entertainment with the acquisition of the Star Wars franchise, it was predetermined that they would have several good years to come in the very near future. Still, no one could have anticipated just how happy Disney's 90th birthday would be.

The festivities kicked off for them when Oz the Great and Powerful debuted in March with $79.1 million. The studio's precursor to the Wizard of Oz story, featuring James Franco as the wizard and Mila Kunis, Michelle Williams and Rachel Weisz as various witches, was a 3D special effects spectacle, though not critically beloved. It finished with a solid $234.9 million domestically, and added another $258.4 million from international venues. Although with its $215 million budget it wasn't a whopper of a money earner, it still brought plenty of revenue for Disney considering that they had ancillary revenue as well (toys and other merchandise).

Ultimately, of course, the big money would come from Iron Man 3, which got a huge boost thanks to the popularity of Marvel's The Avengers. Its opening weekend was an outrageous $174.1 million, which put it well ahead of the previous films in the Iron Man series. The original film opened with $98.6 million, while Iron Man 2 had a debut weekend of $128.1 million. But whereas Iron Man 2's domestic total declined from the first, Iron Man 3 saw a massive uptick. Its final tally in North America was $409 million (a big increase from the $318 million and $312 million of the first two films. Foreign grosses were even more impressive – Iron Man 3 earned $806.4 million, easily putting it into the billion dollar worldwide club, and eviscerating the international totals of the first two films in the series ($266.8 million and $311.5 million, respectively). The Marvel brand had grown, and not only was Disney benefiting from the box office, but toy sales and other merchandise are the icing on a particularly delicious cake.

Another highly anticipated sequel followed quickly behind Iron Man 3, and this time it was the follow-up to the beloved 2001 Pixar flick Monsters, Inc. Monsters University went back in time to Mike Wazowski and Sulley's college days, and this Animal House/Revenge of the Nerds for a new generation had plenty of audience demand to fulfill. With an $82.4 million opening, the movie was easily able to attain the typical Pixar heights by finishing with $268.5 domestically, but an even more stellar $475.1 million overseas. All this was accomplished on a $200 million budget, and once again merchandise factored in. If there is an anti-silver lining, it's that Monsters University wound up losing the summer animation race to Despicable Me 2, but otherwise there is simply no fault to be found with the strategy Disney employed to bring these beloved characters back into theaters.

Their next animated picture might have seemed like a cynical money grab, but… well, okay. It was a cynical money grab. And you might remember Planes as a minor performer. The thing is, you wouldn't really be right. With a relatively sparse $50 million budget, Planes was able to accumulate $90.3 million from domestic venues by the end of its run, not to mention an additional $129.5 million from international locations. All Disney was looking for here was a movie that made money, and while you might argue that the film tarnishes the Cars franchise for Pixar, let's just be honest and say that Cars 2 already did that. These particular movies are made with the purpose of selling toys. The fact that Planes made money was just gravy. Mission accomplished once again.

Once we started moving toward the holiday season, the Mouse House started kicking things into high gear once again. Yet another Avenger appeared on the big screen, and this time it was Thor in a movie subtitled "The Dark World". Just like Iron Man 3, Thor had experienced expansion of audience thanks to the mega-hit from 2012. Its $85.7 million opening weekend was exactly $20 million higher than that of the first movie in the series, and The Dark World's final domestic total of $203.9 million compares favorably with Thor as well. Of course, as we're seeing over and over again, it's the overseas totals that really inflate, and Thor 2 is no exception. Its $427 international revenue is a tremendous spike over the first movie's $269 million. Not only had Disney's purchase of Marvel paid off, but their plan to indoctrinate an entire generation into loving the characters was succeeding beyond their wildest dreams.

Thanksgiving brought a treasure in the form of Disney Animation's Frozen, a new princess story with a sisterly theme. It started off strong with a Pixar-esque $67.4 million during its opening weekend, but it's what happened after that opening weekend that is truly amazing. As of this writing, Frozen has earned a spectacular $317.6 million and will eventually surpass $330 million, thereby making it the largest non-Pixar Disney animated release during first run (The Lion King is still tops if we count its re-releases). It's also approaching $400 million overseas and is lock for an Academy Awards nomination or three. There simply aren't enough superlatives to heap on this box office performance, and if you walk into your nearest Disney store, you'll see that the Frozen merchandise is dominating the shelves. Princess Anna and Queen Elsa are surely going to be the new favored princesses amongst young ladies for a few years moving forward.

Impressing on a smaller scale was Saving Mr. Banks, the story of how Walt Disney helped to bring Mary Poppins to the big screen. With a tight $35 million budget, Saving Mr. Banks has scored $69 million to date in North American theaters, and had just gotten started in foreign venues as of the day this column was written. Another likely awards contender, it may be able to translate any momentum from Oscar nominations to additional earnings.

Now, you might be wondering where The Lone Ranger is in this discussion. Isn't it one of the biggest bombs of the year? It's true that it had a $215 million budget and came nowhere near that amount, finishing with just $89.3 million domestic. It did save itself somewhat with an overseas take of $171.2 million, but that number is surely not enough to help put the project in the black. Nonetheless, given the exceptional performance of their other titles, The Lone Ranger is a footnote in an otherwise exemplary year. Besides, once 47 Ronin flopped during the Christmas season, the Lone Ranger's failure was put in perspective.

On top of their box office earnings, Disney can claim $1 billion in revenue from their consumer products division. Marvel products, Cars/Planes toys, Frozen dolls and the Disney Infinity video game helped the company to become the true juggernaut of 2013.

The final feather in The Walt Disney Company's cap is the fact that Yahoo! Finance named them as its Company of the Year, citing their customer loyalty, strategic focus, friendliness of shareholders and financial performance. Yahoo!'s comments provide a fitting summary for why Disney really did have a supercalifragilisticexpialidocious year.

"The Walt Disney Company has honored the past, delivered in the present and [is] positioned for the future better than any other American company. It's the company's successful striking of this rare balance-while focusing on careful financial stewardship and great customer experiences-that helped Disney edge out all others to be named this year's Yahoo Finance Company of the Year."