Top Film Industry Stories of 2013: #3
Niche Films: The Cable-ization of the Movie Industry
By Kim Hollis
January 12, 2014
BoxOfficeProphets.com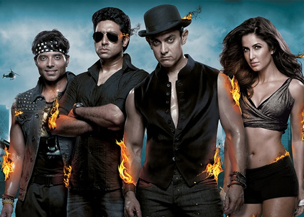 ---
Once upon a time, the entertainment landscape in North America was fairly simple. The Big Three television networks ruled with practically no challenge to their dominance. Universal, 20th Century Fox, Sony, Disney, Warner Bros. and Paramount had a vice-like grip on theatrical releases. When looking for movie rentals at Blockbuster, the categories you might see on shelves were a simple few – drama, comedy, horror, western, classics, and perhaps one or two more. Choosing an option was a simple process precisely because choice was so limited.

Of course, that also meant that there wasn't really something for everybody. Certain audiences were neglected purely because of the notion that a concept wouldn't "play in Peoria" (a phrase I despise, by the way, having grown up about a half hour from that happy metropolis). Entertainment was broadly targeted to the biggest cross-section of the population possible, meaning that it was also mostly safe. And pretty boring, in retrospect.

When cable TV began to expand in the late 1990s, the notion that programming had to appeal to "everyone" started to disintegrate. There were channels for women, channels for African-Americans, channels that drew a broad homosexual audience, channels for children, channels for teens, channels for foodies, channels for history buffs… and the list goes on and on. Advertisers suddenly realized that where before much of their television advertising budget went to waste because it went to an audience basically titled "All these people," they were suddenly able to put messages in front of a more precise audience. Now, in 2013, cable networks are offering programming that the Big Three would never consider. A show about a cancer-ridden teacher who turns to making meth to make money? Inconceivable. An animated series about spies with sex, foul language, and quirks galore? No way. What about a reality show focused around a Louisiana family with a company that makes products for duck hunters? Impossible!

Nonetheless, cable paved the way to proving that there's more to entertainment audiences than simple footballs to groins and crime procedurals. With streaming options available on the Internet, people have nearly infinite ways to spend their time dedicated to entertainment. Netflix has more than 75,000 "microgenres", ensuring that subscribers would be served suggestions and ideas that fit such specific selections as "Irreverent TV Comedies from the 1990s," "Visually Striking Foreign Sci-Fi and Fantasy" and "Heartfelt Social Issue Dramas."

With movie budgets spiraling out of control, studios are finding it ever more challenging to plan projects that make true profit. Sure, we still have the big blockbusters, but as spending on those films moves into the quarter billion dollar range, even those movies are fraught with peril for their studios. For every Iron Man 3 or Catching Fire there is a Lone Ranger or 47 Ronin. Today's audiences are a tempestuous lot to be sure, and determining the next big thing is no easy task. Just witness the multiple Twilight clones that have tried and repeatedly failed.

And so it is that a handful of studios have started taking the same approach that we saw work for cable channels. They are developing plans for definitive, targeted audiences and creating product that directly appeals to those groups. The idea is paying off, too.

In 2011, we saw a few small studios find success with movies that concentrated on Christian audiences. It was a noticeable enough spike that we recognized the phenomenon in our Top 12 Industry stories for that year. Companies such as FilmDistrict and Sherwood Films were able to turn grassroots marketing efforts through churches into success at the box office. Clearly, there were potential moviegoers in the marketplace who were being underserved.

Fast forward two years and we see some new approaches to the same idea. Pantelion Films, a joint venture between Lionsgate and Grupo Televiso, has been working toward providing films for the Latino market in North America for a few years now. Their early efforts in 2011 and 2012 achieved modest success, with such titles as From Prada to Nada and the Will Ferrell film Casa de mi Padre finding an audience in limited release.

With the release of Instructions Not Included during Labor Day weekend in 2013, everything changed. Despite opening on only 348 screens, the film shocked prognosticators and film industry experts as it not only cracked the top 10, but debuted in fifth place. Its $7.8 million opening weekend was the best ever for a Spanish-language film, and its per screen average of $22,547 is the sort of number most movies can only dream about. Instructions Not Included went on to translate great word-of-mouth (it had an A+ Cinemascore) to total earnings of $44.5 million in North America, which means it passed Pan's Labyrinth to become the highest grossing Spanish-language film. I haven't even mentioned the best part for Pantelion Films – this project had just a $5 million budget, and with a craftily implemented marketing campaign that featured ads and promos on TV channels such as Univision, they didn't spend a significant amount to get the message out.

While Instructions Not Included might make a great story on its own, Pantelion wasn't quite finished yet. Pulling Strings also cracked the top 10 about a month later as it made $2.5 million in its opening weekend, and eventually went on to earn $5.8 million. Within the span of a month, Pantelion had established itself as a player by recognizing an untapped audience and designing movies to appeal directly to that demographic.

According to Vulture, Latinos make up 17% of the US population, but when you look at movie-goers specifically, that number goes up to 26%. Additionally, Latino families enjoy going to theaters as a communal event. Alex Nogales, president of the National Hispanic Media Coalition told NPR, "When we go to the movies, we don't go two at a time. We go all of us at the same time." The magic words when we discuss niche and super-targeted films seem to be "communal event," in fact. Just as we saw with Christian groups attending films all together, Instructions Not Included and Pulling Strings brought groups of families and friends into theaters.

This theme continues if we look at the successes of Bollywood films Yeh Jawaani Hai Deewani and Dhoom 3. Box Office Guru's Gitesh Pandya told Business Week that "Indians and South Asians are among the most movie-obsessed groups in the U.S. Going out to the movies, especially as family, is part of the culture."

Yeh Jawaani Hai Deewani made a surprise appearance in the top 10 the weekend of May 31st, earning the ninth position and taking in $1.6 million from only 161 locations. And while its eventual total of $3.8 million was just a fraction of its total worldwide earnings of $48 million, the opening did establish that there was an audience for Bollywood pictures that would enthusiastically support good product.

Thus, it probably shouldn't have come as any surprise when in December of 2013, an action film titled Dhoom 3 set a new North American box office record for a Bollywood film. The first Indian film to be shot in the IMAX format, it had the benefit of offering something special to potential viewers, and they responded by propelling the film to a $3.3 million debut from just 236 theaters. That was good for a ninth place finish during the busy Christmas season and a $14,324 per venue average.

If it seems like a simple thesis, it's because it is. The same ol', same ol' just isn't cutting it anymore. Exorbitant, ballooning budgets are costing people their jobs as films that were projected to be blockbusters fail. Telling stories that appeal to specific demographics not only brings advocates to theaters, but they are also easy to market thanks to the wide variety of targeting that exists in other entertainment and media venues. We can expect to see more and more of these "surprises" as studios like Pantelion develop strategies to effectively reach out to growing niche audiences through the universal language of film.