Friday Box Office Analysis
By David Mumpower
January 11, 2014
BoxOfficeProphets.com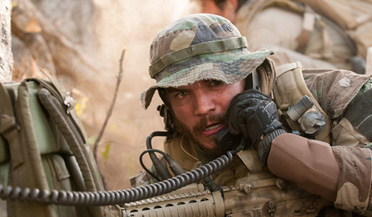 ---
Two new movies entered the marketplace this weekend. Their mission was simple. They were tasked with the overthrow of the white witch, the current queen of the movie industry. One of the heroes was a demigod, the son of Zeus. He failed mightily, and is presumably headed on a quick trip to the Underworld to be reunited with his uncle, Hades. The other group of heroes is just a group of basic American soldiers. Elsa the Snow Queen never had a chance. USA! USA! USA!

Hollywood learned an instructive box office factoid in 2012 with the release of Act of Valor. The unheralded release coincided with the surge in national pride toward the US military, particularly the branch of elite operatives known as Navy SEALS. In May of 2011, some of these men from SEAL Team 6 had infiltrated the secretive compound of Osama Bin Laden and assassinated the world's most famous terrorist.

Only a month later, Relativity Media sagely acquired the rights to Act of Valor for a modest $12 million in anticipation of heightened popularity for all Navy SEALS, and some of these soldiers happened to star in the film. On opening weekend, a lot of people in the movie industry were left scratching their heads when Act of Valor debuted to a sizzling $24.5 million. Just under a year later, Zero Dark Thirty, a much more heralded title with the full force of Hollywood marketing behind it, managed only $24.4 million. That was a teaching moment in Hollywood. Some rich corporate employees may sneer at the flyover states, but their money could drive a perceived Red State title to box office heights.

Fast forward to today and history has repeated itself. The number one movie on Friday was not Frozen as many had expected. Instead, Lone Survivor absolutely eviscerated projections with a $14.4 million Friday. How shocking a first day was this? Universal Pictures doubled their weekend estimate for the movie by the close of business Friday. The reason why was simple. It earned almost as much yesterday as had been expected for the weekend. For whatever reason, Hollywood continues to miscalculate the appeal of accurate portrayals of military movies in the heartland of America.

For director Peter Berg, Lone Survivor marks his second war film based in the Middle East. His first outing, The Kingdom, was a box office disappointment. That title grossed only $42 million against a $70 million budget. With his latest Universal release, Berg reunited with his Friday Night Lights/Battleship star, Taylor Kitsch. Both of them took it on the chin with the cinematic adaptation of the board game, which earned only $65 million domestically against a $209 million budget.

With Lone Survivor, Berg was given less financial leeway on the $40 million production. The end result is that Kitsch has the first unqualified hit of his movie career after absorbing a beating in 2012 with John Carter and Battleship plus the moderate performer, Savages. For BOP fave Berg, he claims his first hit since 2008's Hancock. He also may gain enough from Lone Survivor's popularity to put a Friday Night Lights sequel to the sublime television series back on the drawing board once more.

Meanwhile, Hercules finished in third place, slightly behind Frozen. Both films claimed $3.1 million yesterday. Frozen will do better today while Hercules will do well to match that total before falling off the table starting tomorrow. About $8.3 million for the weekend could put it outside the top five. I currently project it in fifth place but the difference from third to sixth is very close. Either way, it's a tough day for the son of Zeus.

With regards to Frozen, its next big milestone will be catching the initial run of The Lion King to become the third best Disney animated title of all time (during initial release), and the best outside of Pixar. Another $12.5 million this weekend makes that a distinct possibility. The Lion King no-worried its way to $328.5 million in 1994. Frozen should be at $315 million at the close of business tomorrow, possibly more. Its internal multipliers in early December are some of the best in the 2000s.

This weekend also included a pair of platform titles that are potential Academy Awards contenders. Spike Jonze's Her expanded into 1,729 theaters, and the Fall in Love with Siri theme resonated with $1.8 million worth of viewers. It could sneak into the top 10 with $6 million this weekend. Sure to earn a spot in that range is August: Osage County, which is in half the theaters of Her yet earned more with $2.2 million. A cast front-lined by Meryl Streep and Julia Roberts is a tremendous selling point that Her simply does not have the firepower to match. August: Osage County should garner $7.4 million this weekend, a brilliant total for a title exhibited in only 905 locations.