Weekend Forecast for January 10-12, 2014
By Reagen Sulewski
January 10, 2014
BoxOfficeProphets.com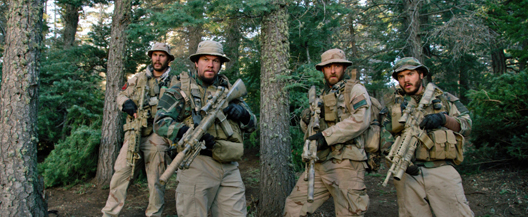 ---
While we do have one totally brand new wide release this weekend, expect the box office to be dominated by those expanding out of limited releases, as the Oscar campaign season prepares for its final kick to the finish.

Probably not in line for any major awards but trying anyway dammit is Lone Survivor, which details a doomed 2005 mission by a group of SEALs to capture a Taliban leader, which (spoiler alert oh right, it's the title) led to only one of member making it back alive. Mark Wahlberg plays the title character, with Taylor Kitsch, Emile Hirsch and Ben Foster as recognizable names playing other SEALs in the company. Eric Bana, Jerry Ferrara and Alexander Ludwig are other possible names in the cast you might know, but in general this is the Mark Wahlberg Show as he tries to survive deep behind enemy lines.

As directed by Peter Berg, this is a combination of action movie and Serious Drama about the difficulties of war in an entirely foreign environment and about the bonds between soldiers. Advance reviews for the film focus more on the harrowing combat scenes for the film's power, but notably fault the lack of any real storytelling. It's an experience rather than a film, which might be a selling point for as many as it might dissuade.

Wahlberg's consistency as a leading man is as surprising as it is getting boring to talk about. With the notable exception of last year's Broken City, he's had a decent stretch of hits dating back about five years, even with terrible, terrible (terrible!) films like The Happening. Legs of his films can be a problem (Pain & Gain was notorious in this respect) but his opening weekends remain solid. Lone Survivor seems like a good candidate in this regard, as it gives his testosterone-seeking audiences basically what they're expecting, full of manly men doing manly man things with other men. Wahlberg knows his brand, is what I'm saying.

A limited release in two theaters tells us basically nothing other than that it's not a total bomb. Expanding to a reasonable 2,800 venues, it should find a place in Wahlberg's canon of modestly opening action films, with around $21 million.

Possibly the strangest Oscar contender this year, Spike Jonze's Her stars Joaquin Phoenix as a lonely man who acquires a new computer operating system that boasts an impressive AI and a sexy female personality (voice of Scarlett Johansson), which he promptly falls in love with. It's a tribute to our trust in Jonze's ability to turn weirdness into heartfelt quasi-realistic drama that this doesn't seem completely off-putting. Essentially, it's "what if Siri really were a person?" Amy Adams, Kristin Wiig, Chris Pratt, Rooney Mara and Bill Hader round out the notable names, but it's Phoenix and Johansson that carry the load of the film.

Essentially an offbeat love story, it's likely too weird to really breakthrough in the mainstream, but the weirdness, couched in what is attempting to be a conventional movie of sorts, may actually attract a certain group of cinema buffs looking for a replay of Being John Malkovich. Reviews are exceptional, and curiosity might just be enough to fire this picture up. A modest weekend of $11 million could be expected here.

The sole "new to everyone" film is The Legend of Hercules, implausibly the first of two Hercules films released this year. Kellan Lutz plays the title role, apparently as a runner-up prize for missing out on the Conan remake. Lutz certainly has experience in this area, also having appeared in Immortals as another figure from Greek mythology. His biggest exposure is obviously from the Twilight films, but he's about seventh or eighth-billed there at best, so that hardly counts.

Taking into account the D-level casting, dodgy effects and completely inessential, generic looking story ("aside from that, how was the play, Mrs. Lincoln?"), the director is one Renny Harlin, whom I'm certain you had all but forgotten about since early in the 21st century. Looking a bit like a cross between Gladiator and 300, but with all of the good stuff taken out and about $12 allocated for sets and costumes. It honestly looks like they didn't even try to make it look convincing. Purchasing a ticket for this should count as a cry for help. I'd expect a dismal $5 million start for this.

Returning films are likely to be led by Frozen, the Grover Cleveland of the Christmas season with two non-consecutive first place finishes. Disney's latest animated opus crossed the $300 million mark on Tuesday, although with kids back in school the party is largely over. Post-holiday period, family films take a dive regardless of quality, and this weekend it should drop to about $10 million.

The Hobbit 2 should continue its approximately 90% pacing of The Hobbit 1 this weekend with about $9 million, keeping it in line for about $275 million in the final analysis. Hopefully this keeps Peter Jackson on his game and prevents him from filming the Silmarillion.

More holdovers from Christmas include The Wolf of Wall Street, which should see about $8 million, American Hustle at about $7 million, and Anchorman 2 and Saving Mr. Banks at $6 million each. Somewhere around this mark will be the free-falling Paranormal Activity series, which is set to have its first only slightly insanely profitable film, with around $40 million total.