Top Film Industry Stories of 2013: #11
Horror movies scare up big money
By Kim Hollis
January 6, 2014
BoxOfficeProphets.com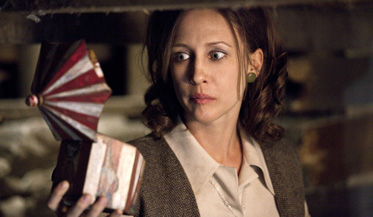 ---
In 2011 and 2012, it felt as though we were constantly inundated with horror films. Discussions about the box office performances of the various projects was so stale that it seemed as though we could just take previous commentary, change the name, and pass it off as new. Honestly, that was probably not much different than what the producers of actual movies in the genre were doing, so maybe box office analysts would have been justified in providing the same level of diligence and thought to analysis of horror projects.

2013 was different. Not only were studios more measured with their offerings, pacing them out at a rate of less than one per month, but the films themselves were also more divergent, with as many new, original ideas as there were sequels and/or remakes. Audiences responded positively to fresher fare, hopefully giving incentive to studio suits to provide more original, exciting ideas for the genre rather than stale retread after stale retread.

That's not to say that some of the tried-and-true formulas were unsuccessful. January kicked off the horror scene with yet another reboot of the Texas Chainsaw Massacre franchise, this time a "sequel" to the original 1974 film. After a $21.7 million opening weekend debut, the film sputtered along from there to a $34.3 million domestic take, but was almost surely a financial winner for Lionsgate considering the mostly unknown cast and ancillary home video revenue streams.

Another mildly successful remake was Carrie, an adaptation of Stephen King's novel and the 1976 film by the same name, although at the time of its release it was viewed as something of a missed opportunity. With a $30 million budget, the teen-targeted film opened with $16.1 million, eventually tallying $35.3 million on the domestic front and putting MGM/Screen Gems in the black even before international or home video dollars were added in. Those overseas venues were worth another $43 million, meaning that even one of the more lukewarm horror projects of the year found financial success.

The most popular reboot/remake of the year was Evil Dead, the Sam Raimi/Bruce Campbell-endorsed re-imagining of the classic 1981 film. With a nice social media push from Campbell himself, along with a marketing campaign aimed solidly at the 20-somethings who are generally responsible for the majority of movie tickets, Evil Dead had a debut weekend of $25.8 million. It easily beat its $17 million budget by the end of its third day in theaters, and accrued $54.2 million from North American venues as well as $43 million internationally. Considering that the original movie earned just over $2 million during its entire time in theaters, I think we can safely say that the brand has grown over time.

If remakes/reboots delivered on expectations, original concepts exceeded them by far. The first of these was the Guillermo del Toro-presented Mama, a supernatural ghost story that featured Jessica Chastain, who was hotter than hot during the film's January release frame thanks to the awards attention she was receiving for Zero Dark Thirty. The film opened during the long Martin Luther King Jr. holiday weekend, and earned a magnificent $28.4 million during its first three days (and $32.1 million over the four-day portion of the frame). The film had mostly positive reviews and word-of-mouth from audiences, which it was able to translate to a fabulous $71.6 million domestic and $75 million from overseas venues compared to its $15 million budget. It was the first indicator that audiences were thirsting for original horror ideas, and also that female audiences like being scared, too – 61% of the opening weekend audience was female.

This trend continued with the release of Warm Bodies, an amalgamation of romantic comedy and horror. Like Mama, it had a primarily female audience (60%) on opening weekend, which helped to drive the alt take on Romeo & Juliet to a $20.5 million opening. The end result for the well-regarded film was a $66.4 million domestic take, along with $50 million internationally. After a few years of seeing the zombie trope grow tired, Warm Bodies reinvigorated the sub-genre with an updated, fun mythology.

Also upping the ante on zombies and survivalism was World War Z, a movie that was looking as though it would be a financial disaster in the months leading up to the film's release. Reports of reshoots and a troubled final act were rampant, but the changes proved to be sound, as the horror/action/thriller hybrid debuted with $66.4 million before going on to earn $202.4 million in North American venues. Add in $338 from overseas locations and Paramount actually wound up making money on a project that had a bloated $190 million budget. The film's success can be credited to stellar marketing, which featured a fast-moving, zombie-inducing virus and some intricate set pieces, including a plane crash brought on by a cabin of suddenly infected passengers.

At the opposite end of the budget spectrum, but every bit as successful if looked at in scale, was The Purge, a tiny, $3 million-budgeted project that burst on the scene, surprising almost every box office analyst in the world with its $34.1 million opening. It was profitable within the first few hours of its release. A film that posits a future where the world is peaceful thanks to one night a year where all crime – any crime – is not only allowed, but encouraged, The Purge had a powerful final domestic box office total of $64.5 million. International revenues came in at just over $25 million.

The success of The Purge opened the door for 2013's King of Horror, James Wan, to usher two similarly small-budgeted films into theaters. The first of these was the measured, deliberate The Conjuring, a haunted house story that stunned prognosticators as it debuted with a whopping $41.9 million over its first weekend. Like Mama and Warm Bodies before it, The Conjuring appealed to females, as the opening weekend audience was comprised of 53% women. Whereas most horror flicks have very little staying power at the box office (as you can tell by looking at almost all of the titles above), The Conjuring held on and on and on, finding an eventual domestic total of $137.4 million. Overseas, the film tallied another $180 million, meaning that this $20 million-budgeted project finished with a worldwide gross of almost $320 million. When people talk about big box office winners of 2013, The Conjuring probably doesn't come up in conversation often, but it should. The money it brought in was almost pure profit.

Wan wasn't satisfied by just delivering one whopping horror success, though. He followed up July's The Conjuring a couple of months later with Insidious Chapter 2, a sequel to the 2011 film that earned a grand total $54 million in North America and $43 million overseas. Audiences were apparently keen to see the story continue, because Chapter 2 had a debut weekend of $40.3 million (compared to the first film's $13.3 million opening). By the time it exited theaters, the sequel had earned $83.6 million domestically and $77 million internationally, meaning that Wan had two films in 2013 that exceeded $150 million in worldwide revenues. Costs were kept exceedingly low, as the budget was reported at just $5 million.

This boon year for horror can be attributed to a number of different factors, but the most notable commonality amongst the biggest successes is that all of them come from fresh, recent ideas. From zombie love stories to tales of ghosts to simple, straight-up haunted houses, audiences are responding to scary movies that give them something new and unique. Sure, the tried and true reboots/remakes and sequels to long-standing franchises may provide safe money as well, but we're excited to see filmmakers finding inventive ways to scare us. We're hopeful that the trend will continue, but based on past studio behavior, we're guessing it's much more likely that we see a slew of sequels to the films that succeeded.