Weekend Wrap-Up
Marked Ones Frozen as Disney Starts 2014 at #1
By John Hamann
January 5, 2014
BoxOfficeProphets.com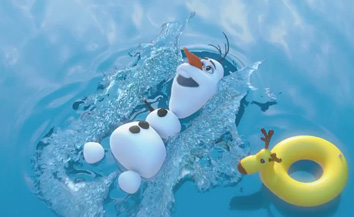 ---
Frozen has climbed back into the number one spot at the box office, for the first time since early December. I'm starting to think it might still be there when we start 2015.

As the Christmas box office bonanza fades into the background, the top choice for moviegoers remains the same as it was a month ago, as Frozen continues to dominate the box office. The film that was number one on December 6th is the same as the one on January 5th. Considering the mammoth holiday box office that occurs between these weekends, a repeat number one for Frozen at the start of 2014 should shake box office observers to their very core.

Yes, our number one film of the weekend is Frozen, now in its sixth weekend of wide release. Over the 13 days between December 20th and January 1st, Frozen earned about $100 million, on top of the $177 million it had pulled in prior to 20th. Remarkably, Frozen continues its dominance this weekend, as it pulls another rabbit out of its hat, taking down Paranormal Activity: The Marked Ones. On Friday, Frozen pulled in another solid score of $6.75 million, a number very similar to its Friday, December 6th score of $6.72 million. Friday's gross is $1.6 million more than the $5.1 million the animated film grossed on both December 13th and 20th, showing how odd – and bulletproof – Frozen has been since its wide debut on November 27th. In this era of box office, these things simply do not happen.

With the holiday season now in the rearview mirror, weekend multipliers change as moviegoer behavior changes. With Friday being a day off school for kids – whether they were snowed in or not – and Monday a school day, internal weekend multipliers (weekend gross divided by Friday gross) are lowered. Over a normal weekend, a film like Frozen would have a multiplier of 4.0 or higher, simply because kids can't see a movie during the day on Friday, but then come out in force over Saturday and Sunday. This time around, the Friday acts more like a Saturday, and the Saturday and Sunday are softer, thus decreasing the multiplier. On Saturday, Frozen earned $8.1 million, but then the estimate has the Sunday dropping off considerably, for a weekend score of $20.7 million. That gives Frozen a 3.1 multiplier, much, much lower than the 4.7 multiplier it received on December 6th, and the reason why this weekend is lower than the $31.6 million Frozen earned over that weekend, despite having the same Friday number on both weekends.

Frozen was off 28% from its $28.6 million take last weekend, but earned more than the $19.6 million it earned the weekend previous, and almost matched the $22.6 million it earned the weekend earlier. Like Disney movies of yore, word-of-mouth has turned Frozen into a mega hit, but there are other reasons why this one is doing so well. It helped that all of the Christmas Day releases were targeted at either adults (Wolf of Wall Street, Walter Mitty) or at no one (Believe, 47 Ronin), and that Walking With Dinosaurs imploded, removing any kind of competition. The scheduling for Frozen also paid off, as Disney had no fear opening Frozen in the shadow of The Hunger Games: Catching Fire or having it compete with The Hobbit: The Desolation of Smaug. Disney knew it wasn't going to have the number one film over opening weekend, or over weekend three because of this heavy hitting competition. They still pushed their film out regardless, relying on its quality to drive word-of-mouth over the holiday season. To say the move worked is a massive understatement. Frozen is now a top ten film for Disney, as it passed Up and The Sixth Sense this weekend. It could pass The Lion King ($312.9 million) next weekend to become Disney's biggest non-Pixar animated title during first run.

Finishing second this weekend is Paranormal Activity: The Marked Ones, as the series attempts to spin off into subtitles, and then oddly has Paranormal Activity 5 coming out in October. It may be too much for the fan base - The Marked Ones turned in the lowest score so far for a Paranormal Activity debut weekend, coming in at "only" $18.2 million, following Friday night when it was ahead of Frozen by $2 million. Most of that $2 million came from Thursday night screenings, which earned $1.2 million despite the weather. That's significantly lower than the $29 million earned by Paranormal Activity 4 in October 2012, but on target with 2013's first horror film, Texas Chainsaw 3D, which took in $21.7 million over the January 4-6, 2013 weekend.

If this sounds disappointing, remember how much these Paranormal Activity films cost. The first Paranormal Activity cost less than my last car at $15,000, and earned $108 million. Paranormal Activity 2 cost $3 million and earned $84.8 million, Paranormal Activity 3 and 4 both cost $5 million, and combined for $157 million. The Marked Ones also cost $5 million, so even if it only manages the total of the fourth film at $53 million, it will still make 10 times it production budget, and should earn more overseas than it will domestically. The franchise is showing signs of fatigue, and not only in terms of box office. The Marked Ones received a Cinemascore of C-, which is even bad for a horror film. Look for a 70% drop next weekend and a quick exit out of the top ten.

The Hobbit: The Desolation of Smaug is third this weekend, as it follows a similar box office pattern to that of the first Hobbit film. After earning $29 million last weekend, its third, Desolation of Smaug dropped 44% to $16.3 million this weekend. The original Hobbit earned $32 million in weekend three and then dropped 45% in weekend four to $17.5 million. The Desolation of Smaug remains about $30 million behind its predecessor, and should finish with about $275 million on the domestic side. Overseas, it's running with about $527 million, and has some ground to make up on the original in that regard, and The Hobbit earned $714 million abroad.

The Wolf of Wall Street squeaks ahead of American Hustle to finish in fourth spot this weekend, as the two films continue to go toe to toe (too bad Grudge Match wasn't this popular). The Martin Scorsese/Leonardo DiCaprio romp earned another $13.4 million, off 27% compared to last weekend. DiCaprio's Wolf of Wall Street is falling behind his other Christmas Day openers, Catch Me If You Can and Django Unchained. 2002's Catch Me had earned $97.4 million after 12 days of release and Django had pulled in $106.3 million. So far, Wolf of Wall Street has earned $63.3 million against its $100 million budget, and has yet to open in overseas venues.

That puts Sony's American Hustle in fifth as it battles with Wolf of Wall Street to attract the same audience. American Hustle earned $13.2 million and was off 29% compared to last weekend. The biggest difference between the two films is cost. American Hustle cost Sony $40 million to make, whereas Wolf of Wall Street cost $100 million. American Hustle has now earned twice its budget back with a gross so far of $88.7 million.

Anchorman 2: The Legend Continues drops from third last weekend to sixth this weekend, as American Hustle and Wolf of Wall Street leapfrog Ron Burgundy. Despite the placement slide, Anchorman 2 is still running strongly, earning $11.1 million in its third weekend. That gives the comedy a drop of 44%, but it managed to cross the $100 million mark on Friday night. The budget for the Paramount release was $50 million, and it has now taken in $109.2 million stateside, along with another $35 million overseas.

Saving Mr. Banks is seventh this weekend; however, the Disney release has managed to turn low rankings throughout its run into success at the box office. This weekend, Mr. Banks earned $9.1 million, off 33% from last weekend's $13.5 million gross. This one cost only $35 million to make, so Disney is going to be happy with a $59.3 million gross so far.

Ben Stiller's Secret Life of Walter Mitty is eighth, and while it had an okay gross this weekend, Stiller must be feeling some pressure given the film's $90 million production budget. In its second weekend, Walter Mitty earned $8.2 million, a decline of 36% compared to the opening weekend of $12.8 million. Thanks to the holiday season, it has $45.7 million in the box office kitty so far, so it should top out at the domestic box office with around $65-70 million. Overseas box office could bail it out though, as it has pulled in almost $70 million so far.

Ninth is The Hunger Games: Catching Fire, which continues its remarkable run this weekend – its seventh in release. Catching Fire earned another $7.4 million, which means it fell only 26% compared to the previous frame. It crossed the $400 million mark on Thursday, its 42nd day, becoming only the 14th film ever to reach $400 million at the domestic box office. It also nearly matches the domestic box office of the original Hunger Games this weekend ($408.0 million), as it has a gross so far of $407.5 million (the 15th biggest domestic gross ever). It has also matched the domestic score with overseas grosses, which means it has taken in more than $830 million worldwide, whereas the original earned $691 million worldwide.

Grudge Match manages to stay in tenth this weekend, as De Niro and Stallone are able to out-slug 47 Ronin and Walking With Dinosaurs. Grudge Match earned $5.4 million, dropping 23% from last weekend's $7 million take. Its current total of $24.9 million is a long way from its $40 million budget, but overseas audiences may bail this one out.

Nothing is going to save Keanu Reeves' 47 Ronin, as it finishes 11th this weekend. It earned only $5 million, down a nightmarish 50% compared to last weekend. Remember, the posted budget on this one is $175 million, and it has a domestic take so far of only $32.6 million.

Walking With Dinosaurs is our other colossal flop over the Christmas season, as it earned only $3.8 million this weekend. That's good for a drop of 48%, and gives it a domestic take of only $31.4 million. Dinosaurs cost Fox $80 million, and they will be eating some of that, despite an overseas take of $52 million so far.

Overall this weekend, the holiday season ends with a bang, as the top 12 films this weekend grossed $131.7 million. A year ago, the top 12 was led by Texas Chainsaw 3D to $124 million, so the year is off to a decent start. Next weekend, The Legend of Hercules opens, and is joined by an expanding Her from Spike Jonze, as well as Lone Survivor with Mark Wahlberg. Happy New Year, everyone!