Weekend Forecast for January 3-5, 2014
By Reagen Sulewski
January 3, 2014
BoxOfficeProphets.com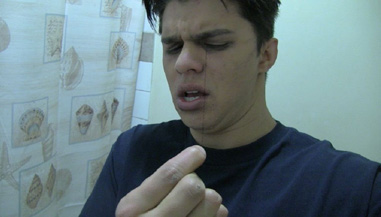 ---
The first weekend of the year often has that "Wait, we need to release something? Uh..." feel to it, and this year is no exception. Just one new film hits theaters in wide release this weekend, and it's the spinoff to that horror series you're tired of that you've been longing for all this time!

Paranormal Activity: The Marked Ones is the fifth film in the conveniently-filmed found-footage horror series and expands the mythos (oh, it's got a mythos, don't you dare say it doesn't and you mean you haven't been following it?) with a gritty "urban" reboot. Moving away from the lily-white suburban setting of the first four films, it brings in a Latino central character to be haunted by the unseen demons. As per the title, he's been selected as the next possession victim, and we witness his slow descent into oblivion (I repeat, isn't it convenient someone's filming this?).

This entry is likely to keep to the idea of the other films, which play like someone yelling "Boo! Boo! Boo! Scared yet? Boo! Ha, got you! Boo!" at you for 90 minutes. The conceit seems to be wearing a little thin, and like the Saw movies it effectively killed off in 2007, it's seeing a distinct decline in its audience, with just $53 million domestic from Paranormal 4, a little less than half of the take of Paranormal 1.

Obviously some sort of reboot or revamp is in order, but is it in time and can it actually make the difference to revitalize the franchise? The ads are back to the original idea of showing scared preview audiences in night vision, but I doubt that's really fooling anyone at this point. There really can't be that many ways to have something jump out from out of the field of vision, or rush the camera. The horror of anticipation only goes so far. The brand is probably strong enough to lead the way against a group of all holdovers, but the days of this shocking the horror world are likely long gone. At about 2,500 venues, Paranormal Activity: The Marked Ones should earn about $24 million.

A little unusually for an early January weekend, no limited releases are expanding, as studios likely think no one's paying attention just yet; they might be right. At any rate, the weekend offers a little bit of a soft landing for Christmas week, and it's an extension of the perfect Christmas calendar configuration. Most schools aren't back, so there's yet another weekend where families have to find something to do, giving the ridiculous amount of wide releases from the last two weeks a chance to find an audience. There's not likely to be any dramatic shifts in fortune, making this a bit anti-climactic, but there's still money to be made.

Frozen should probably slip past The Hobbit 2 for second place and will be Johnny-on-the-spot if Paranormal Activity falters. This is less to do with the legs of Frozen and more to do with the anti-legs of The Hobbit. Even the Lord of the Rings films had trouble with this particular weekend. Having leveraged the Christmas week to its maximum potential, Frozen is going to be sitting at almost $280 million by the start of the weekend, and has a moderate chance of running down Despicable Me 2 for the top animated performer of the year. That'll take some work, but $350 million seems like a good bet at this point. Look for around $17 million this weekend.

The Hobbit 2 faced down potential disaster, or at least just brand attrition, and survived to tell the tale, earning nearly $30 million over the Christmas weekend. It fell behind Frozen on New Year's Day, but longer films can definitely suffer on weekdays more than others. The Lord of the Rings films have all hit hard roads after the holidays, although there's a huge chunk of change in its coffers. I'd look for around $15 million this weekend.

Fourth place is where we might see the first of our Christmas Day openers, with The Wolf of Wall Street. The Scorsese-DiCaprio collaboration fizzled a little, opening to just $18 million, but may find an audience in the post-holiday period. I'd give it about $12 million this weekend. A similar figure should be in store for American Hustle, which is also not burning up the charts, but at least had the virtue of two "opening weekends" in effect. Look for a lot more films to bypass the Christmas Day release in the future.

Anchorman 2 was one of the few films to have a significant drop the week of Christmas, though with nearly $100 million in the bank, no one should really be complaining. This is ultimately a very strange and off-putting comedy, and that it's gotten as much as it has is a testament to how far its audience is willing to go. Give it $11 million for its third weekend.

Saving Mr. Banks was another Christmas success story, and probably the best candidate to keep its run going post-Holiday. Now sitting close to $50 million after a $9 million opening weekend, this might have one of the best old-school multipliers in ages. All hail the calendar! $9 million seems like a good take for it this weekend.

The Secret Life of Walter Mitty is the biggest "meh" of the Christmas season, managing just $12 million in its opening weekend and sits at around $35 million to date. Ben Stiller's attempt at heart-warming did not work at all, and even on its $90 million budget it's going to struggle not to be a bomb. I'd look for around $7 million this frame.

After a bit of wobbliness after its opening weekend, The Hunger Games: Catching Fire now looks assured to be the #1 earning film of 2013, getting set to pass the $406 million of Iron Man 3, if not this weekend, sometime during the following week. With a $158 million opening weekend, this is hardly an upset, but also points to the high stakes of these franchise films. Give it about $6 million this weekend.