The Twelve Days of Box Office Day Eleven
By Tim Briody
January 1, 2014
BoxOfficeProphets.com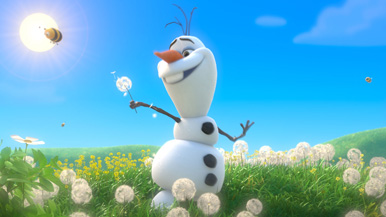 ---
Happy New Year to all our readers! New Year's Eve is traditionally one of the worst days of box office among the Twelve Days of Box Office, due to people deciding they'd rather not ring in the new year in a movie theater.

The top two films still enjoy a good deal of distance from the rest of the pack, with Frozen holding its lead over The Desolation of Smaug after The Hobbit took the weekend crown. On the final day of 2013, Frozen added an estimated $7 million to its total, down about 10% from its Monday take. One of the key points we mention when it comes to older films this time of year, is that if they can make it to the final two weeks of the year, look out. After its post Thanksgiving decline, you would not have been called that crazy to say Frozen would probably top out at around $200 million or so, which is exactly where Tangled, the Disney film it's oft been compared to ended up. But after that 53% drop in weekend number two, it righted the ship and had subsequent declines of 29% and 13%, and then rebounded an astounding 46% this past weekend as it chugs towards the $300 million mark. It stands at $263 million right now and New Year's Day is traditionally very good for box office and it's also in line for one more strong weekend this coming weekend before most of the country returns to work. Frozen is easily one of the best box office stories for 2013.

Once the first day's box office came in, it was obvious that The Desolation of Smaug would not match the $303 million earned by An Unexpected Journey. The question rapidly became how much less the second of the three Hobbit films would earn. Would it be crushed by the deluge of Christmas releases? It managed to win the Christmas weekend and remain ahead of all the new releases, but only yesterday finally managed to cross the $200 million mark with an estimated $5.5 million. It's the silver medal winner in the Twelve Days of Box Office, but that's a small consolation. I'm reminded of King Kong (also directed by [bp:598_]Peter Jackson[/bp]) from 2005, a film that was preordained to be the big holiday winner only to barely stumble over the $200 million mark and be overshadowed by The Chronicles of Narnia: The Lion, the Witch and the Wardrobe, which finished with $291 million. Eight years later, Peter Jackson still hasn't learned his lesson. Despite the relative struggles of The Hobbit right now, I still expect There and Back Again to better this performance next year.

There's really not much to discuss regarding the Christmas releases, as they're all either doing okay or horrible flops, and nothing about that has changed since Christmas Day. The top earner among them is [bp:200_]Martin Scorsese[/bp]'s The Wolf of Wall Street, which earned an estimated $3.3 million on New Year's Eve, giving it $41.5 million after a week. The Secret Life of Walter Mitty also took in that much, and is at $31.5 million. Both of these performances are acceptable. Meanwhile, Grudge Match and Justin Bieber's Believe are still disasters. Unfortunately, we cannot laugh at 47 Ronin today as the box office has not been reported. Perhaps Universal got tired of our jokes.