Weekend Wrap-Up
Holdovers strong; Christmas releases' geese are cooked
By David Mumpower
December 29, 2013
BoxOfficeProphets.com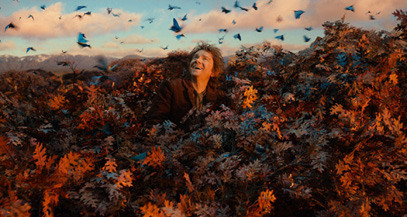 ---
The December holiday season is always the most wonderful time of the year in Hollywood. More movies are released during this period than at any other point on the yearly calendar. Ordinarily, older titles cede to the shinier new films with impeccable pedigrees. What has happened this week, however, has been anything but ordinary.

Almost all of the Christmas releases struggled, while a pair of long in the tooth blockbusters somehow sustained supremacy. In the end, The Hobbit with the dragon outlasted the Snow Queen. Everything else suffered a threadbare Christmas, especially Justin Bieber and a gaggle of Ronin.

Yes, The Hobbit: The Desolation of Smaug maintained its Christmas momentum just enough to claim first place over the Friday-Sunday portion of the week. Its total of $29.9 million represents a minuscule 5% decline from last weekend's $31.2 million. The latest Peter Jackson epic has earned $190.3 million domestically after 17 days in release. It is running far behind The Hobbit's pace, as the fourth Lord of the Rings release had grossed $221.6 million during the same timeframe. With $276 million in the bank overseas, The Hobbit 2 has already grossed $466 million worldwide, although this is expected since the franchise has always sold extremely well abroad.

As unexpected as first place may be, second place is an absolute shocker, at least if you haven't been paying any attention to box office this week. Frozen, one of the two dominant titles of Thanksgiving week, is now cemented as one of the two dominant titles of Christmas week as well. After grossing a solid $19.6 million during its fourth weekend in wide release last frame, Frozen increased $9.2 million or 47% to $28.9 million over its fifth weekend in theaters. Suffice to say that this is a rare bordering on unprecedented showing of staying power for a Thanksgiving title.

Ordinarily, the most popular movies from the November holiday have lost too many of their screens to be such a factor during Christmas. To wit, The Hunger Games: Catching Fire won Thanksgiving weekend by almost $7 million. Over the past seven days, Frozen beat Catching Fire by $37 million. And Catching Fire is demonstrating solid legs.

Frozen is playing like an old school release. After debuting to $67.4 million over its first weekend in wide release (and excluding $26.5 million in prior earnings), Frozen already claims a final box office multiplier (final domestic take divided by opening weekend total) of 3.3. And it has another week of holiday-inflated revenue upcoming. With $248.4 million in the bank, Frozen should surpass Gravity's $254.6 million as soon as Tuesday. In the process, it will become the most successful non-sequel of 2013. There are even greater possibilities in play depending upon whether it continues its current trajectory as the post-Christmas choice of the people.

What is especially great about Frozen's revenue is that since it is in the fifth week of wide release, exhibitors are receiving roughly half the profits from its astounding performance. They are incentivized to keep it in theaters for the foreseeable future, which should magnify its holdover appeal. In other words, Frozen may be a factor at the top of the charts for another couple of weeks.

On almost every day this week, Anchorman: The Legend of Ron Burgundy finished in third place. Thus, no one should be surprised that the Paramount comedy finished in that slot for the duration of Christmas weekend. The (too) heavily marketed comedy grossed $20.2 million over the course of the weekend. That's depreciation of 25% from its opening weekend gross of $26.8 million. It has effectively matched the original Anchorman's $84.1 million after only a dozen days in theaters. It will soar past the $100 million mark at some point next week, so all the complaints about the ubiquity of Will Ferrell have not had a negative impact on the box office. I think we are all feeling conflicted about that.

Sony's awards season contender, American Hustle finishes in fourth place with $19.6 million. That's an increase of 2% from last weekend's $19.1 million. The movie unites the key cast members of two previous David O. Russell movies, The Fighter and Silver Linings Playbook. American Hustle's cumulative total of $60 million is noteworthy relative to those two titles. The Fighter required 35 days to reach that amount while Silver Linings Playbook needed 71 days. Since those films grossed $93.6 million and $132.1 million respectively, this $40 million production will be another golden goose for Sony.

The best of the Christmas releases can manage no higher than fifth place this weekend. The Wolf of Wall Street did not make the type of financial killing that would please Jordan Belfort, the man whose story is told in the film. Still, an opening weekend of $18.5 million is a solid start for Paramount's second film in the top five. It has earned $34.3 million since Christmas Day and unlike almost all the other holiday releases, it is still showing signs of life at the box office. Then again, with a lofty price tag of $100 million, The Wolf of Wall Street still has a lot of work to do domestically.

When Disney determined they would create a movie about founder Walt Disney, I sincerely doubt that they expected it to be their second best film of the weekend. I am confident that they did not plan on Saving Mr. Banks losing to week five (technically, week six) of Frozen. I doubt anybody at the studio is complaining, though. Saving Mr. Banks grossed $14 million over the Friday-Sunday portion of the week, an increase of 50% from last weekend's $10 million. After only ten days in wide release, the movie has already earned more domestically than its modest $35 million budget. Along with Frozen, Disney films experienced the two best weekend to weekend increases within the top 10. It seems like Disney can do no wrong this year. Well, other than The Lone Ranger.

The films placing in seventh and eighth place this weekend were both Christmas Day releases. The best of the two is Fox's The Secret Life of Walter Mitty, which grossed $13 million during its first weekend. The Ben Stiller remake of the 1947 classic has earned $25.6 million in five days. Next up is The Hunger Games: Catching Fire, as the second annual Hunger Games took a strong step toward the $400 million plateau this weekend. It earned $10.2 million, giving it a running total of $391.1 million. In the process, it became the 18th biggest domestic release of all time.

The rest of the top ten is comprised of 47 Ronin and Tyler Perry's A Madea Christmas, two films whose holidays were not particularly bright. 47 Ronin is shaping up to be one of the biggest bombs of the 2000s. The $175 million production managed a dismal $9.9 over three days and $20.6 million since Christmas. Keanu Reeves is no longer a thing. Also struggling is the latest Madea movie , which grossed only $7.4 million. With a running total of $43.7 million, the Lionsgate franchise is clearly slipping in popularity. It's either that or nobody wants to spend the holidays with Madea.

Finishing outside the top ten are another pair of Christmas Day releases. Grudge Match, a Warner Bros. title, is the third Sylvester Stallone failure of 2013. It earned only $7.3 million over the weekend with a grand total of $13.4 million after five days. Also this week, Justin Bieber retired the same day as Justin Bieber's Believe was released in theaters. This is the equivalent of quitting moments before the boss fires you. Believe grossed an absolutely pathetic $2 million, which is only 7% of the $29.5 million that Justin Bieber: Never Say Never earned during its opening weekend. North American audiences have finally been inoculated against Bieber Fever.