Movie Review: Inside Llewyn Davis
By Matthew Huntley
December 26, 2013
BoxOfficeProphets.com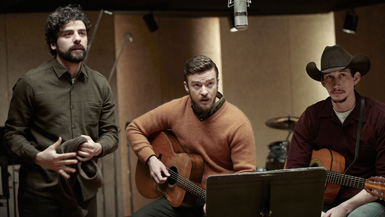 ---
Inside Llewyn Davis plays like a whimsical short story contained in a book of other short stories. It initially comes across as indistinct and inconsequential, but then it gradually defies our expectations and turns the traditional music biopic on its head. It's not even a biopic, really, but because it's set up like one, we expect it to abide by certain rules, and it might have had it not been written and directed by Joel and Ethan Coen, who lend the material their trademark imagination and audacity. By the end, we find ourselves being challenged and reflecting.

On the surface, the movie is about a hapless folk musician named Llewyn Davis (Oscar Isaac), a thirtysomething singer-songwriter from Greenwich Village who can't, for the life of him, catch a break. He's down on his luck to an almost extreme and unbelievable degree - he gets beat up outside the one club that still books him; he relies on friends and other musicians for a place to crash, measuring the quality of his accommodations by the firmness of the couch he sleeps on; he receives no royalties from his last album, which was a duet with his partner until the latter threw himself off the George Washington Bridge; and he doesn't even have a winter coat.

Llewyn is one sorry young man, and over the next week during which the film takes place in 1961, the hits are going to keep on coming. For starters, he locks himself out of his friends' apartment and is forced to carry around their cat, which runs away. He then finds out he may have impregnated his friend's (Justin Timberlake) wife, Jean (Carey Mulligan), who, despite her soothing and content voice, seems perpetually angry and always capable of dishing out blame but never willing to take any. Jean isn't exactly sure whose baby it is, but rather than risk it being Llewyn's, whom she deems a constant screw-up, she wants to abort it. Llewyn's visit to the doctor, in turn, reveals another discovery that makes him question his own legacy.

Lastly, Llewyn is running out of money - fast - and sources for support, like his sister (Jeanine Serralles) and nursing home-ridden father, are running thin. As much as he doesn't want to, Llewyn may have to rejoin the merchant marines, but even that option requires him to pay dues.

At this point, there's nothing for Llewyn to do but wander and hope that somebody either gives him a gig or a record deal. And if this were a usual story, when Llewyn hitches a ride from New York to Chicago with the reclusive Johnny Five (Garret Hedlund) and larger-than-life Roland Turner (John Goodman) to audition in front of a nightclub manager (F. Murray Abraham), he'd eventually find success and the rest the of the story would play out according to what we already know about stories like this.

But a usual story this is not. Instead of sticking to a typical rags to riches arc, it's about one man's endurance through the random curve balls life throws at him - in this case, the life of a struggling artist - that don't necessarily have a rational explanation. The movie resists the theme that everything happens for a reason or that everyone we meet, including these characters, serve a functional purpose to our existence. Granted, we can justify they all serve a greater narrative purpose, but the Coen Brothers don't believe it has to be readily apparent. They require the audience to play an active thinking role.

And that becomes the pleasure of Inside Llewyn Davis: its incessant re-direction and that it's mostly bereft of predictability. In a way, the Coens trick us into thinking certain scenes and situations must play out a certain way but then have them play out differently. And yet, they don't perform a complete 360 just for the sake of doing so; rather, they simply choose an alternate path for the story to take, and the results are perfectly rational and credible. We appreciate the twists, even though they're frustrating at first since we expect the story to fall into traditional grooves. But that's on us, and if there's one thing the Coen Brothers aren't interested in, it's traditional storytelling.

What's interesting about Inside Llewyn Davis is that it could have just easily worked as "regular" music drama, especially with its superb soundtrack ("Please Mr. Kennedy," sung by Isaac, Timberlake and Adam Driver is one of its many delightful and euphonic songs) and colorful performances. On that level, it would have been a good movie, but the Coen Brothers take it further. They refuse to settle for regular and we leave the theater not only pleased by the music, but also pondering the protagonist's journey on a deeper level, including the ambiguous ending. Even now, days after seeing the film, I'm still thinking about it. What does it mean? What did the Coen Brothers want us to take away from it? Like any memorable story, even if there's no way to explain it, we're grateful it went out of its way to make us think.