Weekend Forecast for December 27-29, 2013
By Reagen Sulewski
December 24, 2013
BoxOfficeProphets.com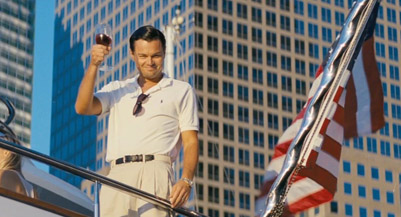 ---
It's one of the tightest Christmas weekends in recent memory, with as many as six different films having a chance to take the top spot on the weekend, and not all of those being among the weekend's slate of new offerings.

I don't know about you, but six new wide releases on Christmas Day just isn't quite enough. In theory, I could only spend half the day watching all the new films out that day, if I for some reason hated myself. I look forward to the day when I can spend a whole 24 hours watching the new releases of the day, if I could rope some poor theater operator into staying open. Of course, the idea is that you go back multiple times during the week, and it'd be a shame to have a demographic not satisfied.

A strong contender to lead the way for the new films is The Wolf of Wall Street. After the faux-Scorsese of American Hustle, here comes the real stuff. Scorsese's new muse Leonado DiCaprio stars as infamous Wall Street scammer Jordan Belfort, who found a way to milk the system in the 1980s, taking millions in pump and dump schemes before finally being caught. The film spans his rise and fall, his excesses and scams, and how he fit right into the emerging corporate greed culture at that time. The film also stars Jonah Hill as his brash confidant, and Kyle Chandler as a federal investigator hot on his tail and openly challenging his legitimacy. In this sense it resembles a corporate version of Goodfellas with a dash of Catch Me If You Can.

This is now DiCaprio's fifth collaboration with Scorsese, with three of the previous four grossing over $100 million, and even the least of them still earning $75 million domestically. The Wolf of Wall Street differs slightly from the rest of them, in that it contains a lot more overt comedy than the other films, while still ostensibly remaining a comedy. This can only help the film's prospects, as a little levity is often missing from Scorsese's movies. DiCaprio himself hasn't played comedy all that much either, although with the hot streak he's riding (let's just forget about J. Edgar for a moment) it's hard to argue he needs to change anything.

Indeed, this is yet another pairing of one of the highest-earning and consistent actors with a director who suddenly can do no wrong in his later career after struggling for commercial relevance earlier on. May we all find our greatest successes in our 60s and 70s. Reviews are not as great as for recent Scorsese films, but the pairing of actor and director has proven solid before, and the tone of the film is a little easier to jump into than for others. For the Christmas week, The Wolf of Wall Street should earn about $45 million, with about $27 million of that coming on the weekend.

A film that might have seemed like a slam dunk hit a few months ago but has slipped a bit, The Secret Life of Walter Mitty features Ben Stiller directing Ben Stiller in the title role, as an absent minded office worker given to daydreams. Stuck in a rut of routine and fantasizing about a coworker (played by Kristin Wiig), he's shaken out of this while helping to produce the last issue of LIFE magazine (so this was a while ago, then) and a famous negative goes missing. This inspires him to embark on a voyage of discovery (or does it?) with larger than life adventures involving sharks, mountain climbing and longboarding down remote highways.

A life-affirming story with a touch of Forrest Gump, it seemed well placed to grab family audiences. That was until the reviews started pouring in with a decidedly meh bent. Not so much saccharine as trite, the film reaches for heights it can't achieve, per a lot of the reviews. That's not always going to matter, but the lack of amazing reviews does likely prevent it from reaching blockbuster status. Christmas week should be good to the film, and I'd expect about $38 million over five days, with $18 million in three.

A number of actors seem stuck in the idea of giving their audiences exactly what they used to want, years after their box office prime has passed them. None seems to have embraced this idea more than Sylvester Stallone, who has gone back to the well for multiple characters, and then invented new similar characters to those to double up on the idea. In Grudge Match, he does it again, and brings Robert DeNiro along for the ride to do the same thing. The two actors play aging (aging, aging) boxers (named "Billy The Kid" and "Razor Sharp" proving Stallone hasn't lost his affinity for horrible, obviously after-the-fact nicknames) who after a long rivalry that saw them lose only one fight – to each other – are enticed back into the ring after a scrap between the two goes viral. So it's Rocky vs. Raging Bull, meets On Golden Pond.

I'm sort of torn between this being kind of fun and kind of sad – maybe it's both – but it's telling to me that the best parts of the ads is the interplay between Alan Arkin and Kevin Hart. Like, are you truly interested in who the movie thinks will win this hypothetical boxing match? Never has the central conceit of a movie mattered so little. However, as The Expendables and Last Vegas show, these two lead actors still have a little gas in the tank. Not a lot, I'm saying, but a little. Despite bad reviews, Grudge Match should manage $25 million in five days, and $14 million in three.

Action is handled by 47 Ronin, a fantastical take on the real-life event of a group of master-less samurai who took revenge in 18th century Japan. This version has dragons and witches and such, which I'm pretty sure we'd have heard about if it happened that way. Just sayin'. But hey, it's a martial arts movie so let's all just relax.

The biggest (and, really, only) name you'll recognize from the cast of avenging samurai is Keanu Reeves – who to be fair, does have Asian ancestry – with Rinko Kikuchi playing a main antagonist. On this, and a wide array of special effects, was a mind-boggling $225 million budget wagered. I know, I don't get it either. I suppose the bet was really about international box office, but that appears to be failing as well, as an early opening in Japan was thoroughly underwhelming. Reviews are abysmal, and the ads are less than clear about the plot of the film. There seems to be a hope that you'll be so dazzled by the eye candy that you'll just wander in, but there's little chance of that. This looks like a major bomb in the making, with about $17 million in five days, and $10 million in three.

The second Justin Bieber concert film in three years, Believe enters the marketplace as the teen idol seems to be waning in popularity (hence the 1,000 venue count as opposed to Never Say Never's 3,000+). While it promises to follow the same format as the previous Bieber film, one wonders just how much left there is to tell about the singer, unless it wants to get into the bucket peeing incident in depth (which I'm guessing it's going to leave out). I'd expect this to fizzle, with $16 million in five days and $9 million in three.

An expansion rounds out the list of new films, with Mandela: Long Walk to Freedom making its way to around 850 venues. A biopic about the South African leader's origins as a civil rights activist and freedom fighter, through to his imprisonment and release, it is but just the most recent film to tell his story. Idris Elba stars as Mandela, with Naomie Harris playing his wife Winnie.

Accidentally very topical thanks to his recent death, it has so far received only a middling reception, and hasn't impressed in limited release. While a lot of the expectation might be that it's a potential awards winner, Elba hasn't made much of a dent in the guilds, although he did manage a Golden Globe nomination. This seems like a case of "important person, unimportant movie." Give it $8 million over five days and $5 million over three.

The last time the calendar configuration worked this way for Christmas, it was 2002 and Peter Jackson topped the charts with a Tolkien movie, and Leonardo DiCaprio was challenging for top spot. Oh, how times have changed. The Hobbit Part 2 was a mild surprise as the weekend champ last weekend, holding off Anchorman 2 for the top spot with $31 million. That still represented a drop of almost 60% off its opening weekend, so while this weekend is historically a strong one where all films show legs, that relatively speaking means a bit of a drop. I'd expect about $25 million over three days, but long term prospects definitely have this film running below $300 million domestic now.

Anchorman 2's epic marketing campaign failed to result in a big increase from the first film's opening weekend, earning "just" $27 million. On this wild weekend, it's in the running to take the top spot if it can fight off sequelitis. Word-of-mouth is decent but not as heavy as with the first film, and the retread nature might put off a number of people. It could be a builder, as many wacky comedies are, but a more likely scenario is a slight drop to around $24 million.

The big winner in terms of relative business for Christmas week should be Frozen, which is both thematically appropriate for the weekend, but is also the main family film for the weekend. A major jump for Disney's main offering seems entirely likely, and $23 million is probably in the cards, as it vaults over the $200 million mark.

American Hustle earned a solid $19 million in its debut in wide release, converting its critical praise into a close fourth place finish. Word-of-mouth isn't as great as the reviews, though I don't think many are calling this a bad film, per se, and there's still a lot of awards attention to come for it. I'd expect a slight uptick to $20 million over the busy Christmas weekend.

Also continuing on with solid numbers are Saving Mr. Banks, the Disney/Mary Poppins film, Catching Fire, A Madea Christmas and Walking With Dinosaurs, with takes that should range from $7 to $11 million, and making it as many as 14 films earning over $5 million this weekend.