Weekend Wrap-Up
Box Office Hot as Smaug Beats Anchorman; Frozen Shines
By John Hamann
December 22, 2013
BoxOfficeProphets.com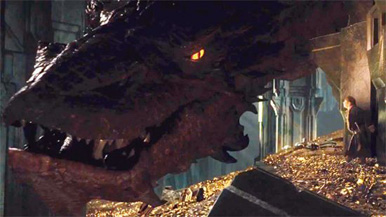 ---
A slew of new product – including Anchorman 2: The Legend Continues and Walking With Dinosaurs, as well as expanding films like American Hustle and Saving Mr. Banks, started the Christmas box office bonanza with a bang this weekend. The numbers this weekend set up what could be a record breaking Christmas Day, when a further five films open.

Our number one film at the box office is again The Hobbit: The Desolation of Smaug, despite being at number two on Friday versus Ron Burgundy and Anchorman 2. After a solid but not record breaking debut last weekend, the Peter Jackson sequel had to deal with a lot of competition this weekend, but managed to stay on top. After earning $8.6 million on Friday, The Desolation of Smaug owned Saturday and Sunday, as school is now out for Christmas break, so every day over the 12 Days of Christmas will play like a Saturday. The Warner Bros. release pulled down an impressive 3.66 weekend multiplier (weekend gross divided by Friday gross), to earn $31.5 million over the weekend. While the drop compared to last weekend is still quite high at 57%, it is right in line with the first Hobbit film, An Unexpected Journey, which fell 56% over the same weekend last year.

The Desolation of Smaug crossed the $100 million mark on Friday, its eighth day of release, which is three days longer than Unexpected Journey, which crossed the same plateau on its fifth day of release after opening to $84 million. An Unexpected Journey crossed the $150 million mark by Sunday of its second weekend, whereas Desolation of Smaug is going to need at least another three days. Like last weekend, though, the original Hobbit had very little competition, whether over its opening frame, or its follow up. Over opening weekend, An Unexpected Journey's second and third place films earned only $7 million; over its follow up weekend, it dealt with Jack Reacher and This is 40, two films that opened to a combined $26.8 million and finished with disappointing results. This weekend, the second and third placed films earned $50 million, so Smaug has been working uphill against some formidable competition. Given these facts, the result thus far must be seen as positive. It's going to approach – but likely won't best – the $300 million mark, but Smaug is still going to dominate worldwide, and I wouldn't be surprised if it earned the same billion globally that original did.

Second spot goes to Anchorman 2: The Legend Continues, which made the smart move of getting started on Wednesday, a scheduling move I don't usually support. With this incarnation, though, it allowed Ron Burgundy and friends a chance to be number one for a few days and make some headlines. Anchorman 2 opened on Wednesday to a very strong $8.1 million, beating The Hobbit by as much as $3.3 million. It was certainly front-loaded though, as on Thursday, Anchorman 2 earned $5.1 million, beating The Hobbit by only $100,000. On Friday, Anchorman won by that same $100,000, but the Hobbit sequel took advantage of a much better weekend multiplier to take the weekend. Anchorman 2: The Legend Continues had an internal multiplier of 3.0, and leveraged that into a Friday-through-Sunday take of $26.8 million, along with a five-day take of $40 million, a fantastic result for a sequel to a film that's nine years old.

The original opened to $28.4 million against the second weekend of Spider-Man 2 ($45.2 million), at a time when the very leggy Notebook was in its third weekend (with a drop of 12%), and Fahrenheit 9/11 was peaking in its third weekend with $11 million. To be able to even open over a weekend like that is a testament to the brand, so greenlighting a sequel to the $26 million original should have been a no brainer, and one has to wonder why it took so long to get this one going. The budget on The Legend Continues is $50 million, so there's more at stake this time around, but with a five-day debut like this, any concern that Paramount had is gone. The Christmas season turns even small openers into hits, like Jack Reacher last year. The Tom Cruise flick was able to turn a $15 million debut into $80 million, which means it earned five times its opening weekend gross. Should Anchorman 2 do the same, it will easily be a $100 million film, and could approach $150 million. Working against it is a B Cinemascore, but Jack Reacher wasn't far off that mark with an A-. Come New Year's Day, I think Paramount is going to be thrilled with the success of Ron Burgundy and his news team.

Finishing third this weekend is Frozen, the Disney Animated feature that had an absolutely stellar fourth weekend. After earning $22.6 million last weekend (dropping only 29%), Frozen had another slight drop, pulling in an awesome $19.2 million, which was a decline of only 15%. All of a sudden, it looks like this Disney product is going to approach $300 million before all is said and done, which really reflects Pixar numbers, not Disney numbers, unless you are looking at Disney numbers from decades ago, like The Lion King ($312 million). Frozen should cross the $200 million mark on Monday or Tuesday, and then sail through the next 10 days unimpeded. Walking With Dinosaurs is turning into a flop, so there is going to be little to no competition moving forward. So far, Frozen has amassed $191.6 million stateside, and has another $150 million in overseas business.

Fourth is American Hustle, the Christian Bale/Jennifer Lawrence/Bradley Cooper/Amy Adams throwback that is gunning for Oscar. Its Oscar chances weren't hurt by the box office this weekend – despite the ranking – as the David O. Russell flick earned a powerful $19.1 million from 2,507 venues. It had a strong venue average of $7,619, and is another film that's going to play very well over Christmas, if it can survive the onslaught of competition coming, especially The Wolf of Wall Street. The opening is the biggest ever for the esteemed director, and Sony is in a position to do very well with this it as the film cost only $40 million to make. With seven Golden Globe nominations already, American Hustle puts itself in position for a long and glorious run. Combined with its weekend in limited release, American Hustle has earned $20.2 million so far.

Fifth is Saving Mr. Banks, as the Disney newcomer may be getting buried under a lot of Oscar competition, as well as its own Frozen. The Tom Hanks/Emma Thompson flick earned $9.3 million this weekend, which from 2,110 venues isn't completely horrid, but Disney had to be hoping for more. This is a word-of-mouth kind of film, though, and it is Christmas, so with its A Cinemascore and 81% fresh rating at RottenTomatoes, it could play strongly throughout the season. It is a tough piece to market, as it could be considered a biopic or a family friendly drama, two types of films people don't normally rush out to see. The debut is remarkably similar to Tom Hanks' last Christmas effort, Charlie Wilson's War. That film opened to $9.2 million on December 21, 2007, and still went on to find $66.7 million throughout its run. That's an open-to-total multiplier of 7.3, and I bet this multiplier is even better.

Sixth is The Hunger Games: Catching Fire, which manages to stay relevant this weekend despite the onslaught of competition. Catching Fire pulled in another $8.8 million this weekend, dropping 36% from last weekend's $13.7 million take. The gross this weekend brings the total up to $371.7 million, so if it has a strong 12 Days of Christmas, it could still get to $400 million.

Tyler Perry's A Madea Christmas falls from third last weekend all the way down to seventh this weekend, as the usual Tyler Perry pattern holds despite having Christmas in the title. In its second weekend, A Madea Christmas earned only $8.5 million, giving it a drop of 47%. So far, this one has earned $28.3 million.

Seventh is Walking With Dinosaurs, a film that looks like it would be amazing, until we heard the voices and dialogue between the dinosaurs. Others obviously felt the same, as the Fox effort earned only $7.3 million this weekend from 3,231 venues. Luckily, this isn't performing like a Smurf movie, so hopefully the studios will learn a lesson about morphing BBC documentaries into kids movies crowded with poop jokes. If this was a silent film, it may have gotten my money, but like as it is, only the youngest of the young will attend, and likely without mom and dad.

Ninth is Dhoom 3, an Indian action movie. Dhoom 3 earned a remarkable $3.3 million this weekend from only 236 venues, giving it an average of $14,004, by far the best in the top ten. This is more than Dhoom 2 earned in its entire domestic run ($2.6 million), and should set up a strong run around the world. Dhoom 2 earned $32.4 million globally the last time around; Dhoom 3 should improve on that.

Tenth is Thor: The Dark World, which took in $1.3 million. Thor managed to cross the $200 million mark this weekend, its seventh weekend in the top ten. It now has a gross so far of $200.8 million stateside, and $425 million from overseas.

In limited release this weekend, Inside Llewyn Davis earned $1.1 million from 148 venues, an increase over last weekend of 197%. Also in somewhat limited release is Philomena, the Judi Dench release, which earned $1.2 million and declined 33%. Finally, Spike Jonze's Her also got out of the gate this weekend at six venues and found a venue average of $43,000.

Overall this weekend, the box office is hot heading into the Christmas box office bonanza. The top 12 films earned $137.3 million, well ahead of last year's $100.5 million. Things only get more interesting on Christmas Day, when The Wolf of Wall Street, The Secret Life of Walter Mitty, Believe, 47 Ronin and Grudge Match all open, and Mandela: Long Walk to Freedom expands. The last time we had five films open on Christmas Day was 2008, and three of those five went on to earn more than $100 million.