Weekend Forecast for December 20-22, 2013
By Reagen Sulewski
December 20, 2013
BoxOfficeProphets.com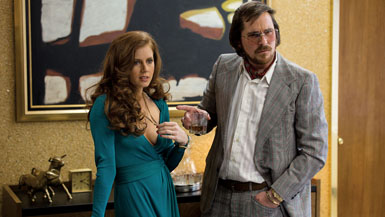 ---
And now starts the deluge. Three new movies hit wide release this weekend in advance of the Christmas holidays, just ahead of when, let me check my records here... all. All the movies are opening on Christmas.

First things first – a quick update on Wednesday's opening of Anchorman 2. On its first day of release, it grabbed $8.1 million, which is a solid, if unspectacular figure. Comparing to some previous releases in this spot, this puts it on pace for an opening in a (admittedly large) range of $35-45 million. Narrowing this down a little, I'd make an educated guess of $41 million, with $66 million over five days.

The prestige release this weekend is American Hustle, which jumps from a handful of screens to over 2,500. The movie is directed by David O. Russell, and stars Bradley Cooper, Amy Adams, Jeremy Renner, Jennifer Lawrence and Christian Bale (as Robert De Niro) in a sort of cursory overlook of the Abscam scandals of the late '70s and early '80s, sting operations involving bribery of public officials. However, you might be forgiven for thinking it just looks like Something Something '70s, what with all the focus on the look of the characters, and their obviously dated fashions and hairstyles. It's a less organized version of organized crime, and plays a bit like his version of Goodfellas. Here, the story is about the audacity of con men as they started to think big, as well as how the extent of corruption in American politics was revealed.

As one might expect given the cast and crew (every principal has either won or been nominated for an Oscar), it's gotten a lot of attention from guilds and awards shows, and reviews are about as good as they possibly can be. Not only is it well made, it's what seems like a throwback to an era of "cool, badass" cinema that hasn't been seen since maybe Boogie Nights or maybe Fight Club. There's likely a pent-up audience for this "genre" of crime film that's been looking for a cultural touchstone to obsess about for a long time. Get ready to see the posters for this film on every dorm room in North America next year.

Last weekend, it earned $740,000 on six screens for a ludicrous $123,000 per screen average. Going from six screens to 2,400 kind of breaks the traditional models for expansion, but it's safe to say that there's a bit of demand for the film. Of course, with Christmas on the horizon, to say nothing of increased awareness once award nominations really start piling in, opening weekend won't really tell the whole story of this film's box office. However, between the attractive cast, who are more than the sum of their parts, and ecstatic reviews, we should be looking at a solid weekend of around $24 million.

Saving Mr. Banks also jumps to around 2,100 venues after a comparatively ho-hum $413,000 on 15 screens. Starring Tom Hanks and Emma Thompson, it's a somewhat white-washed tale of the adaptation process of Mary Poppins, and the clashes between Walt Disney (Hanks, in what seems like a colossal case of miscasting), and the Poppins author P. L. Travers (Thompson). The main thrust of the film pitches back and forth between the fights at the studio as Travers reluctantly allowed Disney to adapt the film, and the troubled and tragic youth of Travers that inspired her to become an author. It seems a little bit condescending that all she needed was Disney to make her a more well-rounded and happier person. Why, this movie is produced by Disney, you say?

That snark aside, Saving Mr. Banks does appear to be a well-positioned film for the holidays, with tons of star power and name recognition of its subject galore. It may be the next best thing to a Mary Poppins sequel (which you hope no one would be ridiculous enough to try). While not strictly speaking a family movie (it's rated PG-13, a rarity for a WD-branded film), it's family-themed and pitched as heartwarming, making it a solid consensus choice.

Box office wise, it has a decent analog in Finding Neverland, although that film had a much smaller initial release and came before Johnny Depp turned into "Johnny Depp!". But $50 million domestic, ten years ago, for a fairly dry and maudlin tale about creating Peter Pan is pretty impressive. Saving Mr. Banks promises to be a bit more peppy than that. The ads have done a good job of selling this as a culture clash comedy, and the solid reviews certainly won't hurt. I'd look for a decent opening weekend of $16 million.

For the film actually aimed at families and/or kids, we go to Fox and Walking With Dinosaurs, a big screen version of the BBC series that portrayed animated narratives about the supposed behaviors of dinosaurs. Far from a nature documentary, it actually tries to build characters and uses juvenile jokes to make its points. While tremendous work has gone into making the film look photo-realistic, it's all in service of a pop-culture heavy script that panders heavily. Adults are likely to find this interminable, and even dinosaur fanatics are likely to be disappointed. This might perform as well as some of the Disney nature documentaries, but that's probably an ceiling value. I'd give it about $6 million this weekend.

Anchorman 2 will be competing with The Hobbit Part 2 for top spot, though it ought to be an easy win for Ferrell and company, looking at how the last film in this series performed. The Desolation of Smaug opened to $74 million, about $10 million less than An Unexpected Journey, which itself fell by more than half in its second weekend. While I don't worry about Peter Jackson's financials just yet, if this pattern holds, this is likely to be the first film in his Tolkien universe that grosses under $300 million. This should earn about $33 million this weekend.

Frozen may start to show some holiday-like behavior as soon as this weekend, as kids get out of school and parents look for something to occupy them with. It's already shown solid legs by earning $170 million over three weeks in wide release. The $200 million of Tangled will easily be surpassed by the end of Christmas week, maybe even Christmas Day, and at that point we're arguing about $250 versus $275. I'd expect about $18 million this weekend.

Tyler Perry's A Madea Christmas wasn't quite the equal of the rest of the other Madea movies, though perhaps it's a case of people waiting for the week itself to see it. I wouldn't be shocked to see a big spike on December 25th for this, but for now it's looking to be one of the weaker earners of the series. This weekend should see about $8 million for the film.

Catching Fire is continuing its quest for 400, which is likely to remain touch and go until the end. It's running essentially even with The Hunger Games at similar points in its run, but with higher drop-offs and a lower comparable weekend. And yet: Christmas. I'd give it $7 million this weekend, enough to be significant during Christmas week.