Weekend Forecast for December 20-22, 2013 Part 1
By Reagen Sulewski
December 18, 2013
BoxOfficeProphets.com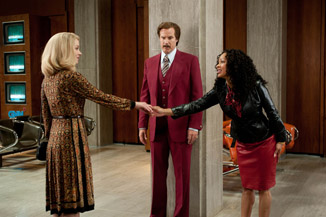 ---
Wednesday brings a little amuse-bouche for the upcoming feast of Christmas movie season, with one new comedy sequel. But if only anyone had done any marketing at all for it, even a little. I mean, come on guys, spend a little money on promotion.

If you can think all the way back to 2004, a time before smart phones and when Billy Ray Cyrus was just thinking about selling his daughter to Disney, the main wacky summer comedy was expected to be Dodgeball, starring Vince Vaughn and Ben Stiller. And it was! But an upstart SNL cast member, just spreading his wings as a leading man, also had a comedy open that summer, which in some ways, by which I mean basically all of them, has in the long run been more successful. I mean, just think about which film you've quoted incessantly for the last nine years. "Glass case of emotion"? "Milk was a bad choice"? "It's made from real bits of panther"? While Dodgeball earned $114 million to Anchorman's $84 million that summer, we're not seeing Dodgeball 2 hitting theaters at Christmas time, are we? Wait, I think Vince Vaughn's agent just had a brain wave.

Moving from the first film's setting of the free-wheeling, free-sex '70s to the slightly less free-wheeling '80s, Anchorman 2: The Legend Continues sends the San Diego Channel 4 news team to New York in the dawn of 24 hour cable news, with Will Ferrell's Ron Burgundy having been pushed out of the anchor chair by his wife (Christina "Contractually Obligated To Appear in This Picture" Applegate). Paul Rudd, Steve Carell and David Koechner come along to reform the news team, with an all-star cast in supporting roles – John C. Reilly, Jim Carrey, Tina Fey, Kristin Wiig, Sacha Baron Cohen, Harrison Freaking Ford... I could go on, and I will. Amy Poehler, Greg Kinnear, Liam Neeson, Kirsten Dunst... basically, if you're not in this film (and you might be), you've pissed Will Ferrell off somehow.

And for those few people that were not in the film, Paramount has gone to the strategy of informing each and every one of them personally that this film is coming out. Ferrell as Burgundy has made a whistle stop tour of the country, staying in character for about six weeks and doing things like calling obscure sporting events or hanging out in a random Connecticut town handing out donuts (this is true). At the start it was a quite a clever bit of promotion, but at some point in the last couple of weeks it started to take on the feeling of "ha ha, now stop". There was a time when an Austin Powers 2 type performance looked like it might be in the cards, but the saturation point has more than been reached, and the attitude of people has taken a slight, but perceptible downturn.

Reviews are strong, and the commercials are solid, which gives it a definite floor, but I feel like a truly enormous opening for this movie was in the cards had it not worn out its welcome before it even arrived. I do think that it's crucial that it's arriving at a time when college students (who will make up a substantial portion of its audience) will be released from captivity and looking for entertainment, but that points more towards a longer run than a big opening. I'd look for a $45 million three day total, and about $65 million over five days, which is by no means shabby, but you can't help but feel that some money's been left on the table here.

Stay tuned this week for more Christmas week forecasts as Every Movie Ever is released in the next two weeks.