Weekend Wrap-Up
Smaug Box Office Hot, But Dwarfed By Original Hobbit
By John Hamann
December 15, 2013
BoxOfficeProphets.com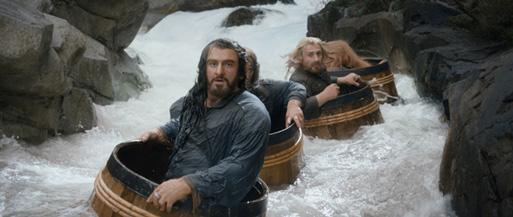 ---
The Hobbit: The Desolation of Smaug is no The Hunger Games: Catching Fire, as the Peter Jackson sequel couldn't match the $85 million December record open the original Hobbit earned a year ago. It's still huge, though.

The writing was on the wall for the second Hobbit right from the outset on Thursday night, when The Desolation of Smaug failed to match the original's Thursday night results. The previews for The Hobbit: An Unexpected Journey took in $13 million, whereas Smaug could only find $8.8 million, leaving a $4.2 million gap right at the beginning. I don't know about you, but if I went to a screening of An Unexpected Journey at midnight last year, and listened to drunken dwarves sing for the first hour, I wouldn't have come out to the next midnight screening. One would have to be a fairly rabid fanboy to come out to a midnight screening for a film that clocks in at two hours, 41 minutes. In my mind, this explanation gives us the reason for the difference in midnight screening between the two films.

The Friday take would be a mix of those lower light midnight screenings and the full Friday. The Hobbit: An Unexpected Journey added $24.1 million to its midnight previews for a Friday gross of $37.1 million, the biggest single December day in box office history. The Desolation of Smaug had a huge hill to climb on Friday to catch An Unexpected Journey following the reduction from Thursday. While it didn't match the original, the outcome was quite interesting. The Friday number for Smaug came in at $31.1 million, so after $8.8 million in midnight screenings are removed, the "true Friday" number for Smaug becomes $22.3 million, or about $1.8 million less than the original. So, while the immediate rush wasn't there like the original, a similar number of moviegoers came out on Friday for the sequel. With this rebalancing, it's good news for Warner Bros., New Line and MGM, as had the slippage from the midnight screenings lasted all weekend, The Desolation of Smaug could have finished the weekend with about $60 million.

The next step for Desolation of Smaug was to keep the battle going strong all weekend. It needed to approach the Saturday take of the original ($27.7 million) in order to keep the weekend multiplier up, and demonstrate legs beyond opening night. It's another wild weather weekend in the United States, so The Hobbit sequel (and the box office in general) had another uphill climb similar to last weekend. The Saturday figure for The Desolation of Smaug came in at $24.5 million, off 12% from Unexpected Journey's $27.7 million. Again, this is a completely respectable Saturday figure, and should be considered good news, not bad. When The Hobbit: An Unexpected Journey opened, the rest of Hollywood hid their treasures away, and the second place film that weekend earned only $7.1 million. This year, there are three films earning twice that amount, and those titles take away the big theaters that Journey would have dominated last year.

Over the entire weekend, The Hobbit: The Desolation of Smaug took in $73.7 million, down $10.9 million from the original's $84.6 million record. Smaug finishes as the fourth biggest December opener ever, behind the original, I Am Legend ($77.2 million), Avatar ($77 million), and notably ahead of The Lord of the Rings: Return of the King, which opened to $72.6 million in 2003 (although that one should be king, as it earned $50+ million before the weekend even began). The Desolation of Smaug cost a reported $225 million to bring to the screen, and likely another $100 million to market worldwide. An Unexpected Journey took in $303 million domestic, which wouldn't have covered the production and marketing costs for a film like this. The Lord of the Rings and The Hobbit franchises are not made with North American audiences in mind. This is a global release, where Unexpected Journey earned over $1 billion, making it the 16th biggest global earner ever.

Will The Desolation of Smaug earn more in the end than Unexpected Journey? It's too early to tell at this point, but the signs are positive. I think the competition over the Christmas season – at least domestically – is weaker this year. I don't believe there's a Django Unchained or a Les Miz in the mix this year; however, Wolf of Wall Street should perform decently. The Desolation of Smaug appears to be a better film for audiences this time around. Critics like it better than the original, as this one is currently 74% fresh, where the original was 65% fresh. Smaug also earned an A- Cinemascore. Lastly, the audience outside of North America continues to grow, with early returns suggesting that Smaug is running about 5% ahead of the original. The overseas numbers released so far indicate a gross of $131 million, so it is another Hobbit Christmas, at least for Warner Bros., New Line and MGM.

Finishing second this weekend is Disney's Frozen, which continues to be white-hot at the box office. The Disney Animation product scored another $22.2 million this weekend – its third above $20 million – and fell 30% compared to last weekend's $31.6 million take. Considering that it's up against The Desolation of Smaug, this should be considered a huge win for Disney, as the trajectory heading into the Christmas "box office lottery" period is fantastic. Tangled earned $14.3 million over its third weekend, and went on to earn another $85 million over the Christmas season. Frozen, which cost $110 million LESS to make than Tangled, should do much better over the next three weeks. Frozen crossed the $150 million mark on Saturday, and has a cume after three weekends of $164.4 million. Tangled had earned $115 million over the same amount of days, so I am looking for Frozen to push towards $250 million.

Third is our other opener this weekend, Tyler Perry's A Madea Christmas. Even with Madea in the title this weekend, the Tyler Perry Christmas entry came in softer than expected. A Madea Christmas earned $16 million from 2,194 venues, which makes it the lowest opener for a Tyler Perry film with Madea in the title. The lowest was Madea's Big Happy Family, which opened to $25 million in April of 2011. It's less than half of Madea Goes to Jail, which opened to $41 million in February 2009. The cost to make the film was likely very similar the opening amount, which does put Lionsgate in a decent position, but Tyler Perry films tend to take about half of the entire domestic haul of over opening weekend. Given this one is a Christmas film, that trend could change this time around.

That puts The Hunger Games: Catching Fire down to fourth this weekend, as it tries to stay in the hunt for $400 million. This weekend, Catching Fire earned $13.2 million, off 50% from last weekend's $26.2 million weekend take. Normally, with $357 million in the kitty thus far, I would outright say that Catching Fire won't make it to $400 million, but it is the Christmas season, which means that normal trends get thrown out the window due to the lucrative Christmas box office lottery. At the end of next weekend, Catching Fire will likely be in the top seven, as Anchorman and Walking With Dinosaurs open, and should earn in the $8-$10 million range. It will then earn $25-30 million following that weekend, which will put it in striking distance of $400 million. Regardless, The Hunger Games: Catching Fire is huge, as it has a worldwide take of about $730 million versus a production budget of $130 million.

It's going to take Thor: The Dark World at least another weekend to get to $200 million, as Thor got desolated by Smaug this weekend. The Dark World earned another $2.7 million this weekend, but fell 44% in the process. The Marvel superhero film has now earned $198.1 million domestically, and over $420 million overseas, against a $170 million budget.

Out of the Furnace is sixth, and is being abandoned by North American audiences. In its second weekend, Out of the Furnace earned $2.3 million, and fell a hurtful 56%. Furnace is behaving a lot like The Counselor, which also had a great cast, but imploded at the box office. So far, the Relativity product has earned only $9.5 million.

Delivery Man falls to seventh, but does stay in the top ten for a fourth consecutive weekend. The Vince Vaughn comedy earned $1.9 million and fell 50%. It has managed to earn more domestically than its $26 million budget, as it has a cumulative total so far of $28 million – not bad considering this one started with $7.9 million.

Eighth goes to Philomena, which holds quite nicely this weekend. The Judi Dench/Steve Coogan film may have only earned $1.7 million this weekend, but it declined only 20% compared to last weekend. Its three Golden Globe nominations may have helped, and it now has a gross so far of $11 million for The Weinstein Company.

Ninth goes to The Book Thief, as this one holds on due to a lack of competition. The Fox release earned another $1.67 million this weekend and brings its total up to $14.9 million.

In tenth this weekend is Homefront, the Jason Statham action film that never really took off. It was down 52% to $1.6 million, and has a running total of just $18.4 million. Still, the film had a pretty small budget at around $22 million, so the studio will come away from this one just fine once home video revenue is added in.

In other box office news this weekend, American Hustle opened on six screens this weekend, and earned a powerful $690,000, which equals a venue average of $115,000. The other big limited release this weekend is Saving Mr. Banks, with Tom Hanks and Emma Thompson. The Disney release earned $421,000 from 15 theaters this weekend.

Overall this weekend, the box office was stronger than where it was last year, despite a weaker Hobbit entry with Desolation of Smaug. A year ago, An Unexpected Journey led the top 12 to $129.9 million, whereas this year the backup to Smaug is stronger, and the top 12 pulled in $139.3 million. Next weekend, things get interesting, as Anchorman 2 opens along with Walking With Dinosaurs, while American Hustle and Saving Mr. Banks expand.