Weekend Forecast for December 13-15, 2013
By Reagen Sulewski
December 13, 2013
BoxOfficeProphets.com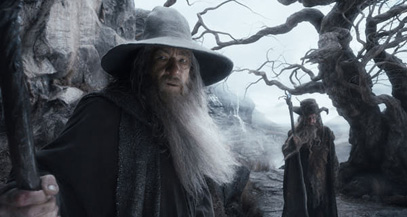 ---
December makes its best case for a blockbuster this weekend with the return yet again of the Tolkien universe of Middle Earth to the big screen. Further weekends in this month are offering more in terms of overall box office, but if you're looking for one single biggest movie, this weekend is your best bet barring something totally unexpected.

The Hobbit: The Desolation of Smaug is the second of the planned three (each three hours!) movies to be made from The Hobbit. That's the same number of films as made from the Lord of the Rings books, a decision that makes total sense when you realize that the Hobbit is a quarter of the length. Wait... Anyway, this is now the fifth movie Peter Jackson has made from Tolkien's works, but there's beginning to be a bit of a feeling of "homework" about these films. It does appear that we're getting to the good part with dragons and rings and such, but one wonders if fatigue isn't going to catch up to this series.

With the padding out of the book in the first film, it did feel a bit like Peter Jackson grabbing you by the lapel and yelling "ADVENTURE! ADVENTURE! ADVENTURRRRRE!" in your face. While I don't expect that there is less action in Hobbit 2: Elven Boogaloo, it promises to be a bit more to the point, with fewer songs about doing the dishes, and oh, I don't know, actually finally introducing the main antagonist of the trilogy. Imagine not introducing Darth Vader until someway into The Empire Strikes Back (yes, yes, the Emperor. Be quiet, nerds). But what's done is done, and here we are getting to the good stuff.

As Bilbo Baggins continues his journey with the company of dwarves led by Thorin Oakenshield towards the Lonely Mountain and the lair of Smaug, a dragon (voiced by Benedict Cumberbatch) that has ravaged the dwarvish kingdoms and stolen all their treasure. What a dragon really needs with all that gold is perhaps fodder for another movie (no! No ideas, Peter!). In addition to all this, we get the (invented for the movie) entrance of Legolas, played once again by Orlando Bloom and his pining for an elven warrior played by Evangeline Lilly. More battles with orcs are also on the menu and the whole thing hopefully adds up to an excellent entry in "Ripping Fantasy Yarns". One can't help but wonder if people have lost a little patience with these, and after The Hobbit, the cracks about the length of the film started to hit home a little more.

We're still talking about a film that opened up to $84 million last year, and Tolkien fandom runs deep. I just think this means they can't count on as broad a support as they might have going in to The Hobbit. Tellingly, Smaug is opening in about one hundred fewer venues than the last film, although more are in 3D and have premium tickets. As well, the 48 frames per second version (which is, I might add, the devil) doubles its screens, in an attempt to make the theatrical version more attractive. However, I think we'll look back on the first Hobbit movie as a high point in terms of opening weekends, and The Desolation of Smaug should bring in about $73 million this weekend.

The counter-programming for the weekend is Yet Another Tyler Perry Movie, or by its official title, A Madea Christmas. This ranks for me somewhere between A Michael Bay Christmas and An Uwe Boll Christmas, but then I'm not the audience for this. The usual moralistic shenanigans are likely in store, but with a Christmas theme this time. Notably, it's not even been sent out to critics for advance reviews, so producers are clearly aware that they've got an audience that will buy whatever they give them with a Madea label on it and/or that what they've got isn't all that good but it's made so why not release it? The only real question is whether this sticks within the normal parameters of Tyler Perry movies, or if the Christmas theme juices up the audience. Quite frankly, I think these are already reaching as many as want to see them already, so I don't know that expanding the audience is possible. No one's on the fence about him at this point. I'd look for $27 million for this film this weekend.

The list of significant returning films is limited to just two: Frozen and Catching Fire. Frozen fared the better of the two in the post-Thanksgiving afterglow, earning $31 million, and pushing its total to $140 million mid-week. It looks able to survive two more weeks, which brings it into the prime Christmas earning season, where it will in all likelihood jump into overdrive as families gather. I'd give it $18 million this weekend.

Catching Fire is running about $20 million ahead of last year's predecessor, The Hunger Games, although we are definitely not dealing with an apples to apples situation with the Thanksgiving weekend in the mix. However, taking advantage of the calendar is hardly a demerit to the film, and the comparable weekend takes are in the same ballpark. It looks like any cratering that might have been feared is not about to happen, and sequel-type behavior was already built into the first film. I'd give this $16 million this weekend.

Although this slate is still a little thin of big earners, we're about to get ten films in the next two weeks, making things awfully crowded over the Christmas holidays.