Weekend Wrap-Up
Fire & Ice: Holiday Combo Scorches $200 million 5-Day
By John Hamann
December 1, 2013
BoxOfficeProphets.com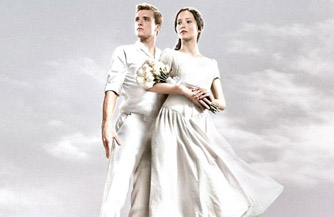 ---
It's a good time to be alive if you track the box office, as all the Thanksgiving records have been broken this weekend - twice.

Both The Hunger Games: Catching Fire and Disney's Frozen lit it up at the Thanksgiving box office, almost breaking the record book in the process. The Lionsgate super-sequel and the Disney Animation project combined for an absolutely stunning $149 million over the three-day portion of the Thanksgiving frame, and $203.2 million for the five days that include Wednesday through Sunday. Both Catching Fire and Frozen beat the records for biggest Thanksgiving Day take, biggest three-day Thanksgiving take, and biggest five-day Thanksgiving take, with Frozen becoming the biggest opening film ever over a Thanksgiving weekend, breaking Toy Story 2's 14-year-old record. For many Thanksgivings to come, this weekend will be revered in the annals of box office history.

Our number one film of the five-day holiday is Lionsgate's The Hunger Games: Catching Fire. After opening as the sixth-biggest film ever at $158 million, at this point in its run, Catching Fire has become the second biggest box office "achiever" since Marvel's Avengers. On the Monday following its terrific opening weekend, Catching Fire earned $12.3 million – that was akin to a much-needed break between the opening and Thanksgiving, as it came in as only the 42nd biggest Monday ever. On Tuesday, the super-sequel upped that Monday gross by 30%, pulling in $16 million (ninth biggest Tuesday gross ever); on Wednesday, it was up another 30% to $20.7 million (16th biggest Wednesday gross ever). On that Wednesday, Catching Fire crossed the $200 million mark after only six days in release.

On Thursday, Thanksgiving Day, Catching Fire earned $14.9 million, the biggest Thanksgiving Day take ever. Then on Friday, The Hunger Games: Catching Fire earned an astonishing $31.25 million. Last Friday, Catching Fire earned $70.95 million, but only $45.7 million of that was actually earned on Friday. That means that the Friday-to-Friday drop was only 32%, a tiny drop for a blockbuster (Avengers was 50%+, Iron Man 3, 60%+). It beat The Avengers eighth day by $2 million and Iron Man 3's by a staggering $11.5 million. After eight days, Catching Fire's only box office comparison at this point is Marvel's Avengers, and that was a summer film. This is November and Katniss Everdeen is making Harry Potter and the pale vampire club look tame at the box office.

It is Thanksgiving weekend, so the box office pattern changes. Normally, blockbusters like Catching Fire have big Fridays, followed by even bigger Saturdays. Thanksgiving is different, as the actual holiday on Thursday is often the slowest of the five-day holiday weekend, and the peak coming on Black Friday, instead of the traditional Saturday. Catching Fire followed that pattern, as after earning $31.25 on Friday (up 110% from Thursday), it dipped to $28.5 million on Saturday (off 9%), and then pulled in an estimated $14.8 million on Sunday. That means that Catching Fire earned $74.5 million over the three-day Thanksgiving frame, off 53% from opening weekend, and an amazing $110.2 million over the five-day period, off 30% from opening weekend. If estimates hold, it is the fourth biggest second weekend in history behind only The Avengers' $103 million, Avatar's $75.6 million and The Dark Knight's $75.2 million. A more perfectly titled film, at least in reference to its box office, has never been.

These numbers put every other Thanksgiving opener ever to shame. Prior to Catching Fire, the former top Thanksgiving film – regardless of it opening or not – was Harry Potter and the Sorcerer's Stone, which earned $57.5 million over three-days in 2001. That record held for 12 years (an eternity in today's box office world), and then was beaten this weekend by a staggering $20 million. For the five days, Sorcerer's Stone was also the flag bearer at $82.4 million, but again got embarrassed by Catching Fire's five-day haul of $110.2 million, a 34% spike from the previous record. Last weekend I mentioned that Lionsgate had picked the perfect weekend to release their film. I'm now thinking it may be the best release date of all time, maybe second behind 20th Century Fox's decision to release Avatar on December 18th (where it remained the number one film for seven straight weekends).

The Hunger Games: Catching Fire has made the other big YA franchises look silly this weekend. Last weekend, BOP told you that following the Twilight Saga: Breaking Dawn Part 2 debut, it declined 69% over Thanksgiving "weekend", but still earned $86.3 million (61% of its $141 million opening weekend) over Thanksgiving week. Catching Fire declined 53% on Thanksgiving "weekend", but took in $145.8 million over Thanksgiving week, which equals 92% of its $158 million opening weekend. So, after only 10 days of release, Catching Fire has a domestic cumulative total of $296.5 million. With that estimate and expected Monday box office, Catching Fire will become only the third film in history to reach $300 million in 11 days or less. Marvel's Avengers did it in nine days, and The Dark Knight did it in 10 days. That is six days faster than the original Hunger Games did in 2012.

Where is it headed? First off, Catching Fire is pretty much apples to everything else released on Thanksgiving's oranges. It's tough to compare Catching Fire to anything in the Twilight canon, as Catching Fire has already outgrossed them all after only 10 days. Same goes for Harry Potter. Catching Fire will have outgrossed seven of the eight films by the end of the week, with only the finale, at $381 million, left to catch. The only comparison then is Marvel, buy with their only November experiment being Thor: the Dark World, it is tough to compare. Given the track Catching Fire has taken to $300 million over only 11 days and realizing that next weekend competition-free next, and also that there's been no real sign of slowing, makes me think this is a $400 million earner. The worldwide amount has also now reached $573 million, so it looks Lionsgate is well on its way to its first billion dollar movie. Catching Fire has already effectively matched the overseas revenue of The Hunger Games with $276.4 million; its predecessor grossed $284.8 million during its entire international run.

Finishing second, then, is Frozen, and after a $26 million Wednesday and holiday Thursday, Disney knew it had a hit on their hands, as Tangled, their last one-word Thanksgiving hit earned $19 million over the same period. For Frozen, the opening weekend record was in the bag by Friday, as it took in $26.9 million. The three-day gross for Frozen is estimated at a Thanksgiving record $66.7 million. The five-day tally is a remarkable $93 million.

Frozen is the second biggest film ever to not open at number one, as The Day After Tomorrow was a prior second place finisher that earned $68.7 million against the second weekend of Shrek 2. Frozen's weekend edges out World War Z, which was the penultimate film the weekend of June 21, 2013, with $66.4 million. Frozen, with its critical success (84% fresh at RottenTomatoes) and potential word-of-mouth (A+ Cinemascore), could skate far into the holiday season and reap the rewards of a big open combined with legs. Including its limited release take from last weekend, the Disney feature has earned $93.4 million.

Tangled, Disney's last animated Thanksgiving release, opened to $68.7 million over five days in 2010, or pretty much what Frozen did over three days this year once we factor in ticket price inflation from $7.89 in 2010 to today. Tangled managed to turn that debut into a $200 million domestic gross, an amount Frozen will easily match. Other than Walking With Dinosaurs on December 20th, Frozen has no competition through Christmas and should absolutely dominate. Tangled also managed to earn almost $400 million overseas, and Frozen will likely increase on that amount as well. It started with $16.9 million in a handful of markets this weekend, so give the movie right at $110 million globally in its debut. The film cost $150 million to make and should earn four times that worldwide.

Third is Thor: The Dark World, which is following the pattern of its predecessor. The Dark World pulled in $11.1 million over Thanksgiving weekend, off a respectable 22%. The original Thor's fourth weekend was also a holiday, Memorial Day, and Thor earned $9.5 million that weekend and fell 38%. Adding in the holiday Monday, Thor had earned $160 million after four frames. The Dark World has earned $186.7 million domestically, and has now crossed $400 million overseas with a current total of $404.4 million. Its current global gross is $591 million, $142 million beyond the original and still going.

The Best Man Holiday is showing signs of a faster than expected descent. After a second weekend take of $12.5 million and a drop of 59%, Thanksgiving provides some relief with an $8.5 million three-day gross, but the drop is still higher than it could be at 32%, one of the worst in the top ten. Remember that everything is holiday-inflated this weekend. Still, the $17 million Universal release has now pulled in a spectacular $63.4 million.

Our second opener is Homefront, the Jason Statham/James Franco old-school action flick. Audiences gave this one a pass this weekend, as it could only find $7 million over three days, and $9.8 million over five. It cost $22 million to make the Open Road release, and it is highly doubtful it will match that domestically. Thanksgiving week releases have a tendency to die quickly at the box office.

The Delivery Man finishes in sixth place. After a floppish $7.9 million opening frame, the Vince Vaughn dramedy earns $6.9 million this weekend. That's a drop of only 13%, so the DreamWorks film can give thanks to the holiday for bailing it out somewhat. Costs here were $26 million, so it's still going to take a hit with current box office of $19.5 million after ten days.

Seventh is The Book Thief, a film that expanded from 70 venues last weekend to 1,234 this weekend. From those theaters, The Book Thief managed only $4.9 million this weekend, so will need to build on that result, but with a 48% fresh rating, it has an uphill struggle. So far, the Fox release has earned $7.9 million.

Eighth is Black Nativity, the film based on the stage play. Black Nativity has struggled out of the gate, earning only $3.9 million over three days and $5 million over five. The film cost $17.5 million to make, so will have to rely on extreme word-of-mouth if it wants to stay relevant through the holiday season.

The Weinstein Company expanded Philomena this weekend, moving it from four screens to 835. The film earned $3.8 million ($4.8 million five-day) from those screens, so it garnered a venue average of $4,538. Judi Dench's Philomena will likely vie with Sandra Bullock's Gravity performance come Oscar night, so the fortunes for this one may yet improve.

Rounding out the top ten is CBS Films' Last Vegas, which my 70-year-old parents attended last week (LOVED IT!). The old-timer Vegas adventure earned $2.8 million in its fifth weekend, and dropped 36%, primarily due to losing 1,000 screens. Last Vegas has now earned $58.7 million, becoming CBS's biggest release ever.

Oh! Oldboy also opened this weekend, doing the belly flop. It didn't even make enough to place, earning only $850,000 over three days and $1.25 million over five days. It cost $30 million to make, and is a massive disappointment from director Spike Lee, as it is unlikely to earn even 10% of that amount in box office revenue.

Overall this weekend, we have two huge films on top, but with nothing supporting them below, the box office total is not record-breaking. The top 12 films this Thanksgiving earned $195.3 million, which is similar to that of last year's holiday when Breaking Dawn Part 2 led the top 12 to $200.4 million. Technically, the 2012 weekend after Thanksgiving last year is the direct comparison. 2013 box office increased 84% from 2012's $106.1 million. Next weekend is mostly quiet, with only Out of the Furnace expanding wide on Friday, and Oscar hopeful Inside Llewyn Davis opening in limited release.