Weekend Wrap-Up
Catching Fire Keeps Hunger Games Franchise Hot
By John Hamann
November 24, 2013
BoxOfficeProphets.com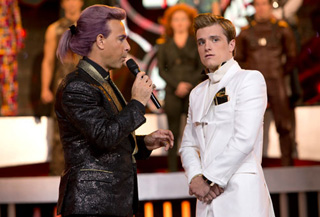 ---
The Hunger Games: Catching Fire is blockbuster-big this weekend, but the question is how big?

Box office attention is always focused upon the North American opening weekend for these super-sequels, with The Hunger Games: Catching Fire being no different. For Lionsgate, this franchise is the golden jewel for the distributor that was once known only for the Saw films and Tyler Perry releases. Now, Hunger Games is to Lionsgate what Marvel is to Disney. The goal for Catching Fire was likely not to improve on the original Hunger Games opening weekend ($152.5 million) take, but to simply try and maintain the success it found in March 2012. Let's remember that when the original debuted, the stars aligned to get The Hunger Games to $152 million. When the original film opened, the books were selling like hotcakes and Jennifer Lawrence was blossoming into a big, big star. This time around, the trilogy has been available for a while, and Lawrence has become the biggest star in the world.

Where Lionsgate needed to significantly improve on for the franchise is overseas business. The Hunger Games earned a sizzling $408 million in North America, the 14th biggest domestic earner ever. In this day and age, a $400 million domestic haul usually means the global gross should exceed a billion, but The Hunger Games pulled in only $283 million overseas, so the 14th biggest domestic earner came in at 127th on the worldwide all-time list. For example, Gravity, which opened to about $100 million less than The Hunger Games, has already outgrossed it overseas. Lionsgate needed to focus more on the foreign take instead of the opening weekend, and let Katniss and company do the talking.

And talk they did. The Hunger Games: Catching Fire opened Thursday night with two showings before midnight and took in $25.25 million, a solid Thursday, but not a knockout. The Twilight Saga: New Moon took in $26.3 million in comparison, but comparing Thursday grosses is not smart, as the number of screenings differs. Some Thursdays featured only midnight showings, but Catching Fire had screenings at 8 p.m., 10 p.m. and midnight. As such, the number to watch is the Friday, not the Thursday and definitely not the Friday matinees. Several sources on Friday pointed to down numbers for Catching Fire during Friday matinees, as these media outlets thought that March – during spring break – was the same as November for midday matinees.

The "Thursday preview plus Friday gross" was reported at $70.5 million, the seventh biggest single day gross ever, and only $5 million out of third place. It was also $1.5 million better than Iron Man 3. Thus, Catching Fire took in $45.3 million on Friday alone, and if it followed a similar trend to that of the original, it was destined to be the biggest November opener of all time (beating The Twilight Saga: New Moon at $142.8 million), and right on target with the original Hunger Games ($152.5 million). It didn't go as expected, as it seems that all things Hunger Games are bigger, bigger, bigger.

The Hunger Games: Catching Fire officially joins the ranks of the upper-echelon mega-blockbusters (think Marvel, Twilight and Potter), but for these uber-franchises, their weekend grosses comes down to how the Saturday performs. The Twilight and Harry Potter movies were front-loaded, and the effect is seen in the drop from Friday-to-Saturday. Twilight films, fell between 42% and 44% from Friday-to-Saturday regardless of the size of the Friday number. Potter was less predictable, due to the number of years the franchise ran and the difference between November and summer release dates. The last November Harry Potter film, Deathly Hallows Part 1, fell 38% from Friday-to-Saturday.

Marvel movies are show a different trend. There is a far smaller decrease from Friday-to-Saturday for superheroes, because they don't have that rabid YA fanbase front-loading their films. Iron Man 3 fell 9.6% on Saturday after its first Friday, and the rest of the Marvel movies consistently average about a 12% drop from Friday-to-Saturday. That leaves us the question of Katniss and The Hunger Games: Catching Fire – which course would it follow?

Following a somewhat predictable $70.5 million Thursday/Friday, The Hunger Games: Catching Fire surprised again, as it moved from opening weekend to the weekend proper. It dipped 25% to $53 million on Saturday when compared to $70.5 million, but it increased over the "true" Friday figure by about 15%. The drop is consistent with neither Marvel nor Twilight, as The Hunger Games is going to sing its own tune. The original film fell 25% from Friday-to-Saturday, and the sequel remained the same at 25%. Compared to the "true Friday" gross of $45.3 million, Catching Fire was right on target, and headed for a fantastic weekend. The only question left was where it would finish for the top openers of all time.

The three-day estimated gross for The Hunger Games: Catching Fire came in at $161.1 million, a healthy increase over the original, good for the sixth biggest debut of all time. The $161.1 million estimate for Catching Fire means it will wind up somewhere between the fourth to sixth largest opening of all-time, depending on actual numbers to be released Monday. The Dark Knight Rises is currently #4 at $160.9 million, with The Dark Knight right behind it at $158.4 million. Third place is Harry Potter and the Deathly Hallows Part 2 with $169.2 million, so the second Hunger Games movie will not be reaching that plateau. Iron Man 3 will wind up the biggest opener of 2013 at $174.1 million. Catching Fire breaks the all-time record for a November opening (sorry, Twilight), and is in a position to dominate the next few weekends.

Catching Fire cost $130 million, a significant increase over the original's $78 million, as casting costs ballooned and Lionsgate put a better picture in front of audiences. It was probably one of the safer investments ever, as the studio will profit handsomely off the domestic gross of this one alone. Solid legs should be in store, as reviews are fantastic, better than the original's 84% fresh rating by coming in at 89%. It also earned an A Cinemascore, which means fans are liking what they see.

For The Hunger Games: Catching Fire, this is the best weekend to release a blockbuster I've seen in recent memory. Given where we are in the calendar, Catching Fire should follow the original's march toward $400 million, as Thanksgiving will prop it up next weekend against Frozen. The two other openers, Homefront and Black Nativity, aren't competing in the same demo, and then Catching Fire will have no new films to compete with in weekend three. The slate is clean of competition until The Hobbit: Desolation of Smaug shows up on December 13th. Thor: The Dark World is only a speed bump by weekend three, and there's been nothing for women in a long time. No film released in November has ever gone to earn $400 million. In fact, only two November openers have earned $300 million, so may the odds be ever in The Hunger Games: Catching Fire's favor.

The odds are in fact in its favor to get to $400 million. Let's look a little closer at how Catching Fire is going to perform over the next week, with Thanksgiving looming. Following the Twilight: Breaking Dawn Part 2 debut, it declined 69% over Thanksgiving "weekend", but still earned $86.3 million (61% of its $141 million opening weekend) over Thanksgiving week. Part 1 behaved similarly, opening to $138.1 million, dipping 70% over the Thanksgiving frame, but still earning $82.7 million over Thanksgiving week (60% of opening). Deathly Hallows earned $94 million Thanksgiving week (75% of opening) and New Moon $88 million (62% of opening). Should the trending remain for Catching Fire, it should take in around 67% of its opening weekend over Thanksgiving week, meaning it will make another $108 million over the next seven days. It will be knocking on the door of $300 million by the middle of next week. They may want to change the name of the movie to Caught Fire.

The game changer for Lionsgate and Catching Fire, though, is those overseas grosses. Early reports have an overseas total, coming in hot at around $146.6 million from 65 territories, with Lionsgate reporting "double" the numbers of the original. The worldwide total is an astounding $307.7 million, which means it's already almost halfway (44%) to The Hunger Games' final global take of $693 million. Catching Fire is behaving more like a true sequel overseas than it is here, as the traditional sequel front-loading seems to be occurring. Should the overseas gross double the original, Lionsgate would be looking at about $565 million, which would mean the sequel would need about $435 million stateside to reach the billion dollar mark. The good news for Lionsgate is that all of these numbers are, remarkably, still on the table. Lionsgate has turned a nothing into a fairly major something, and I expect even bigger things from Mockingjay Part 1 next year, as some are comparing Catching Fire to The Empire Strikes Back.

Finishing a distant second is Thor: The Dark World, which feels a world away from Catching Fire. The Dark World caught fire itself three weekends ago when it opened to $85.7 million. After a 57% plunge last weekend to $36.6 million last weekend, The Dark World dives again this weekend against Katniss and company. In weekend three, Thor: The Dark World pulled in only $14.1 million, good for another hefty drop of 61%. The original Thor also ran into some stiff competition in weekend three, as it was up against The Hangover Part II and Kung Fu Panda 2, which combined for about $135 million. That weekend, Thor dipped 55%, the highest drop in its run. The Dark World has pulled in $167.8 million for Disney so far, whereas the original had earned $145.4 million through three weekends. Like Catching Fire, though, the difference between the Thors needed to be overseas gross. The original earned $268.3 million overseas, but The Dark World has already earned over $350 million.

Third is The Best Man Holiday, last weekend's surprise hit. This one is not immune from Catching Fire, either, as The Best Man Holiday took in only $12.5 million and fell 58%. Think Like a Man had the benefit of going up against four films that did nothing over opening weekend, and dropped 48%. Let's not forget that this is a $17 million dollar film that has a gross so far of $50.4 million.

Fourth is Delivery Man, which crashed and burned. The seemingly likable Vince Vaughn release tanked, grossing only $8.2 million from 3,036 venues. Given the number of locations, one would think that Disney had a serious intention to try and counter-program against Catching Fire, but the move failed. The good news is that Delivery Man cost DreamWorks only $26 million to make, so if it can get to $20 million, it might eke out a profit overseas.

Fifth is Free Birds, as the animated Relativity release continues to tread water as Thanksgiving approaches. After an $8.1 million weekend in the last frame, the turkey got cooked again this weekend, as Free Birds earned only $5.3 million. That's a drop of 35%, but it brings the domestic total up to $49 million. Free Birds cost $55 million to make, so it's going to need a strong Thanksgiving weekend.

Sixth is Last Vegas, as the old guys also feel the heat from Catching Fire. In its fourth weekend, Last Vegas earned $4.4 million and fell 48%. I have a feeling a movie like this will do quite well over Thanksgiving weekend, which will help the CBS earner double its $28 million budget by the end of next weekend. It will also become CBS Films' highest grossing movie ever by the middle of this week, beating The Woman in Black's $54.3 million. Give Last Vegas $53.9 million so far.

That puts Bad Grandpa down to seventh, as it loses 565 venues compared to last weekend. After pulling in $7.4 million last weekend, Bad Grandpa drops 54% (and breaks a hip), earning $3.4 million. This one cost $15 million to make, and still has a shot at $100 million. So far, Johnny Knoxville and friends have minted $95.5 million.

Eighth is Gravity, as the Sandra Bullock starrer lasts longer than Ender's Game, despite costing $10 million less than the $110 million YA adaption. Now in its eighth amazing weekend, Gravity earned another $3.3 million and declined 46%. Gravity has now grossed $245.5 million stateside, and has reached almost $300 million in overseas business.

Ninth is 12 Years A Slave, as even the main Oscar contender can't stand up to Jennifer Lawrence. 12 Years earned $2.8 million, off 39 % from last weekend, and it added 63 venues this weekend. So far, the Fox Searchlight release has taken in $29.4 million.

Dallas Buyers Club, another Oscar contender featuring Matthew McConaughey and Jared Leto, increased its venue count from 184 last weekend to 666 this weekend, and as a result managed to grab a spot in the top ten. The rapturously reviewed Focus Features film earned $2.8 million, up 58% from the previous frame. Its domestic total so far is $6.4 million.

In ultra-limited release, Disney's Frozen played in one theater this weekend, the El Capitain, and managed to pull in $237,600 from one screen. Frozen goes wide next weekend, and should be a force to be reckoned with.

Comparisons to last year are a little more difficult this weekend, as a year ago, this weekend was Thanksgiving. Over the three-day portion of turkey weekend last year, the box office amassed $200.5 million from the top 12. This year, with The Hunger Games: Catching Fire doing the heavy lifting, the top 12 easily beats that previous number, taking in $221.8 million. Considering it was battling against Thanksgiving weekend based on calendar configuration, this is a pretty amazing triumph. Next weekend brings the animated Frozen, the Jason Statham/James Franco actioner Homefront, and Black Nativity, the film based on the popular play. With these three movies and weekend two of Catching Fire, it should be another busy weekend.