Weekend Forecast for November 22-24, 2013
By Reagen Sulewski
November 22, 2013
BoxOfficeProphets.com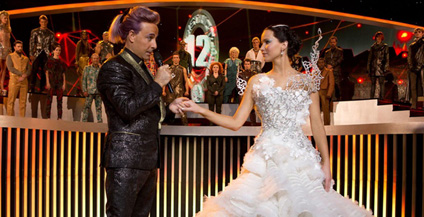 ---
The Holiday movie season, 2013 edition, has underwhelmed in a number of ways. This is in large part due to Hollywood avoiding it to some degree or not putting out their best product. Whether this is good strategy or not is best left to time travelers, but the reason for this arrives this weekend with what is likely to be the largest opening weekend of the year.

The Hunger Games: Catching Fire may not technically be the only game in town this weekend, but it might as well be for all intents and purposes. The sequel to last year's adaptation of the first book in the Hunger Games trilogy (but movie quadrilogy, sigh), it has big shoes to fill. That was, if not a surprise in being a hit, perhaps a bit of a surprise in the scale of it, at a $150 million opening and $400 million domestic (and one of the few domestic hits that disappointed internationally, relative to those numbers). It stands out amongst a vast graveyard of recent attempted literary adaptations as studios cast about wildly trying to recreate the Harry Potter and/or Twilight phenomenon – and who would blame them? Billions in revenue from a pre-made franchise is nothing to sniff at.

A brief recap if you've been in a coma: set in a post-apocalyptic dystopian (and there any post-apocalyptic uptopias?) North America, it posits a world in which a winner-take-all to-the-death competition among children from different regions is held in order to keep the lower classes in line after a long ago rebellion. The implied message: if you step out, we'll do this on a larger scale. In Catching Fire, that stepping out starts to happen, and we get much more into the political implications of the events of the first fame. As the first co-winners of the Hunger Games, Katniss and Peeta's status makes them important ... and dangerous figures – flashpoints of a potential rebellion. In order to rid them and their influence, the Capitol region decides to make the next Games an all-star edition, bringing back all former winners – much in the same way that Donald Trump keeps bringing back Gary Busey.

Widely considered by fans to be the best book of the series, this films is hoping to become the Empire Strikes Back of the movie series – both delving further into the world created in the first story and taking a darker tone. All the principals who survived the first film return, which of course includes everybody's crush (boy and girl versions) Jennifer Lawrence, Josh Hutcherson, Liam Hemsworth, Donald Sutherland, Woody Harrelson, Elizabeth Banks, etc. etc. and adding Philip Seymour Hoffman as a new games director, lending his easy slimy evil vibe to the proceedings. The combination of action and political intrigue doesn't seem like it should spell blockbuster on paper, but there's little arguing with a phenomenon.

On that note, the Hunger Games fervor does not seem to be as fervent this time around, at least anecdotally speaking. Perhaps that can be explained by familiarity with the franchise, as not everything has to be pressed and sold quite so hard to a public that's already on board. It's also in some ways kind of a bleak and downer franchise, so Potter-style fandom doesn't make quite as much sense. One sizable advantage working in the series' favor – it has a decidedly larger adult group of fans than a lot of other franchises, something that Potter struggled with in breaking records. It also hasn't inspired legions of critics like the Twilight series, a group of films that was as divisive as it was popular. Here, you can imagine people willingly checking things out just to see what the fuss is about, instead of the oaths sworn to never see a second of Twilight. With these factors in mind, I would look for a significant increase over last year's opening weekend, to approximately $180 million – an astounding figure to just throw around casually, but here we are.

The other film opening wide this weekend, otherwise known as the film people buy tickets to in order to sneak into sold out showings, is Delivery Man, starring Vince Vaughn. A remake of a French-Canadian film and by the same director, it has Vaughn as an over grown manchild in the Sandlerian sense who receives a notice that he's being sued by 142 of his artificially inseminated children – a small group of over 500 who exist – to find out his identity (I wonder how many were inadvertently dating). This inspires a bit of awakening and panic, and Vaughn's character decides the only real choice of action is to surreptitiously follow around some of his children to see if he'd like the idea of being a dad. I mean, he still is anyway, but actively one. It's hard to see where this could go wrong, really.

We're a long ways away from the Vince Vaughn of Wedding Crashers and Old School, who was a dynamite draw and a comedic talent to be reckoned with. His last three films have been somewhat dreary affairs, each earning under $50 million total domestically. Delivery Man seems to fall into this same category, with poor reviews and lackluster commercials, the highlight of which seems to be Chris Pratt being smacked in the face. The wildcard here is the family angle, which can sometimes take unassuming films to higher levels. More likely, though, is that this angle will actively turn off fans of his edgier frat comedy. There's no Big Daddy about to happen here. I'd look for about $13 million for an opening weekend.

Thor kept the top spot at the box office, but by a much narrower margin than expected, with $36 million to The Best Man Holiday's $30 million. While these big drops are to be expected for super hero films, they're never too welcome, and it's definitely not the leading draw this weekend. It'll fall to about $17 million this weekend.

Meanwhile, The Best Man Holiday surprised essentially everyone in Hollywood with its opening, tapping into an audience that was obviously underserved, and/or looking for non Tyler Perry movies to see. With this kind of result, you can expect studios to look back at their titles to see what other long neglected franchises they might have. Can Soul Food 2 be far off? This should still fall pretty steeply this weekend, though, to around $15 million.

Sitting below these films are a few of hangers-on: Last Vegas, Free Birds and Bad Grandpa, which should all earn in the $5-6 million range this weekend. The live action films in that list are mild to large hits relative to budget, while the animated one of the bunch is a pretty significant failure. Such is the way of Hollywood these days.