Weekend Wrap-Up
Best Man Sequel Surprises, but Thor Still Number One
By John Hamann
November 17, 2013
BoxOfficeProphets.com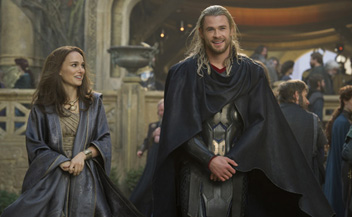 ---
We have a top ten full of men – The Best Man Holiday, Thor, Last Vegas, Bad Grandpa, Ender's Game and Captain Phillips – all ready to be roasted next weekend when Katniss Everdeen catches fire next weekend. This weekend, though, The Best Man sequel over-performs, and Thor: The Dark World settles in for the rest of its run.

Our number one film of the weekend is Thor: The Dark World, but the story of the weekend is The Best Man Holiday, interesting for what it did at the box office, and interesting as to what impact it would have had if Marty Scorsese's Wolf of Wall Street had actually bothered to show up this weekend. The Best Man Holiday had looked cold and alone on the November release calendar, after Wolf vacated when Paramount's award hopeful was deemed "not ready" and way too long for its prime November release date. That left The Best Man Holiday all by itself, wedged between mega-budgeted sure-fire hits Thor: The Dark World and The Hunger Games: Catching Fire (movie titles with colons are not to be messed with). The African-American sequel to the 1999 original OWNED the weekend, and Universal has a hit on its hands, much like last April's Think Like a Man from Screen Gems. That one opened in April 2012 to $33.6 million, and went on to earn $91.5 million domestically, against a budget of only $14 million.

Just like Think Like a Man, African-American audiences were not expected to come out in droves for a sequel to a movie that was released 14 years ago, failed to debut in the double digits, and took in only $34 million domestically. Tracking was looking for an opening in the high-teens, and those tracking firms must have been shocked when the comedy pulled in $10.7 million on Friday alone. That's a true Friday number, as there were no Thursday previews or promotions to bump the number up. As BOP's David Mumpower pointed out yesterday, that Friday number was more than the original opened to over its first weekend ($9 million) and the opening day indicated that tracking was going to be off by at least a third.

The Best Man Holiday was number one on Friday, beating the mega-blockbuster Thor: The Dark World, which means the Marvel superhero was number one for only seven days despite opening to a sizzling $85.7 million last weekend. The Best Man Holiday only had to sidestep the Tyler Perry factor to be a big hit. Some Tyler Perry films are extremely front-loaded. Tyler Perry's Temptation: Confessions of Marriage Counselor opened to $21.6 million, but took in $9.4 million of that on Friday night. That means it had a weekend multiplier (weekend gross divided by Friday gross) of 2.3, and indicates extreme front loading. Think Like a Man was different - it was able to turn a $12 million Friday into a weekend gross of $33.6 million, which means it had a multiplier of 2.8, a figure more normal for a $20 million plus opener.

The Best Man Holiday managed a weekend multiplier of 2.85, which is solid for a sequel. That multiplier pushed the weekend gross to a second place $30.6 million, which it earned from only 2,024 screens, which makes this debut even more impressive. The Universal release had a resulting venue average of $15,115, which is good news for exhibitors. Just a couple of weekends ago, Ender's Game, which debuted to a similar $27 million, was released to a much higher 3,407 screens, and had a venue average of $7,930. The Best Man Holiday also cost only $17 million to make (or $93 million LESS than Ender's Game), which means this one will see true profit before The Hunger Games sequel shows up next weekend. The Malcolm D. Lee film also garnered a rare A+ Cinemascore, which means that The Best Man Holiday could see similar legs to Think Like a Man, which took in an A Cinemascore, and had an opening-to-total multiplier of 2.72.

Thor: The Dark World was down in second on Friday by a couple of hundred thousand dollars, but was able to move back into the top spot after younger viewers took over cinemas on Saturday and Sunday. After a Friday gross of $10.5 million, The Dark World had a higher weekend multiplier of 3.7, and was able to take the weekend with a gross of $38.5 million, good for the number one spot. Compared to Thor's opening weekend of $85.7 million, the second frame equals a drop of 55%. The original Thor dropped only 47% in May 2011, so why do we see the increased percentage drop?

First, we have the sequel effect, where fans of the original rush out to see the sequel on opening weekend because they are familiar with the product. Take Iron Man, for example. The original Iron Man dropped 48% from weekend one to weekend two, whereas the sequel fell 59% in its second frame. This is normal and really no cause for franchise alarm. The second reason for the big drop is that Veteran's Day fell last Monday. More people were able to attend Thor: The Dark World last Sunday night, given the holiday Monday, where they couldn't do the same this weekend. The second weekend take for Thor: The Dark World is, in my opinion, right where it should be. Sure, the original Thor had a second weekend of $34.7 million, very similar to this weekend's take, but had only pulled in $119.5 million after two weekends. The Dark World, on the other hand, has already pulled in $147 million domestic and has also outgrossed the original overseas. The $170 million Thor: The Dark World is going to beat the original domestically and globally, which always points to a healthy franchise.

After finishing fourth last weekend, Last Vegas actually moves up a spot to third this weekend, as older viewers used their senior discounts to prop up the old guy film. After earning $11 million last weekend, Last Vegas holds well, earning $8.9 million and dropping a slim 20%. Last Vegas cost only $28 million to make, which means upstart distributor CBS Films has a hit on its hands. Last Vegas has already earned $47 million, and should continue to play as solid counter-programming against Catching Fire next weekend. If it does hold next weekend, Last Vegas could be CBS Films' top film ever by Sunday, as it could get by The Woman In Black, which earned $54 million over its run.

Fourth is Free Birds, Relativity Media's shot at the animation market. Free Birds needed to be third this weekend should it hope to find true success, but failed to do so as it earned $8.3 million this weekend, falling 25% from the previous frame. It is starting to lose its opportunity to at least match the budget ($55 million) with the domestic gross. So far, Free Birds has earned $42.2 million at the domestic box office, and will need a strong turkey frame to get it to where it needs to go.

Fifth spot goes to Jackass Presents: Bad Grandpa which is also holding admirably, considering the prank film is in its fourth weekend. Bad Grandpa earned another $7.7 million this weekend, which means it dropped only 32%. I keep waiting for Bad Grandpa to fold up shop and move on to DVD, but drops of 38%, 43% and now 32% are keeping this old guy alive. The comedy, made for only $15 million, has now earned $90 million stateside, and is approaching $30 million overseas.

Sixth is Gravity, which has been in wide release for seven weekends. The shine is beginning to come off the Sandra Bullock release now, but that is only due to time in release. Gravity earned another $6.3 million this weekend, meaning it was off 26% compared to the last frame. It has a domestic total so far of $240.6 million, and the take continues to grow overseas. Gravity opened in the UK last weekend to $10 million, and still has some major markets to debut in (Japan). Overseas, it has pulled in over $250 million, which means at least a half-billion will be earned for Warner Bros. against a $100 million investment.

Seventh is Ender's Game, which is turning into a large disappointment-slash-disaster. The Lionsgate/Summit release took in only $6.1 million in its third frame. It fell 40% compared to last weekend's $10 million plus frame, and is a long, long way off from the production budget of $110 million. Ender has earned $53.7 million so far domestically, and is just beginning to crack double digits overseas, despite being out to many big foreign markets already.

12 Years a Slave expanded further this weekend, lifting its venue count from 1,144 last weekend to 1,411 this weekend. The result was not what Fox Searchlight was expecting, as despite the higher venue count, 12 Years dropped by 30% compared to last weekend. The Oscar fave earned $4.7 million this weekend, and may have been overwhelmed by the success of The Best Man Holiday. 12 Years, which cost about $20 million to bring to the screen, has a gross so far of $24.9 million.

That puts Captain Phillips in ninth, but it continues to hold quite well. The Tom Hanks starrer earned another $4.5 million, giving it a drop of 22%. The $55 million Sony release has grossed just that overseas, and has pulled in $97.6 million on the domestic front. It will cross the $100 million mark next weekend.

In tenth is About Time, the rom-com starring Rachel McAdams. After debuting to $4.8 million last weekend, Universal added about 90 venues in its second weekend. It still managed only $3.5 million and declined 27%. About Time has earned $11.6 million on the domestic front, and about $40 million from overseas business.

Overall, things pale in comparison with last year, but that's because paleface himself was on screen with Twilight: Breaking Dawn Part 2. The final Twilight film, which opened to $140 million, grossed more than what the top 12 did this weekend ($122.7 million). Hunger Games: Catching Fire could do the same thing when it opens next weekend, as it looks to best the $152 million the original Hunger Games earned when it debuted in March 2012.