Friday Box Office Analysis
By David Mumpower
November 16, 2013
BoxOfficeProphets.com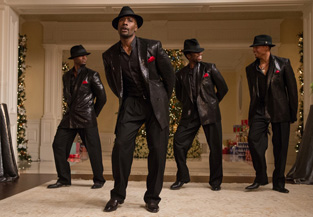 ---
With only one new release entering the marketplace, Thor: The Dark World seemed perfectly positioned to finish in first place for the eighth consecutive day as well as the weekend. The beauty of Hollywood is that sometimes the underdog wins, though. A different, much less heralded sequel wound up eking out the win on Friday, which says more about its strength than Thor: The Dark World's weakness.

In 1999, a beautiful cast anchored by Taye Diggs, Morris Chestnut, Nia Long, Sanaa Lathan and Terrence Howard carried a frugally budgeted $9 million production called The Best Man to $34.1 million of domestic box office. While there was little clamor for a sequel over the past 14 years, some enterprising person at Universal Pictures noticed that the careers of almost every cast member involved have been in an upward trajectory. The blockbuster popularity of Think Like a Man reinforced the notion that a likable, gorgeous cast in the romantic comedy genre remains popular as ever. The idea for a sequel to The Best Man was quickly greenlighted and the benefits are being enjoyed today.

With $10.7 million on Friday, The Best Man Holiday grossed more than The Best Man managed on its entire opening weekend, as the latter film managed "only" $9 million. Since there will be a bit of front-loading for the sequel, The Best Man Holiday is unlikely to usurp Thor: The Dark World for the entire weekend. It's still likely to earn $30 million, meaning it will earn almost as much in three days as its classic predecessor managed during its entire run in 1999. Amusingly, this will be director Malcolm D. Lee's second finish in second place for an opening weekend this year, albeit with a much better result. His first film, Scary Movie 5 debuted with $14.2 million the weekend of April 12th, falling well behind 42's $27.5 million.

Box office analysts, including our own Reagen Sulewski, were expecting Thor to hammer the competition once again, but the surprising strength of The Best Man Holiday has stolen headlines away from the second Avenger this weekend, at least on Friday. Thor 2 is headed to a $37 million weekend, which means that the Friday result is just a small hiccup for a project with glowing reception worldwide. The real winners this weekend are women, as beefcake is dominating the top of the box office charts. The familial cast of The Best Man Holiday possesses many of the same attributes as Think Like a Man, with Academy Award nominated Terrence Howard mimicking Kevin Hart's shtick. Given The Best Man Holiday's modest $17 million budget, it will be profitable by the end of opening weekend. Do not be surprised if these same characters are revisited again soon rather than waiting another 14 years. Hindsight has shown that The Best Man featured one of the best casts of 1990s cinema.