Weekend Wrap-Up
Thor: The Dark World Dominates
By John Hamann
November 10, 2013
BoxOfficeProphets.com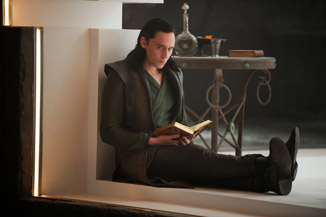 ---
Thor has returned to try and save the box office, but this savior ain't no James Bond, as the Avenger failed to beat the super spy's $88 million debut from a year ago.

Yes, after much anticipation, Disney and Marvel launched Thor: The Dark World this weekend to spectacular results. As BOP's David Mumpower reported yesterday, Thor 2 got off to a solid start from Thursday previews, earning $7.1 million. While these are good numbers, you should know that the "Thursday preview" continues to be abused, as this preview started showings at 8:00 p.m. Others start at 10:00 p.m., and some start at midnight (we don't call it Thursday midnight screenings anymore, do we?). So, Thor: The Dark World would have had TWO screenings prior to midnight on Thursday, instead of just one. Suddenly that $7.1 million looks a little iffy, doesn't it? The original Thor took in $3.25 million from midnight showings.

The Friday number for Thor: The Dark World came in at $31.6 million, which is really $24.5 million once the Thursday number is removed (the original Thor earned $25.5 million on its first Friday, but with Thursday previews removed, it was $22.3 million). Skyfall, the non-Twilight, non-Potter record holder for the month of November, earned $2.2 million from midnight screenings and $30.5 million on Friday. The combined results for both films are within $1.1 million of each other. The thing that both films have in common is that the release pattern for their opening frames results in a long weekend, as Bond had Veteran's Day on Sunday (resulting in a holiday Monday), whereas Thor 2 has the long weekend from Veteran's Day Monday. This affects the weekend multiplier (weekend gross divided by Friday gross), as more of Thor's target audience can attend on Sunday night as school is out on Monday.

The original Thor had a weekend multiplier of 2.9 ($65.7 million opening divided by its first "true" Friday of $22.3 million). Had Thor: The Dark World matched the multiplier of the first Thor, the result would looked like this: $31.6 million, less $7.1 million from Thursday, equals $24.5 million, then multiplied by 2.9 to equal $71 million, then adding the $7.1 million back in for a weekend of $78.1 million. A 2.9 multiplier is solid for a superhero movie with great reviews and an early May opening, as the fanboys tend to show up in droves on Friday and Saturday, and then these films drop off on Sunday. Normally, I would expect the sequel to be even more front-loaded, reducing the multiplier as the number of fans increase after the first film (which was pretty darned good). However, with a quasi-long weekend, expectations are thrown a curveball, and makes anticipating the final weekend tally that much more difficult.

Thor: The Dark World earned $31.7 million on Saturday, which means it held 100% of its audience compared to the combined Thursday/Friday, and increased 29% using the true Friday number. The first Thor effort earned $23.3 million on Saturday, a slight increase from its true Friday gross of $22.3 million. The Sunday is estimated at $22.8 million, which provides an expected drop of 28%. Skyfall, which also benefited from Veteran's Day, fell 29% from Saturday to Sunday. Last weekend's number one, Ender's Game, fell 40% from Saturday to Sunday, thus describing the impact of the holiday.

All in, Thor: The Dark World had an opening frame of $86.1 million, a fantastic opening that can be at least partially credited to the Avengers effect. Additionally, the Marvel sequel will very likely add another $10 million plus on the holiday Monday. It's just barely behind Skyfall ($88 million Friday-to-Sunday, $90.6 million including Thursday previews), and blows away the trend line from the debut of Thor, which found $65.7 million in 2011. Thor is a solid second in terms of non-Twilight, non-Potter November openings, as it falls smack between The Incredibles ($70.5 million) and Skyfall in terms of opening weekend results.

Some will try and tell you that the Thor sequel is a letdown because Thor was in The Avengers, and that one opened to $207 million. This is the first Marvel or DC property to open outside of the summer months, and the studio should be given props for having the cojones to launch this one in the winter. The original was the 15th biggest comic book opener (now 16th), leaving the sequel as the 12th biggest comic book opener ever. The name of the game in the movie business, and especially in the high stakes comic book world we all live in, is to keep the trend line going up. Thor does that, and that line is spiking overseas.

Thor: The Dark World cost Disney and Marvel $170 million to make, $20 million more than the original, $50 million less than The Avengers, and $30 million less than Iron Man 3. Profit was never really in question for Thor: The Dark World. The question was how much. The Hollywood Reporter said that Thor had earned over $150 million overseas prior to Thursday, and after two weekends in play overseas, it is already approaching $250 million. The original Thor took in $268 million overseas from its entire run. Despite the big numbers, The Dark Word earned more in days than the original did in months. I think we can expect $500 million overseas from this release and another $200 million plus stateside, for a 25% uptick over the original globally.

For Disney, its slice of the box office pie only widens with The Dark World, as for the first time, Paramount is on the sidelines for a Marvel property. Lastly, Thor 2 has no competition next weekend, save for The Best Man Holiday, where the original Thor faced Bridesmaids and Priest in its second weekend. Those two films combined for $40 million, and Fast Five still pulled in $20 million. Thor's hammer has swung strongly at the box office, and it's going to have another full crack at it before Catching Fire appears.

As expected, films that are not in 3D fight for second place this weekend, as Thor reigns over the 3D market. That means Jackass Presents: Bad Grandpa is second, which gives it a third consecutive weekend in that spot despite some sizable hitters. Bad Grandpa earned another $11.3 million, which means it fell 44% from its $20 million second weekend. That's going to give Bad Grandpa a decent shot at $100 million, as it has Veteran's Day tomorrow and Thanksgiving on the horizon. Bad Grandpa is playing a lot like the first Jackass movie, but with bigger numbers. The original Jackass didn't drop more than 50% until weekend five, and pulled in $7.1 million in weekend three. Bad Grandpa already has $78.7 million in the can, as it has already become the second biggest Jackass release behind only Jackass 3D, which finished with $117.2 million.

Free Birds is third, as the Relativity release holds up well after a soft opening last weekend at $15.8 million. The animated turkey movie earned $11.2 million in its second frame, dropping an excellent 29% in weekend two. The cost for this one wasn't ridiculous at $55 million, but the film will struggle to match that amount at the domestic box office, and I continue to wonder if this will play overseas. So far, Free Birds has earned $30.2 million.

Last Vegas, last weekend's number three film, moves down a spot to fourth with an expected good hold. After a solid start last weekend with $16.3 million, Last Vegas pulled in another $11.1 million this weekend giving the film a drop of only 32%. That is solid for a film that is 43% fresh at RottenTomatoes, and is likely propped up not only because the target doesn't rush out to see new films, but also because it plays as excellent counter-programming to Thor: The Dark World. The small, $28 million release from CBS Films has beaten its production budget from domestic gross, as it has already pulled in $33.5 million. It is already the third biggest CBS Films release, behind only The Woman in Black and The Back-Up Plan.

Ender's Game, last weekend's number one film, comes crashing down in weekend two, as the competition from Thor: The Dark World is simply too much, and exposes the poor choice in release date for the YA property. Ender's Game earned only $10.3 million in its second frame, as it declines 62% from its $27 million debut last weekend. All of a sudden, the $110 million production budget seems way too high for a property like this, as both domestic and foreign audiences are either ignoring it or seeing Thor. Ender's Game has now earned $44 million stateside, which isn't going to be enough for a property like this.

Sixth is Gravity, another film feeling the 3D heat from Thor 2. Now in its sixth weekend, Gravity took in another $8.4 million, dropping a not bad 34% compared to last weekend's showing. The $100 million Warner Bros. release has earned $231.1 million stateside, and is approaching the $250 million mark overseas. It will be interesting to see whether The Dark World outgrosses Gravity. A very similar conversation occurred during the reign of The Blind Side. Someone should send Sandra Bullock a Wonder Woman script, stat.

12 Years a Slave expanded from 410 venues last weekend (where it earned $4.8 million) to 1,144 venues this weekend. The result is an increase compared to last weekend, as 12 Years brought in $6.6 million this weekend, giving it an increase of 38%. Made for $20 million, the Oscar contender has a gross so far of $17.3 million.

That puts fellow Oscar contender Captain Phillips down to eighth, as it enjoys its fifth weekend in the top ten. The Tom Hanks starrer took in another $5.8 million this weekend and dropped 31%. The $55 million Sony release has now pulled in $91 million stateside, and another $40 million plus from overseas grosses.

About Time, the British Universal rom-com, also expanded this weekend, moving from 175 venues to 1,200. The result is a so-so $5.2 million weekend take, with a venue average of $4,310. Considering this one cost about $35 million to make, the domestic result is going to be lacking, but it has already earned $40 million plus overseas. About Time has pulled in $6.7 million domestically so far.

Finally in tenth is Cloudy With a Chance of Meatballs 2, as the Sony release earned $2.8 million and fell 33%. The sequel will not match the original's $127 million domestic take, but it cost $20 million less to make. So far, Cloudy 2 has pulled in $110 million stateside and more than $70 million overseas.

Overall, the box office jumped out ahead of the same weekend last year thanks primarily to Thor: The Dark World. Last year, with Skyfall on top, the top 12 took in $163 million. This weekend, the top 12 found $164.7 million. Next weekend, the Thor sequel has another chance to work, as the only opener is The Best Man Holiday.