Friday Box Office Analysis
By David Mumpower
November 9, 2013
BoxOfficeProphets.com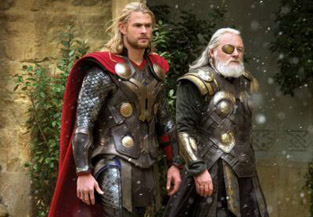 ---
Early November weekends rarely provide surprise box office winners. Instead, the only question to be resolved is the massiveness of 800-pound-gorilla debuting against much smaller competition. This weekend was the latest example.

Iron Man 3 was technically the first post-Avengers project from the super-team of Disney and Marvel. That movie's main character already had a box office track record. The situation with Thor is slightly different in that its pre-Avengers debut was like something of a first date, an awkward introductory phase wherein movie goers met the abs-licious demi-god with a penchant for smashing things with his hammer. By the time Thor took audiences on the second date, they were well aware of his daddy issues, his conflict with his nerdy brother, and his willingness to go toe to toe with a gamma-poisoned, not-so-jolly green giant. So global audiences are primed and ready for heavy doses of Mjolnir. We are now up to the third date with Thor, and we all know what is expected on the third date.

Thor: The Dark World entered a marketplace whose reigning number one film, Ender's Game, grossed a whopping $1.25 million on Thursday. The Thor sequel grossed $7.1 million simply from post-8 p.m. showings on the same day. Despite The Dark World technically being a Friday debut, it grossed as much on Thursday as the rest of the top ten combined. Ergo, the subject up for discussion this weekend is not whether Thor 2 will win the weekend but instead how much it will gross domestically and globally. The answer, as expected, is a whole, whole lot.

A gross of $31.5 million on Friday indicates that Thor grossed 50% more than the rest of the top ten in combination. Audiences were in fact ready to go all the way on the third date, albeit with some caveats. Removing Thursday's total from the Friday revenue, The Dark World grossed $24.4 million on its first day of release, an increase of 10% from the 2011 predecessor's $22.2 million. The primary difference in Friday box office is that Thor earned a respectable $3.2 million from Thursday revenue, meaning that The Dark World was $3.9 million better Thursday to Thursday. It was also $2.2 million better comparing Fridays.

The Dark World winds up exceeding the first Thor movie's first day total by $6.2 million (there is some rounding involved) or 24%. How does that total compare to Iron Man? As always, Tony Stark is just better than everyone else. The third Iron Man movie spiked $46 million or 38.9% from Iron Man 2. So a rising tide has lifted all boats as expected, but Thor only received about 60% of the bump that Iron Man did. This is not a surprising turn of events.

Box office analysts, fanboys and even ordinary movie lovers have been debating the future movie prospects of Thor and Captain America since The Avengers changed the game in 2012. What is inarguable now is that any character involved with that movie is a more valuable and marketable commodity than was the case prior to 2012. The only debate is in the degree of the newly enhanced profile. Thor has done extremely well in this regard.

Consider that Thor was largely an unknown character prior to 2011. His primary usage in movies up until then was a joking homage character in a 1980s movie called Adventures in Babysitting. Outside of that, only fans of Marvel comics and/or Norse mythology were even marginally aware of him. Fast forward only two years and Thor is now capable of an $82.4 million opening weekend in North America.

Globally, the character of Thor is even hotter. The Dark World has already grossed over $150 million overseas, which means its worldwide take will be close to $200 million after only three days in domestic release. The first Thor movie grossed $449 million during its entire release. Simply stated, Thor has flexed his box office muscle in nearly historic fashion. The character will have gone from virtual unknown to claiming over a billion in global box office in three calendar years. That number spikes to $2.5 billion if we choose to include The Avengers.

In terms of what to expect from here, The Dark World claimed an A- Cinemascore, which is only slightly worse than the A that Iron Man 3 earned in May. Thor 2 also has received generally positive reviews, as it is 66% fresh at Rotten Tomatoes. The movie should run strong through Thanksgiving, and the character will remain a dominant toy this holiday season. Everything about the release of Thor: The Dark World is another huge win for Disney/Marvel.

The battle for second place is aggressive. Last weekend's top three releases are all squaring off against Jackass Presents: Bad Grandpa in what will probably be a race to see who exaggerates the most. The Johnny Knoxville movie claimed $3.3 million on Friday, and is headed toward a $9.9 million weekend. In Hollywood, nobody ever has a $9.9 million weekend in Sunday estimates, though. The disappointing debuts last weekend, Ender's Game and Free Birds, grossed $2.9 million and $2.5 million respectively on Friday. Ender's Game should wind up right at $9 million for the weekend while another 4 multiplier for Free Birds should brings its weekend total up to $10 million.

The above potentially leaves room for the surprise success story of last weekend, Last Vegas, to sneak into second place. The septuagenarian comedy based on the premise that what happens in Vegas stays in Vegas because the people involved are too old to remember what just happened continues to strike a chord with older viewers. Its $3.2 million yesterday combined with another strong Saturday increase should be enough to sneak into second place with $10.6 million.