Weekend Wrap-Up
Ender Leads, But Grandpa(s) Still Alive
By John Hamann
November 3, 2013
BoxOfficeProphets.com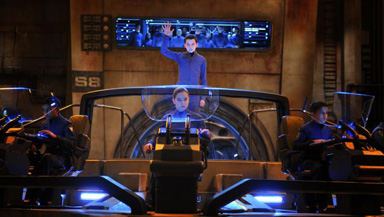 ---
And just like that, it's November, and we have five films grossing more than $10 million at the box office. Despite the glow of Gravity, we haven't had a top five like this since mid-August.

Films trying to breathe a little bit of life into the box office this weekend include Ender's Game, the $110 million Summit co-production that is seeking to land the Twilight audience for some reason, Last Vegas, a comedy for senior citizens with a cast which would have lit it up in 1985, and Free Birds, a kids' movie about Thanksgiving starring turkeys (I don't see how that one ends well). The biggest winner this weekend just might be last weekend's number one film, Jackass Presents: Bad Grandpa, as after it doubled its production budget with its opening weekend gross last weekend, it beat that budget this weekend. In other words, Bad Grandpa is going to be big, big money.

Our number one film of the weekend is Ender's Game, the huge gamble from a number of companies, including Summit Entertainment (purchased by Lionsgate), OddLot Productions, and Digital Domain, the effects visionaries. These companies assembled $110 million to bring the novel Ender's Game to the screen, which would likely mean a necessary worldwide gross of $300 million in order to see profit - and potentially the birth of a franchise. Following some hefty disappointments from other films based on novels for young adults like Mortal Instruments: City of Bones ($80 million worldwide, $60 million budget), Beautiful Creatures ($60 million worldwide gross, $60 million budget), and The Host ($48 million worldwide, $40 million budget), the trio of companies was on some shaky ground heading in to the weekend. A $30 million opening would be successful; a $20 million debut would leave the film with some work to do. Anything less would be disastrous.

Following a $1.4 million showing from Thursday's previews, Ender's Game finished Friday with $9.9 million, or $8.5 million once those Thursday numbers are removed. While not terribly good or terribly bad, Ender needed a strong weekend to follow its decent Friday. The Summit release got what it needed, as Ender's Game had a decent weekend multiplier (weekend gross divided by Friday gross) of 2.8. That pushed it to a weekend take of $28 million from 3,407 venues. With the opening, the Gavin Hood (X-Men Origins: Wolverine) film still has a long way to go to get to profitability. The Cinemascore was decent at B+ and reviews were okay at 63%, but neither are strong indications of legs. An opening-to-total multiplier of about 4.0 would be needed to get this one to $100 million on the domestic side, and then foreign audiences would need to follow suit with another $200 million.

While not impossible, it will be tough for Ender's Game to reach those lofty heights. The Golden Compass, which cost $180 million to make, opened to a similar $25.8 million in early December of 2007. It only earned a 2.7 opening-to-total multiplier with $70 million domestically, but it scored overseas, bringing in $300 million. The $110 million Real Steel with Hugh Jackman opened to $27.3 million in October 2011, went on to earn $85.5 million domestically, and earned $214 million overseas. Ender's Game got off to a slow start in the UK and Germany last weekend, earning only $2.7 million between the two countries, so it will have to hope for improved numbers as it expands globally. Having Thor: The Dark World debut next weekend (it opened overseas on Wednesday to accumulate a massive $109.4 million by the end of the weekend) makes Summit's choice of releasing Ender's Game this weekend highly questionable. I would have waited until after Hunger Games: Catching Fire opens on Thanksgiving weekend, and positioned Ender's Game on December 6th, but even then, you'd have to deal with The Hobbit: Desolation of Smaug the following frame.


Finishing second is Jackass Presents: Bad Grandpa, as it follows up its strong opening frame with a solid sophomore outing. After opening last weekend to $32.1 million, Bad Grandpa held decently, earning $20.5 million and dropping a not-horrific 36%. As I pointed out last weekend, out of all the Jackass releases out there, only Jackass 3D with its $50 million debut fell more than 50% in its second frame. Jackass films are admittedly funny to many, word gets out, and these films find success after opening weekend. This is great news when your film costs only $15 million. Bad Grandpa doubled that amount last weekend, and more than matches it this weekend. If Bad Grandpa manages an opening-to-total multiplier of 3.0, it will come in just short of $100 million, and out of the Jackass series, will finish second behind only Jackass 3D, which topped out at $117 million. Bad Grandpa has a gross so far of $62.1 million. Paramount hasn't had a significant release since World War Z last July, so this is a good start as they head toward the holiday season.

Third spot goes to Last Vegas, the senior citizen comedy with some of the best actors of the last 40 years, including Robert DeNiro, Michael Douglas, Morgan Freeman, and Kevin Kline. While it's not Wild Hogs or Hangover, Last Vegas did manage to open solidly, pulling in $16.5 million from 3,065 screens, slightly better than tracking had indicated it would. The production budget for the CBS Films release was only $28 million, so the debut puts the film in a strong position to make a ton of money. With blockbusters for the younger set peppering the November schedule, Last Vegas could provide light counter-programming for older adults over the next few frames. Middling reviews indicate it won't be a breakout success, but it did earn an A- Cinemascore, so nothing is off the table. It does have a real chance to best The Woman in Black, which earned $54.3 million, to become CBS Films best performer domestically to date. Since it is specifically targeted at an older demographic, that kind of long term performance is certainly a possibility.

For the stars of Last Vegas, the opening is solid compared to their recent output. Michael Douglas's last $15 million plus start was Wall Street: Money Never Sleeps in 2010, which opened to $19 million. For Robert DeNiro, his last one was Limitless in 2011, which opened to $18.9 million. Morgan Freeman, the oldest cast member, has had six of his last films open to greater than $15 million, with Last Vegas being his low point since Invictus in 2009. It's Kevin Kline who most needed Last Vegas to succeed. He did appear in No Strings Attached in 2011, but his last lead role with more than $15 million unfortunately comes from The Pink Panther, which opened to $20 million in 2006.

Fourth spot goes to Free Birds, Relativity Media's shot at animated glory. For some reason, they chose a tale about Thanksgiving, starring turkeys (is it just me or won't that lead to some tough conversations with the kids at Thanksgiving?). I obviously wasn't the only one thinking that, as Free Birds debuted this weekend to a meager $16.2 million from 3,736 venues, giving it the highest venue count in the top ten, and the lowest opening amongst the newbies.

Free Birds cost $55 million to bring to the screen, but Relativity also spent some serious bucks marketing the film. It will need at least a 4.0 opening-to-total multiplier to see domestic success (completely achievable for a kids movie) but there are some serious concerns. How well will a US Thanksgiving movie play overseas, or even in Canada? Additionally, Free Birds has three weekends to go until Thanksgiving, two of which have films that are destined to be a couple of the bigger openers of the year. Will it play past Thanksgiving? It is heavily doubtful considering Disney's Frozen appears on November 27th. Free Birds is a risky bet at best in my opinion, so we will have to see how it all plays out.

Fifth is Gravity, which gets pushed to the side somewhat as we have new 3D entries from Ender's Game and Free Birds. After pulling in $20.1 million in its fourth frame last weekend, Gravity dropped 36% to $13.1 million in its fifth frame. That's the biggest drop it has seen in its run thus far; however, only 45 films have ever grossed $11+ million in their fifth frames, so the weekend is nothing to sneeze at. The $100 million space thriller has now pulled in an amazing $219.2 million on the domestic front, and is sitting around $160 million overseas.

Sixth is Captain Phillips, which is now in its fourth weekend. The Tom Hanks starrer pulled in another $8.5 million, giving it a drop of 27%. The Sony thriller still has a shot at $100 million domestic, but it will be a bit of a struggle. Captain Phillips has earned $82.6 million domestically thus far, and is approaching the $30 million mark overseas. The film cost only $55 million to produce.

12 Years a Slave expands further this weekend, adding another 287 venues to bring the count up to a still small 410 screens. Despite the small count, 12 Years managed a weekend take of $4.6 million, giving the Oscar contender an increase over last weekend of 115%. It had a venue average of $11,220. Despite the low theater count, the Fox Searchlight release has already earned $8.8 million and cost only $20 million to make.

Eighth is Cloudy With a Chance of Meatballs 2, which ironically is getting chased by a movie about eating turkeys. Cloudy 2 earned $4.2 million in its sixth frame, and falls 33%. The $78 million Sony release has now taken in $106.2 million domestically, and another $50 million overseas.

Carrie, the Sony/MGM/Screen Gems failed Halloween release, finishes in ninth. Carrie earned another $3.4 million this weekend and fell 43%. The $30 million film has now matched its production budget stateside with a gross so far of $32 million.

Tenth is The Counselor, which gets hammered in the second frame. The Fox release fell a nasty 59% from its debut, matching the awful reviews and Cinemascore it received. The $25 million film has earned only $13.4 million so far.

Overall this weekend, numbers were better, but still not quite enough to get ahead of last year's results. A year ago, Wreck-It Ralph opened to $49 million and Flight earned $25 million in their debuts, leading the top 12 to $124.6 million. This year, the top 12 earned $121.7 million. Next weekend brings Thor: The Dark World to anxious audiences, as Marvel and Disney look to improve on the $65 million the first Thor film earned in 2011. The biggest non-Twilight or Harry Potter opener in the month of November is last year's Skyfall, which debuted to $88 million over the same weekend last year.