Friday Box Office Analysis
by Tim Briody
November 2, 2013
BoxOfficeProphets.com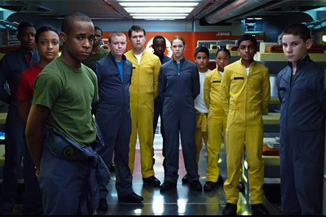 ---
Ender's Game

The well-known Orson Scott Card novel finally sees a film adaptation after many years in development hell and is met with a decent $9.8 million on Friday. Not exactly the instant franchise starter Lionsgate was hoping for, but things could have gone worse. Despite good reviews, odds are good that it peaked on Friday, so it's looking at a slightly below average weekend multiplier, but not a catastrophic one. Ender's Game is looking at a weekend of $26.4 million.

Last Vegas

Dubbed "The Hangover for old people," Last Vegas finds its niche for those whom Bad Grandpa is too sophomoric with $5 million on Friday. This is in line to be the second highest opening for CBS Films (behind The Woman in Black) with the possibility of being the fledgling studio's top earner (it would have to beat $54.3 million) should it find some legs. Last Vegas should have a pretty decent weekend of $15.5 million.

Free Birds

Sadly not a wrestling documentary, but instead a CGI kiddie release about turkeys is definitely a box office turkey, taking in $3.9 million on Friday. The rest of the weekend will be a little bit kinder, but the widest release in theaters (3,700 theaters? Really?) will earn about $13.6 million for the weekend.

Notable Holdovers

Bad Grandpa takes a 52% dive to $6.1 million in its second Friday. That's actually not bad for the franchise, really. The pile of found money for Paramount continues as it earns a second weekend of $17 million.

12 Years a Slave continues BOP's Oscar Watch as it expanded into 410 theaters and earned $1.3 million, more than doubling its Friday total over last week. A weekend of $4.4 million looks to be in store as it continues to add theaters over the next month.