Monday Morning Quarterback Part II
By BOP Staff
October 30, 2013
BoxOfficeProphets.com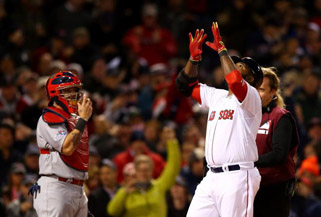 ---
Kim Hollis: The Counselor, a film directed by Ridley Scott, written by Cormac McCarthy and starring a host of big names, debuted with only $7.8 million. What went wrong here?

Edwin Davies: I think it was a combination of drab, uninspiring marketing attached to a film that is bracingly non-commercial. The few good reviews I've seen of The Counselor say that it's as bleak as anything Cormac McCarthy has ever done, which is pretty goddamn bleak and definitely not an easy sell. The ads and trailers tried to get around that by emphasizing the thriller aspect, but wound up making it look horribly generic without actually getting across what it is about. Now, more honest and straightforward advertising probably wouldn't have yielded a better result; bleakness is not something most people go to the cinema for, but it would probably have got more favorable responses since people wouldn't have gone in expecting a straightforward crime caper.

Bruce Hall: Where to begin? Marketing this film was clearly a challenge, and the material I've seen seemed to go with the whole "look at how many people are in this movie" angle. And indeed, there's quite a star studded list of names attached to The Counselor. But it was clearly a challenge to find the right context in which to pitch this movie to an audience. Beyond the fact that it was clearly a drama, there was little to tell us why we should go see The Counselor, other than the cast. No doubt this kept some people away.

As for those who did see it, I think the film's surprising lack of narrative depth confirmed the fears of many who stayed home. There are one or two clear themes The Counselor lays out for you but it assumes them to be self-evident, never exploring beneath the surface to any degree. What's worse is that while Cormac McCarthy is an able writer of prose, The Counselor represented one of his two cracks at an original screenplay and it shows. It's a very different medium and the creative well you have to draw from usually isn't as deep as it is with a novel. As a result, The Counselor amounts to some very famous people rattling off awkward, stylized dialogue about obvious things for two hours.

Which, if you looked closely, is exactly what the one-sheet said it was going to be.

Jason Barney: The film just never found an audience. People had better options and stayed away from this one. On another note, this makes more than one Cormac McCarthy story that I thought would do better than the actual results. I read The Road years ago, and thought the film would be a considerable box office presence...but it needed international revenue just to make its money back. If I recall correctly, No Country for Old Men is the only story of his that has had any lasting box office impact.

David Mumpower: The track record for Cormac McCarthy adaptations has one rule and one exception. The rule is that his movies will bomb. The exception is No Country for Old Men. Going all the way back to 2000, All the Pretty Horses grossed only $15 million against a $45 million budget. The Road was a similar disaster, earning only $8 million against a $25 million budget. So that is a pair of movies with a financial outlay of $70 million with a domestic gross of roughly a third of that total. Even if we do not factor in marketing costs and the like, those films are a disaster. No Country for Old Men is a masterpiece as well as a box office blockbuster, grossing triple its $25 million budget domestically. Its global take of $164 million is enough to turn the entire works of McCarthy into a financial success story, as long investors ponied up for the correct project. They had a one in three chance.

I never expected The Counselor to be different in this regard, which has forced me to remain silent about the movie in my household as I am from a family of book lovers. I simply couldn't see this project breaking out because the ads are so bland. Cameron Diaz in particular sticks out like a sore thumb as some calculating trollop. For a woman with the acting range of a Real Housewife, that was always a problem for me. And Javier Bardem's ridiculous hair doesn't help any. Everything about this drama has always felt over the top to me, and I am not surprised that it has failed.

Kim Hollis: I'm just not sure who this movie wanted to appeal to. Cormac McCarthy fans? That's a pretty thin market, even if he is considered one of the greatest living writers. Other than that, the cast was good, but they all looked weird. Brad Pitt was in the strange cowboy getup, Javier Bardem had more funky hair, Cameron Diaz looked greasy and skeezy and Michael Fassbender isn't big enough to sell a film. I'm guessing that this idea is one that would have worked better in novel format.

Kim Hollis: 12 Years a Slave managed a #8 finish even though it expanded to only 123 venues. Its $2.2 million weekend finish kicks off its awards campaign in a big way. What do you think about this result, as well as its awards potential?

Edwin Davies: In all honesty, I would have expected a bit more considering how deafening the acclaim is for 12 Years A Slave, but this is still an incredibly strong start for a film which by all accounts is very, very good but very, very tough to watch. That toughness might hold it back from being a huge breakout success down the road, but it's clearly set up to do very well over the awards season. In my mind, this is the film to beat.

Jason Barney: Unfortunately the film is still not playing in my area, but I have started to watch the theaters to see which venues it might hit. This is a great expansion and it makes you wonder where the ceiling will be. The limited number of screens and theaters thus far can't be a realistic measure, so we will have to wait a couple of weeks to take stock of just how successful it is going to be.

David Mumpower: I believe there is an argument that can be made on both sides with regards to the box office of 12 Years a Slave. Yes, it earned a spot in the top ten while opening in only 123 locations. That would be amazing for most films. The problem is that this weekend was top heavy, meaning that a $2.1 million debut could net a spot that high on the charts. The negative side of the box office argument is that the per-location average fell 65% from $48,617 to $17,352. That is actually not bad and in fact perfectly in line with the platform movie release rules we discussed over the years here at BOP. The problem is that if the trend continues, the movie may plateau too early in its release to be considered a bona fide Best Picture contender. Yes, it can earn a nod with mediocre box office but it is unlikely to win in such a scenario. That's a shame for a film with such glowing buzz.

Kim Hollis: I think this is a pretty damned impressive result considering the subject matter and the fact that its star is not widely known in North America. I would say that it's the buzz film of the awards season but I hesitate to call it the leader in the clubhouse just yet. I'd put money on Fassbender winning for Supporting Actor today, though.