Weekend Wrap-Up
Bad Grandpa Grounds Gravity; Counselor Disappoints
By John Hamann
October 27, 2013
BoxOfficeProphets.com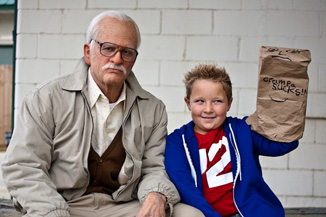 ---
The hopes for a Gravity four-peat are dashed, as one of the best films of the year is ironically beat at the box office by a film that is barely even a movie, Jackass Presents: Bad Grandpa.

Yes, Johnny Knoxville and friends took down Sandra Bullock and George Clooney this weekend, but not by as much as previous iterations of Jackass would have. The first Jackass movie came out in October 2002, and was released over the same October weekend as Bad Grandpa was this year. That first Jackass started it all, as it earned more than four times its budget over opening weekend ($22.8 million opening versus a $5 million budget). It finished with about $65 million in domestic dollars, and earned $15 million overseas before international grosses were the big thing. Earning 16 times its budget, the take from that original Jackass paid for all of the rest that followed. Those included Jackass: Number Two, which opened to $29 million and had worldwide earnings of $85 million against a budget of $11.5 million, and Jackass 3D, which exploded with a $50.4 million opening and had a worldwide gross of $171.7 million, all compared to a financial outlay of $20 million. The Jackass team also released Jackass 2.5 direct to home video and likely earned more millions, as 2.5 was basically outtakes from Number Two. These guys know how to make money – they spent $36.5 million and earned $337 million, and that's before we get to the profits from Bad Grandpa.

Eleven years after the first Jackass film was released, along comes Jackass Presents: Bad Grandpa, with the team behind these films growing up, as this one actually has some semblance of a plot. Bad Grandpa puts Johnny Knoxville into octogenarian makeup and teams him up with the young Jackson Nicholl (the two both appeared in Fun Size), with MTV Films and Paramount hoping this divergence from the normal formula doesn't put Jackass fans off. The move worked for the most part – Jackass Presents: Bad Grandpa opened to $32 million, after a Friday gross of $12.6 million (which included $1.4 million from Thursday previews) kick-started the weekend. Given the $15 million budget for Bad Grandpa, it is safe to say that the Jackass formula still works. Paramount was looking for a $20 million opening, as the studio provided the usual lowball estimate, while tracking actually got it mostly right, as the estimate had the film "approaching $30 million."

With Jackass movies, opening night is the key, as they open big and have a tendency to trail off following. The first Jackass had an opening Friday of $9.72 million, earned an extremely low 2.34 internal multiplier (weekend gross divided by Friday gross – and an indication of front loading), and finished the weekend with $22.8 million. The rest of the series followed the same model, with Jackass: Number Two carrying a 2.46 multiplier, and Jackass 3D a 2.28 multiplier. Given that Bad Grandpa had a plot, would that change things? It was slightly better, but only just.



Jackass Presents: Bad Grandpa had an internal multiplier of 2.5, continuing the extreme front loading trend of these films. The other odd thing about the series is that usually more than half of the movie reviewing community gives them a thumbs up. Bad Grandpa was a surprising 62% fresh at RottenTomatoes, Jackass 3D was 64% fresh, and Number Two was 63% fresh. Only the first Jackass was rotten, earning a still solid 48% fresh rating. Obviously, these Jackass romps have a following, even within the usually aloof critical base. Bad Grandpa received a B Cinemascore, and it will be interesting to see the drop it takes next weekend, as only Jackass 3D, with its huge $50 million plus opening, fell more than 50% in its second frame.

That means that Bad Grandpa ended Gravity's streak of number one days at 21, as it falls to number two on day 22. In its fourth weekend, Gravity dropped 113 venues, but still managed a weekend gross of $20.3 million, good for a decline of 32%. Gravity continues to amaze, as earning more than $20 million in a fourth frame is very rare. Only 18 films in history have earned $20 million plus in their fourth frames, and only five of those 18 films failed to hit the $300 million mark. Gravity will cross the $200 million mark on Sunday, its 24th day, and will become the only film released in October to reach $200 million. Gravity has pulled in $199.8 million so far, and has also accumulated another $115 million overseas, with some major markets where it has yet to debut. The $300 million mark on the domestic front is going to be a stretch for Gravity, but it has done some amazing things so far, so I won't count it out.

Captain Phillips, which is starting to play like Gravity's dance partner, is third this weekend as it also enjoys a strong third frame. Following a 36% dip to $16.4 million last weekend, the good Captain reduced its drop in weekend three, pulling in another $11.8 million, and dipping only 28%. The hold this weekend puts Captain Phillips in a position to make it to $100 million, but it will have to hold similarly for the next few frames to get there. Given that The Fifth Estate and The Counselor have imploded, adult drama takes a vacation for most of the month of November, giving Captain Phillips (and Gravity for that matter) a chance to excel. So far, the $55 million Sony feature has earned $70.1 million, and captured another $10 million from only a handful of foreign territories, where it is just getting started.

That puts The Counselor in fourth, as the big cast that includes Brad Pitt, Michael Fassbender, Javier Bardem, Cameron Diaz and Penelope Cruz can't turn the Ridley Scott thriller into a hit. The Counselor earned a meek $8 million, as poor reviews and a lack of marketing spelled the death knell for this feature. Released by 20th Century Fox to over 3,000 venues, The Counselor earned the very rare D Cinemascore this weekend, which won't help any follow up weekends. The Ridley Scott feature was only 35% fresh at RottenTomatoes, with "Top Critics" coming in even worse at 22%. The good news for Fox is that Scott spent only $25 million on this turd, so after overseas box office is earned, everyone should walk away in an okay financial position. Really, though, what a waste of some really great talent.


Cloudy With a Chance of Meatballs 2 is fifth, as the lack of kids' fare is keeping this one propped up. Cloudy 2 earned $6.1 million in its fifth frame, off 37% compared to last weekend. The Sony sequel did manage to cross the $100 million mark on Sunday, its 31st day, a feat the original completed in 28 days. The film, with its budget of only $78 million, has now earned $100.6 million domestically, and over $30 million overseas. The original earned almost $120 million overseas, and there is no reason to think the sequel won't as well, eventually.

Carrie falls to sixth this weekend, as the approaching Hallow's eve fails to lift the spirits of this horror film. After opening to $16.1 million, the Carrie remake can only muster $5.9 million in weekend two, which means it records an ugly drop of 63%. That's a severe plunge for a film that cost $30 million to make, and only has $26 million in the bank so far. Carrie will need to make some sort of splash overseas if it hopes to profitable. Sony, Screen Gems and MGM seemed to have a lot of hope for this one, but a hit it is not to be.

Stallone and Schwarzenegger fall to seventh with Escape Plan, as the $70 million miss that opened last weekend also fails to hold. The Lionsgate actioner earned only $4.3 million in weekend two, as the film with the former '80s greats loses a stunning 56% of its audience this weekend. If there is good news for Escape Plan, it is that it's already earned $28 million plus overseas. It will have to earn a lot more over there to get this one to the black.

Surprisingly, eighth spot goes to 12 Years a Slave, despite being in only 123 venues. The Oscar hopeful took in $2.2 million from that handful of venues, and earns an average of $17,480. This is a stunning result for a film this early in its run, working with so few venues. The $20 million Fox Searchlight release is just getting started with a gross so far of $3.4 million, but what a start it has been. Expect to hear a lot more about this one as the weeks and months roll on toward Oscar.

Ninth goes to Enough Said, which spends its fifth weekend in the top 12. Enough Said earns another $1.6 million this weekend, dropping only 11% compared to the previous frame. The James Gandolfini release is now at its widest, with 853 venues. This Fox Searchlight release has now very quietly earned $13 million.

Finally in tenth is Prisoners, with Hugh Jackman and Jake Gyllenhaall. Prisoners earned another $1.1 million and fell 49%. The $46 million thriller has now pulled in $59.1 million stateside, and another $42 million from overseas sales.

Overall, the box office finally pulls ahead of last year for the first time in weeks. The top 12 films earned $94.8 million this weekend, which gets it ahead of last year's top 12, which earned $81.2 million and was the only weekend Argo was on top. Next weekend brings three new releases, the animated Free Birds (finally, a Thanksgiving movie!), Last Vegas (which could play like Wild Hogs) and Lionsgate's latest hope for a franchise, Ender's Game.