Friday Box Office Analysis
by Tim Briody
October 26, 2013
BoxOfficeProphets.com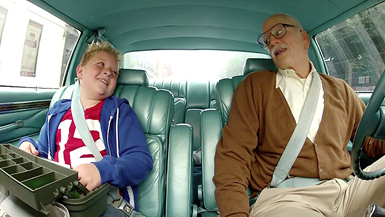 ---
Bad Grandpa

The Jackass spinoff finally dethrones Gravity from the top spot with an impressive $12.5 million on Friday. $1.4 million of that was earned in late Thursday showings but this is still a fine start. Though inexpensive to make and wildly profitable, [bp:979_]Johnny Knoxville[/bp] and company have wisely not diluted the Jackass brand (or maybe they just needed lots of time between films to recover from the injuries) as this is just the fourth theatrical offering since 2002. Despite the juvenile antics, the audience has stayed with the franchise over time, culminating with a $50 million opening for Jackass 3-D three years ago.

Going back seven years to Jackass: Number Two, we find a pretty decent box office comparison for Bad Grandpa as it started with $11.8 million and had a weekend of $29 million. Bad Grandpa should follow a similar trajectory, good for a $28.7 million weekend. Not bad for a $15 million film.

The Counselor

[bp:863_]Ridley Scott[/bp]'s The Counselor finds itself in fourth place on Friday with just $3.1 million. The impressive cast couldn't overcome the mediocre reviews, as it was the third choice of older audiences, behind Gravity and Captain Phillips. Look for a weekend of $9.3 million.

Gravity

After three weekends at the top, Gravity gives way to Bad Grandpa, but continues to show impressive legs, down 33% from last Friday, adding another $6.1 million to its total. There's a good chance it finishes the weekend by crossing the $200 million mark, and give it a fourth weekend of $20.3 million.

12 Years a Slave

Top Oscar contender 12 Years a Slave expands into just 123 theaters but is able to come in eighth on Friday with $600,000. Expected to move into wider release over the coming weeks, 12 Years a Slave immediately becomes a top film to watch as more awards bait arrives in theaters as we move into November. A weekend of $1.8 million should be in the works.