Weekend Forecast for October 25-27, 2013
By Reagen Sulewski
October 25, 2013
BoxOfficeProphets.com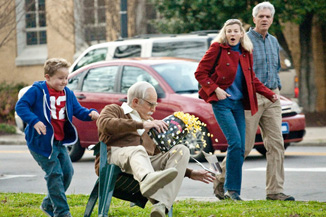 ---
Before we launch into "second summer" with November's slate of tentpole releases, there's a bit of a palate cleanser on offer – clearing out space between October's quality and November's quantity, by way of a franchise we all kind of assumed had run its course.

The Jackass guys – and more specifically Johnny Knoxville – are back after finding a new gimmick in Bad Grandpa. Knoxville, dressed up in old-man makeup, plays an 86 year-old man escorting his eight-year-old grandson across the country. Along the way, Knoxville acts the provocateur, injecting his skeevy old man behaviors into real-life situations, essentially trolling the public. There's also the standard Jackass risking-personal-injury bit as well, with the commercials notably highlighting Knoxville being launched through a plate-glass window on a mechanical horse.

This is essentially Jackass's version of Borat, with Knoxville going deep undercover to elicit "real" reactions from real people, and recognizing that he himself would be way too widely recognized for this to work without the gimmick. You could also read some things into this about how much we're willing to let old people and children get away with societally, but this is still Jackass and not a Master's thesis.

The original trilogy of Jackass movies were popular beyond all expectations, opening to over $20 million for the first two, and an astounding $50 million in a 3D version. While this is a bit of a rebranding, it's still within the same universe as those movies and ought to carry forward a lot of the Jackass audience. The box office here will be a bit of a referendum on how successfully Paramount has been able to make that connection for fans. It feels like they've been decently effective at that, and we should see an opening weekend of about $32 million.

Fans of more traditional fare have The Counselor to look forward to, the latest from Ridley Scott. Michael Fassbender stars (amidst a tremendously deep cast) as a lawyer who dives into the world of international drug trafficking and quickly finds himself in over his head with a Mexican cartel. Suspense and thrills ensue as the situation spirals wildly out of control and more and more dangerous characters enter the picture.

With an original screenplay from Cormac McCarthy, this shares a bit of the same story as No Country For Old Men, although reviews have Scott not handling this as ably as the Coens did. The biggest hope then, is the cast of the film. In addition to Fassbender, the film includes Javier Bardem as a charismatic cartel enforcer, Penelope Cruz, Cameron Diaz and Brad Pitt, in a role that's being underplayed in ads. Audiences are usually pretty good at sussing out that this means he's not the real reason to see the movie, so he shouldn't play too much into the box office. This bears a bit of superficial similarities to last year's Savages and Killing Them Softly, neither of which really lit up the sky with brilliance in box office. With those aforementioned soft reviews, this should have a unimpressive opening weekend of about $10 million.

The arrival of Bad Grandpa means that Gravity will finally fall from the top spot of the box office charts (see what I did there? Enh? Enh? Okay, I'll stop). With almost $180 million in the bank so far, it is perhaps *the* story of the fall, and is poised to become one of the top earners of 2013, regardless of what comes after. While it doesn't have Titanic-style runaway legs, it's displayed some tremendous staying power after already starting out strong. $300 million is a decent possibility here, which I don't think was on the radar of even the most optimistic among us. This weekend should bring about $21 million.

Captain Phillips is showing a strong performance as well, albeit starting out at a much lower level. It's more like $100 million on its mid 20s start, which is nothing to be ashamed of, really Tom, I mean it. You can totally look Clooney in the eyes next time you meet at the Oscars. It should bring in about $11 million for its third weekend.

Likely to fall off a cliff are last week's two new films, Carrie and Escape Plan. A remake and a way-too-late combination of '80s action stars, these represented weak sauce at the box office, and will leave us heading into Halloween week without a horror movie earning in the double figures. Carrie should fall to around $7 million, while the Stallone/Schwarzenegger team-up should drop to about $5 million.

Cloudy With a Chance of Meatballs 2 continues to hang around in a not-very-deep marketplace as the premiere family offering. It should earn about $6 million this weekend, and cross the $100 million milestone.