Weekend Wrap-Up
Openers Fail, Flop and Fizzle as Gravity Soars
By John Hamann
October 20, 2013
BoxOfficeProphets.com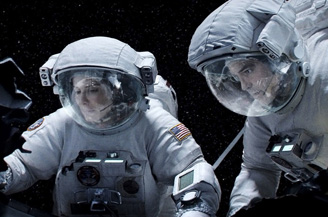 ---
There is simply no gravity with Gravity. John Mayer must be impressed.

For the third consecutive weekend, Gravity is our number one film, as three newcomers either out and out flopped (The Fifth Estate), significantly missed expectations and fizzled (Carrie), or was an epic fail idea to begin with (Escape Plan cost at least $70 million to make). So, for the second consecutive weekend, the box office is (almost) saved by Gravity, Captain Phillips and Cloudy With a Chance of Meatballs 2, as these three films earn 60% of the top 12 cumulative box office. Six films in the top 12 earned $2 million or less this weekend, as the overall box office score continues to seriously lag behind last year's totals.

Our number one film is again the beautiful thing that is Gravity, as the $100 million Warner Bros. space thriller continues to shine in its third frame. After $43.2 million frame last weekend that equalled a drop of only 23% compared to its opening, Gravity continues to defy expectations. This weekend, Gravity earned another $31 million and again had a sub-30% drop, falling only 28% from the previous frame. This weekend's take is one of the top 20 grosses of all time for a third frame, joining iconic films like Up, which took in $30.8 million in its third frame, Toy Story 3, which took in $30.3 million, and Iron Man, which earned $31.8 million in weekend three.

Gravity crossed the $150 million mark domestically on Saturday, its 16th day of release. Non-summer films that have earned $150 million in 16 days include Night at the Museum (a Christmas box office lotto winner), 300 and The Lorax (both of which opened $16 million higher than Gravity). The domestic total rises to an amazing $170.5 million, and now we start looking at where Gravity could possibly end up. Given the legs we've seen so far and the audience adherence to IMAX and 3D screenings, I would say there is at least another $100 million in the tank for Gravity, which would take it to $260 million. I believe that something fairly special would have to happen for Gravity to reach $300 million, as it's not summer and not Christmas, and Thanksgiving remains five weeks away. Overseas, Gravity is still ramping up. It has pulled in $68 million so far, but still has some big, big markets where it has yet to debut, including the United Kingdom in November and Japan in December. Worldwide, Gravity has pulled in $239 million.

It's a photo finish for second, which means good news for Captain Phillips and bad news for Carrie, the MGM remake of their 1976 original. Just eking by is Captain Phillips, the Tom Hanks thriller that got off to a great start last weekend with $25.7 million. To stay awards relevant in the shadow of Gravity, Captain Phillips needed to earn around $16 or $17 million to give the film a drop of 35%. That's another one Sony can cross of its Oscar list, as Captain Phillips earned $16.7 million this weekend and falls 35%, a decent hold considering Gravity's run and the fact that the films' target demographics overlap. Flight, last year's Denzel Washington starrer that earned him an Oscar nomination, opened to a similar $24.9 million, but then fell 41% to $14.8 million in its second frame.


Financially, Captain Phillips is going to work for Sony, as this one cost $55 million to make, and has $52.7 million at the domestic box office after only two weekends. Going back to the Flight example, that one opened slightly lower, had a bigger second weekend drop, and still managed $93 million at the domestic box office, along with $68 million overseas. Captain Phillips should perform similarly, but I expect it to earn more overseas, as the story is more international than Flight.

There was a lot of talk this week about Carrie opening to $30 million, a number I thought (knew) would be impossible for it to reach. I remember back to 1999 (yes, I'm old) when MGM tried The Rage: Carrie 2. No one showed up for that one, as it opened in second with $7 million way back when, despite a strong marketing campaign. While not quite as bad, the remake of Carrie showed up at theaters this weekend with the same bombardment marketing efforts used to no avail. This version, which at least had some star power with Chloe Grace Moritz and Julianne Moore, opened with force at 3,167 venues, but was only able to score $16.3 million over the weekend following a Friday take of $6.6 million. Tracking was looking for $30 million, but MGM was tempering that with an $18-20 million estimate. Missing both estimates shows that audiences simply weren't interested in what they were selling. The Carrie brand simply doesn't support more films than the first, iconic one.

Legs are likely not an option here, as Carrie is a horror film and the reviews were so so at best. Rotten Tomatoes has critics split down the middle, with 46 to the good and 46 to the bad. The good news for MGM and Screen Gems is that this mistake won't cost them too much. Carrie cost the studios only $30 million to make, so if it makes two and a half times the opening weekend, it will pull in $40 million plus. Add another $20 million from overseas markets and the studios should see some profit, based on the cost of producing the film. The problem is in the marketing costs, as advertising for Carrie was heavy leading up to release.

Cloudy With a Chance of Meatballs 2 drops one spot to fourth this weekend, as it continues to enjoy being the only kid-friendly title in the top ten. Cloudy 2 earned another $10 million this weekend, declining an excellent 27%, considering it's in its fourth frame. The Sony release still has another weekend on its own before Frozen Birds opens on November 1st, but for me the jury is still out on whether a Thanksgiving movie can work. The original Cloudy With a Chance of Meatballs earned $11.5 million weekend four and had a running total of $95.8 million, on its way to an eventual $124.9 million. This one will likely come up a little short in comparison, but cost about $25 million less than the original.

Escape Plan, the $70 million throwback to '80s action movies is fifth this weekend, and its failure should be a surprise to no one. The Stallone and Schwarzenegger team-up failed to draw audiences this weekend, and the Lionsgate release could only find $9.7 million over opening weekend. This is at least better than Schwarzenegger's The Last Stand ($6.3 million opening) and Stallone's Bullet to the Head ($4.5 million opening), but the budget for Escape Plan is unexplainable at $70 million. Did someone really think this would earn $200 million plus worldwide? I could see putting both of them in the jungle with Predator, or Rambo vs Commando, but not this. The story (a jail break) didn't have an impact on audiences, and off it goes into the 99 cent bin at Target.


The rest of the top ten is literally a shambles, as the bottom five – including The Fifth Estate – can't manage much more than $2 million. Prisoners is sixth, as the Hugh Jackman/Jake Gyllenhaall release pulls in $2.1 million and drops 42%. The $46 million thriller has now pulled in $57.3 million stateside and another $23 million overseas against a budget of $46 million.

Seventh is Enough Said, which added another 150 venues or so this weekend. The James Gandolfini rom-com earned another $1.8 million, and fell a tiny 6% compared to last weekend. This small film has now managed to eke out a domestic take of $10.8 million.

Eighth is The Fifth Estate, the Wikileaks release that met with the collective shrug from North American audiences. Poorly reviewed and poorly marketed, The Fifth Estate earned only $1.7 million from 1,769 venues, giving it a laughable venue average of $961. Made for $26 million, this one went from unseen Oscar contender to simply unseen.

Ninth is Runner, Runner, the three-weekend-old Ben Affleck flop. The card shark flick earned another $1.6 million this weekend and declined 57%. Made for $30 million, the 20th Century Fox release has earned $17.5 million so far.

Finally, our tenth place film is Insidious Chapter 2, which earned $1.5 million as it fell 43% from the previous frame. The horror film has earned a terrific $80.9 domestically, along with another $37 million overseas.

We see some spectacular results for some new, limited-release films. 12 Years as a Slave opened at 19 theaters this weekend for Fox Searchlight, and took in $960,000, giving it a venue average of $50,526. Robert Redford's All is Lost opened at six venues and brought in $95,000, good for an average of $15,833.

Overall, the box office continues to struggle despite Gravity. A year ago, the top 12 pulled in $121 million thanks to a $29 million debut by Paranormal Acitivity 4. This weekend, the top 12 could only find $96.4 million, as the bottom seven earned about $11 million, where a year ago, the same group brought in $38 million. Next weekend Gravity gets some real competition from Ridley Scott's The Counselor and Jackass Presents: Bad Grandpa.