Weekend Wrap-Up
Gravity Remains Aloft as Captain Phillips Set Sail
By John Hamann
October 13, 2013
BoxOfficeProphets.com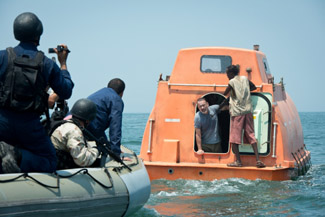 ---
What is happening? Two consecutive weekends with star-driven, adult dramas succeeding at the box office? Has North America gone mad?

Following an amazing weekend in the last frame where Gravity exploded to $55.8 million, setting an October record for a non-sequel and biggest debuts ever for stars Sandra Bullock and George Clooney, Tom Hanks arrives on the scene this weekend with Captain Phillips. Both of these films are Oscar contenders, both star-driven, and both after the adult demographic - so much so, it left me wondering if the two would cannibalize each other. We were given a preview of this matchup last weekend, as Sony held a sneak for Captain Phillips on Saturday night, and saw fantastic results despite Gravity setting records over the same frame. For Gravity, the second weekend is all about the hold; if it held two-thirds of its opening weekend box office, it would indicate a breakout success and a trip toward $200 million. As for Captain Phillips, Sony needed an opening at least similar to that of Prisoners, which debuted to $20.8 million four weekends ago, just to stay in the Oscar conversation.

Our number one film of the weekend is no surprise. The top film is Gravity, and the title in no way relates to its box office performance. Despite a very solid debut for the good Captain, Gravity continued to hit stratospheric notes at the box office. Normally, a film that opens in the $55-$60 million area can expect a fairly big drop. Charlie and the Chocolate Factory (the Johnny Depp version) opened to $56.2 million, and dropped 49.7% in its second weekend. Charlie was in no way a flop; it went on to earn more than $200 million at the domestic box office. Rise of the Planet of the Apes opened to $54.8 million, and dropped 49% on its way to $176.8 million. Mission: Impossible II opened to $57.8 million and dropped 53% in its second weekend. Gravity though has more cachet, so Warner Bros. was likely looking for a $37 million gross this weekend, which would equal about a 33% loss from last weekend. That would make the $100 million film a blockbuster, and push it further into the memories of Academy voters.

With a Columbus Day and Canadian Thanksgiving assist, Gravity did better than anyone thought likely, changing the game as we know it for the second straight weekend. In its second outing, Gravity earned an amazing $44.3 million and garnered a drop of only 20.7%. Gravity now not only holds the record for an October release, but also managed something truly historic.

On the surface, a 20.7% drop sounds great. For a movie that opens to $50+ million, it borders on record-setting. Consider that only four other such mega-openings dropped 21% or less in their second weekends. Those titles are Avatar (2% second weekend decline), How the Grinch Stole Christmas (7% second weekend decline) and Star Wars: Episode One - The Phantom Menace (20.7% second weekend decline). And if we round down, The Lord of the Rings: The Two Towers can be included due to its 21.2% second weekend decline. In other words, Gravity is tied for the third best second weekend decline for a $50+ million opener.

The accomplishment is even more impressive given the difference in release dates. Avatar's second weekend included Christmas and, as loyal readers of BOP know, that entire Christmas-New Year's Day box office period elevates the box office of all titles. How the Grinch Stole Christmas debuted the week before Thanksgiving, meaning that its second weekend was also holiday inflated. Finally, The Phantom Menace was a Wednesday release. Its Friday-Sunday total on its first weekend did not include $40.9 million in revenue from its first two days in theaters. The second weekend total of $51.4 million (also over Memorial Day weekend) is in reality much more indicative of a steep decline from the first five days of box office worth $105.7 million.

What does all of this data mean? Gravity can stake a claim as having the best second weekend hold of any $50+ million opener that was not holiday-inflated. It's either that or Columbus Day has suddenly become a box office factor. Spoilers: it hasn't. This is all about Gravity's lasting appeal.

The situation is magnified by the fact that October is historically a trainwreck for non-horror movie fare. What qualifies as strong holds for $25+ million openers in the month of October include Meet The Parents ($28.6 million opening, 26% drop) and The Departed ($26.9 million opening, 29% drop). Gravity almost doubled the debut frames of these movies and had better holds than both of them. With just two weekends in the books for Gravity, it is becoming a film whose box office we will talk about for years to come, and will inspire more top flight directors to use 3D as Oscar bait.

Gravity crossed the $100 million mark on Saturday, its ninth day, the same amount of time it took larger opening films like Fast and Furious ($71 million), The Lorax ($70.2 million), and The Mummy Returns ($68.1 million) to reach the same mark so early. Gravity is now a lock for $200 million plus, meaning it will surely finish near the top of all of Sandra Bullock's releases, as her best is The Blind Side ($256 million domestic) and second is The Proposal ($164 million). For Clooney, this is going to be his biggest domestic earner, as his top thus far is Ocean's 11 at $183.4 million. Gravity has a 10-day gross of $123.4 million, and will face off against Carrie and The Escape Plan next weekend for a third shot at number one.

That puts Captain Phillips in second, but it's a very solid second, more so than most expected (BOP's Reagen Sulewski almost nailed it with a $27.4 million estimate). Tom Hanks' resurgence worked this weekend as Captain Phillips kicked its Oscar campaign into overdrive this weekend, opening the critically acclaimed thriller at 3,020 locations. As I discussed above, Sony needed a debut for Captain Phillips above the $20 million mark. That amount or more would check that box off the "Oscar need" list, and keep it relevant as a contender going forward. Captain Phillips earned more than expected, pulling in $26 million, and garnering a strong venue average of $8,609. That's $7.5 million better than Argo's debut of $19.5 million, meaning we can consider Captain Phillips a contender.


For Tom Hanks, Captain Phillips is exactly what the star needed. Hanks hasn't been seen in a live action original hit since 2006 in The Da Vinci Code ($77 million opening), and that was mostly on the strength of Dan Brown's book. So we really have to go back to 2002's Catch Me If You Can ($30 million opening) for Hanks' last big original hit. Hanks did succeed in Charlie Wilson's War ($9.7 million opening, $67 million domestic finish) in terms of opening-to-total multipliers, but that is explained by a December 21st release date. The Terminal also saw decent legs, opening to $19 million and earning $78 million domestically. Those are the kind of legs that Sony will be looking for here, and the Paul Greengrass flick could improve on it. Captain Phillips is 95% fresh at RottenTomatoes, with only eight critics overall not liking it (out of 156). It did even better than Gravity when it comes to Cinemascore, as Captain Phillips earned an A, where Gravity earned an A-. Captain Phillips cost Sony a muted $55 million to bring to the screen, and given that like Gravity, Captain Phillips is going to be a worldwide hit and a big financial win for the studio.

Finishing third is Cloudy With A Chance of Meatballs 2, which is now in its third weekend. After a solid second frame where it earned $21 million and dropped 38% from its opening, the animated sequel held decently this weekend, pulling in $14.2 million and falling 32%. So far, the animated sequel has earned $78 million, which is exactly even with its budget. It's lagging just a bit behind the original film, as it had tallied $81.5 million after its third weekend, but had a larger, $100 million budget to contend with. Cloudy 2 is just getting started overseas as well, where it has pulled in more than $11 million from only a handful of smaller countries.

Machete Kills, the completely forgotten other opener, finishes fourth, but the ranking is not good news. The Robert Rodriguez film flopped, earning only $3.8 million from 2,538 theaters. The film, which features the likes of Danny Trejo, Lady Gaga, Charlie Sheen and Mel Gibson, is a follow-up to the small 20th Century Fox hit that opened to $11.4 million and carried a $10.5 million budget. Obviously, lightning was not caught in the bottle twice, and unfortunately, Open Road Films will take the hit, as this one cost $20 million to produce.

Fifth is Runner Runner, which also takes a football to the groin. The Ben Affleck/Justin Timberlake flop only got worse this weekend, as after opening to only $7.7 million last weekend, Runner Runner earned only $3.7 million this frame, falling 52%. Had the films outside of the top three been strong this weekend, Runner Runner would have ended up much further down the list, but will have to be happy with a gross so far of $14.1 million against a budget of $30 million.

Sixth goes to Prisoners, the four-weekend-old thriller with Hugh Jackman and Jake Gyllenhaall. Prisoners earned $3.7 million and dropped 36% from its fourth place finish last weekend. The Warner Bros. release has now managed to earn more than its production budget stateside, as it cost $46 million to make, and has a gross so far of $53.6 million. It has also pulled in almost $15 million overseas.

FilmDistrict's Insidious Chapter 2 finishes in seventh. The Jason Blum horror flick earned $2.7 million in its fifth weekend and declined 32%. Chapter 2 has now earned $78.4 million, and pulled ahead of some of its horror brethren like The Purge ($64.5 million) and Mama ($71.6 million). It's also about 25% better than the original Insidious, which took in $54 million. This one cost $5 million, and has a worldwide gross beyond $100 million.

Eighth is Universal's Rush, and the studio has to be crying after seeing returns for Gravity and Captain Phillips. After opening to only $10 million, Rush grossed only $4.5 million last weekend. This weekend, it falls another 47% to $2.4 million. Despite the domestic gross of only $22.2 million so far, the good news for Rush is that it cost only $38 million to make, and has an overseas take beyond $30 million so far.

Don Jon, the odd little film from Joseph Gordon-Levitt, finishes in ninth place. The comedy pulled in another $2.3 million but fell 44% from last weekend's take. The $6 million film has now earned $20.1 million, but Relativity committed to a $20 million plus marketing campaign when they picked it up, so they will still be looking at a loss.

Finally in tenth is Baggage Claim, the rom-com featuring Paula Patton. It earned $2.1 million, down 49%, bringing its overall domestic tally to $18.3 million.

Overall, the box office continues to lag behind last year despite being so strong with the top three films. A year ago, Taken 2 remained on top even with the debuts of Argo and Sinister. Last year, the top 12 had five new films and earned a combined $120.7 million. This weekend, the top 12 earned $108.2 million. Next weekend brings Carrie, 2013's lone Halloween release, as well as Escape Plan with Stallone and Schwarzenegger and The Fifth Estate, about Wikileaks founder Julian Assange.