Weekend Wrap-Up
Gravity Lifts Box Office; Runner Limps
By John Hamann
October 6, 2013
BoxOfficeProphets.com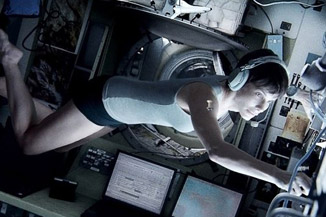 ---
It's a good thing Sandra Bullock, George Clooney and Gravity showed up at theaters this weekend. If they hadn't, the frame would have been a disaster. Instead, the 3D space epic opens as the largest October release ever, and sets the bar for all Oscar comers.

Gravity has been hurtling towards us for a few weeks now, as the Alfonso Cuaron project showed up at a number of film festivals, including its premiere as the opener for the Venice Film Festival, and gorgeous reviews started to roll in. Early critics said things like "the most realistic and beautifully choreographed film set in space," or "it thrills on so many levels," or "a master class in film making," just to name a few. They touted that this is how 3D should be used, that Sandra Bullock was perfect in the role, and that this one is a sure-fire Oscar contender. This is the type of film that I wait for years for, the kind that we should all support. Too often, these really good films go unseen, and man, this is a good one. Currently, Gravity is 98% fresh at RottenTomatoes – 211 listed critics have posted, and Gravity has received only five negative reviews. The site's top critics – 48 of them – all gave Gravity a big thumbs up.

The critics chimed in positively, leaving Gravity in the hands of moviegoers, the people who are most important to the film making process. It would appear that audiences caught the signals Gravity was sending, as through Thursday midnight screenings, Gravity earned about $1.4 million, an impressive debut for an adult-oriented Oscar contender. It went on to pull in about $17.5 million on Friday, making the Warner Bros. release a mega hit. That Friday number is more like $16.1 million with the Thursday midnight screenings removed, but regardless, it is still a mammoth opening day for a drama/thriller released in October. The Departed, another highly anticipated October Oscar release, earned $8.7 million on Friday, or about half of what Gravity did on opening day. Argo earned $19.5 million all weekend; and $5.9 million opening day. Gravity combines star power, an epic location and simple quality for the perfect box office storm.

Saturday and Sunday were also big for Gravity. On Saturday, the epic earned another $23 million, while Sunday was good for $15 million, leading to a huge overall weekend score of $55.6 million. Its weekend multiplier (weekend box office divided by Friday box office) was an amazing 3.17, and actually a little better if you pull the Thursday sneaks from the Friday total.

That means Gravity is the highest October opening ever, ahead of Paranormal Activity 3 ($52.6 million), Jackass 3D ($50.4 million) and Taken 2 ($49.5). It is also the biggest debut of both Sandra Bullock and George Clooney's long and respected careers. For Bullock, The Heat was her previous best, starting with $39.1 million in June of this year. For Clooney, Gravity finally washes away the opening total for the insanity that was 1997's Batman and Robin. That ill-fated attempt at success debuted with $42.9 million, so Clooney will be happy to have that behind him.

The real winner here though, in my opinion, is 3D. After a few years of 2D to 3D conversions for the sake of the mark up only (Clash of the Titans), or just simply using 3D despite no real impact to the film (Jack the Giant Slayer), we have seen the brand muddied to no end. With Gravity, with have a real Oscar contender (sorry, Hugo) that can thrust 3D into the limelight. Filmmakers need to start using 3D the way it was meant to be used, like with a spacewalk gone awry. Hopefully audiences will start being able to spot the fakers, and promote films like Gravity that are actually doing it right.

Warner Bros. spent $100 million making Gravity, and for a movie released in October, that is a huge budget and a definite gamble for the studio. What's more, Warner Bros. put forward a truly impressive ad campaign, marrying the gorgeous visuals of Cuaron's film with the outstanding reviews. The trailers were outstanding, as was the lead up to release. As we discussed with Prisoners, it has become a very shrewd move for studios to stir up discussion at these major film festivals, which then lead into North American advertising campaigns. We saw Prisoners play its hand well, but now we have seen the masterstroke of Gravity's marketing. Warner Bros. will earn that $100 million production cost domestically quite easily. It will also earn that marketing cost back stateside should legs be decent (and I don't doubt that they will be), leaving overseas revenue as profit for the studio. I love this movie, but I love audiences for supporting it on opening weekend even more.

I would be happier leaving this column at Gravity, but finishing second this weekend is last weekend's number one film, Cloudy With a Chance of Meatballs 2 (it's fun just saying it!!). The animated film was looking for a decent hold, but with Gravity on display, it must have been tough for Cloudy 2 to keep the 3D screens it had last weekend. Cloudy With a Chance of Meatballs 2 earned $21.5 million in its second frame, which means it fell 37% from its opening weekend score. That's a typical second weekend drop for an animated kids flick, especially since the 3D screens would have been in short supply. Also, Cloudy 2 is a sequel, which means those that really wanted to see it might have rushed out over opening weekend. Cloudy 2 is still on target for a $100 million domestic take, and with a lower budget this time at $78 million, Sony is going to make out just fine with this one. Cloudy 2 has the kids market sewn up until November 1st, when Ender's Game and the animated Free Birds hit theaters. So far, Cloudy 2 has earned $60.6 million stateside and is just getting started overseas.

Third goes to Runner Runner, the new film with Ben Affleck and Justin Timberlake. If it's got Big Ben, it must be good, right? Right? Ummm, no. Runner Runner is the antithesis of Gravity. Runner Runner, a poorly put-together card shark film with some decent names, earned a sad $7.6 million over opening weekend for 20th Century Fox, who will be very happy that they only spent $30 million making this dreck. The thriller was an ugly 8% at RottenTomatoes at the time of this writing, or a county mile away from the 96% fresh rating Argo earned when it was released a year ago. There is nothing to see here, and I advise that we all just move on.

Fourth spot goes to Prisoners, which can't seem to get it back together after a decent opening of $20.8 million. Last weekend, Prisoners dropped 48% to $10.9 million, and this weekend it follows the same trajectory. Prisoners earned only $5.7 million as it falls another 47%. After that great opening, Prisoners is just at the point of making its $46 million production budget back, but will likely only make $10 million more, which means it will have to rely on overseas grosses for Warner Bros. to see any kind of profit. So far, Prisoners has pulled in $47.9 million, as the once bright light has been quickly extinguished.

Fifth goes to Rush, another Oscar worthy film going down in flames at the domestic box office. Rush, Ron Howard's ode to Formula One racing, went wide last weekend and pulled in an unexciting $10 million (or what Gravity earned by Friday afternoon). This weekend, things got worse as the racing film pulled in only $4.4 million and fell 56%. Rush will now do even worse than Prisoners on the domestic front, because it will not even earn the $38 million it cost to make stateside ($28 million will be a stretch). Where it will do well though is overseas, where it has already earned 30 million. Thus, the worldwide take will keep this one from going up in flames. Give Rush $18.1 million at the domestic box so far.

Sixth is Don Jon, another arty Oscar beggar that is flailing. The Joseph Gordon-Levitt release got off to a decent start last weekend with $8.7 million, but falls 52% this frame to $4.2 million. These films are receiving terrific reviews but they're not holding, and we can't blame Gravity for everything. Again, production costs were low here at $6 million, but Relativity committed to spending $20 million plus on advertising, and Don Jon has only earned $16.1 million so far.

Seventh is Baggage Claim, another film that got off to decent start last weekend ($9 million in this case) but can't hold. In its second weekend, the Paula Patton release earned only $4.1 million, which means it dropped 54%. Made for only $8.5 million, this Fox Searchlight release is heading quickly for the exits.

Eighth is Insidious Chapter 2, the horror flick that won't be around for Halloween. Insidious Chapter 2 earned $3.9 million in weekend four, good for a drop of 41%. Chapter 2 turned into a big hit for FilmDistrict and Jason Blum, as the on-paper cost was $5 million and the gross so far has reached $74.8 million.

Pantelion Films strikes again as they come up with another top 10 finish. Instructions Not Included may no longer hold a spot, but it's been replaced with Pulling Strings, a bilingual film set in the world of mariachi. Opening in only 387 locations, Pulling Strings earned $2.5 million and comes up with the second best per venue average in the top 10. Lionsgate has made a very smart move creating this niche distribution arm, because it's clear that the Latino audience will support the films being produced here.

Finally, 10th place goes to Enough Said, the Julia Louis-Dreyfuss/James Gandolfini romantic dramedy. Fox Searchlight added another 210 theater this weekend, and the result was a slight increase in box office. The extremely well-reviewed film earned $2.2 million, up 2% compared to last weekend. So far, this small film has earned $5.4 million.

Overall this weekend, Gravity saves the day because without it, theaters would be crying the blues. The top 12 films this weekend pulled in $115 million, well back of last year when Taken 2 earned almost $50 million leading the top ten to $132.7 million. Next weekend will bring the showdown between Captain Phillips and Gravity, as the two Oscar contenders go head to head, along with the debut of Machete Kills.