Weekend Forecast for October 4-6, 2013
By Reagen Sulewski
October 4, 2013
BoxOfficeProphets.com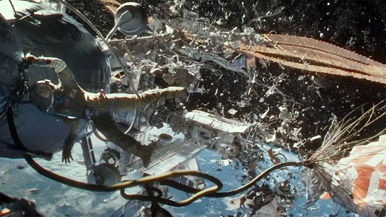 ---
As exhibitors struggle to remain relevant in the age of direct download and day-and-date releases, many have realized they need to present something that can't be recreated in the home theater experience. It's why franchise movies have become such a thing, and this weekend shows another way studios are looking to get people motivated to leave their house – pure spectacle.

Gravity is Mexican director Alfonso Cuaron's first feature film in almost seven years, and like that film (Children of Men), technical virtuosity is at the forefront in the promotion of the film. Sandra Bullock plays an astronaut/medical tech caught in a storm of orbiting debris that sends her spinning off potentially into deep space. Also adrift with her is another astronaut played by George Clooney, and the two have to work together in the most hostile and difficult environment possible to survive.

Early word on the film has been ecstatic, with none other than James Cameron calling it the best space film ever made, and while that's probably overselling a bit, it's not some random schlub who wouldn't know any better. Filmed in 3D and optimized for IMAX screens, it seems to be one of the films for which 3D was intended in the first place, and would just not have the same impact any other way. At least, that's what movie exhibitors are counting on. Early promotion for the film took the unusual form of releasing full length scenes from the film, including most of the central incident that sets the film in motion. The idea seems to be "if this is how awesome it looks on a 17" computer screen, imagine how great it'll be in 3D and five stories high!". It's the epitome of selling from a place of confidence.

While reviews and studio confidence could not be more positive about the film, it does seem to be self limiting in one fashion – it might just be a little too intense for people to put up with. In some ways it's essentially a horror movie, just with an invisible villain and with a more practical solution to defeating it. So we have, in various degrees, amazing FX, a couple of A-list actors, a proven director and thrills – but just maybe too many for it to really blow up big. But blowing up medium? That sure seems very likely. Analogs for this are difficult to come by – you almost want to compare it to Tron and Avatar, but neither of those seems really applicable. The disaster movie craze of the early to mid '00s seems somewhat relevant but the scale of this is so intimate and personal that none of those seem to work as well. Ultimately, I think the gimmicky nature of the film is going to attract a large number of curious viewers and should bring the film to around $43 million this weekend.

This weekend's other wide release sees the writers of Rounders return to the world of card playing, albeit in a much more indirect way than making a sequel. Runner Runner stars Justin Timberlake as a college student/online poker wiz (two things that would seem to peg this as a film more appropriate for earlier in the decade), who loses his entire bankroll in a ...suspicious way. In response, he flies to the Caribbean to confront the owner of the site (played by Ben Affleck), since that's the only way he could have lost the money, it would seem (I don't think he thought this through). Somehow instead of being dumped into the ocean, he's put in his employ, and introduced to the dark underbelly of online offshore gambling.

It's your standard "naive kid in over his head" thriller, and it has a long tradition ranging from the good (films like The Firm) to the bad (the recent Paranoia, which you have probably already forgotten about). The casting plays a bit like a sketch comedy group's idea of a thriller. In particular, Affleck as an intimidating villain is a bit hard to swallow, although he's giving it his full douchebag. You don't even have to think back too many years before he'd have been playing the other lead role in this. Timberlake has shown to be a decent low-level draw, with openings in the pre-teens when he's asked to be the biggest draw. I'd say that's about what we're looking for here as well, as this looks competent but not special. Give it about $12 million for its debut.

Cloudy With a Chance of Meatballs 2 felt like a slight disappointment despite winning the weekend and improving its opening weekend by a few million over its previous entry. With how well the first film was loved and given its legs, you might have been forgiven for expecting a bigger jump. The lack of a clear idea of a story, and soft reviews might have hurt here. In any case, it is still the biggest family show in town, and a second weekend of $21 million should be in the works.

A couple of highly rated dramas fall in line next – Prisoners and Rush both earned a little over $10 million last weekend. The former, however, had the benefit of being in its second weekend of wide release, so it's a little less concerning of a number. Rush is hoping to earn some Oscar nominations, but finds itself fighting upwards now, since box office plays so strongly into Oscar potential. Both these films should pull in about $6 million this weekend.

Joseph Gordon-Levitt's anti-romantic comedy Don Jon earned a little under $9 million in its debut, which is about what you might expect for something described that way. It's maybe even a bit of an overachiever, given its porn connection that wasn't really advertised. For weekend two, this should find a modest $5 million or so on its way to around $30 million total.