Weekend Wrap-Up
Cloudy 2 Reigns Over Adult-Oriented Fare
By John Hamann
September 29, 2013
BoxOfficeProphets.com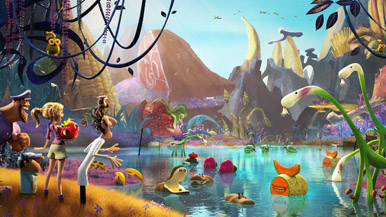 ---
It's moving weekend at the box office over this late-September frame, as four new major releases appear, along with a 3D limited release and the expansion of a high profile platformer. That means some of the crap gets flushed this weekend, as we had some real old-timers in the top 12 last weekend.

It was never really a race to number one, as the animated sequel, Cloudy with a Chance of Meatballs 2, was facing off with some dramas and rom-coms. The other new openers and platformers were all adult films that didn't have a chance against the kids flick, particularly since the marketplace has been bereft of anything for the younger set recently. It's still September, so the likelihood of Cloudy 2 breaking out was limited. Tracking was hoping for $40 million plus, with Sony desperate to keep those expectations in check, calling for $30 to $40 million. The original opened to $30.3 million over a similar September weekend in 2009, thus setting the bar for the sequel. The first film earned $124.9 million stateside, and $118 million overseas, giving it a combined $243 million take compared to its $100 million budget. Add a strong DVD/Blu-ray release to those numbers, and Sony greenlit a sequel.

The mouthful that is Cloudy with a Chance of Meatballs 2 improved on the original's opening weekend box office this weekend, though not by much, missing the higher tracking predictions, but fitting nicely into Sony's estimate. Cloudy 2 opened on Friday with $9.7 million, and used a strong 3.6 weekend multiplier to turn that Friday into a three-day take of $35 million. The original had a similar internal weekend multiplier of 3.7. Sony made a smart move as they reduced the budget for the sequel, with this one coming in at $78 million versus the original's $100 million. I've always assumed that there are production cost savings for animated sequels as the characters are already created, but those savings would be balanced out by higher fees for voice actors. If the "three times" rule is correct (movies must make three times the production budget back worldwide to be profitable), Cloudy 2 would need to make $234 million worldwide to see profit for the studio, which is $9 million less than what the original earned.

For Sony Animation, a small fish in a world dominated by Pixar, Disney, DreamWorks and the Despicable Me franchise, breaking into the big leagues with these brands has proven difficult domestically. Their biggest release remains Hotel Transylvania, which was released last September. While that film was their biggest, it still managed "only" $148 million in domestic ticket sales, and is followed by the original Smurfs film, which took in $143 million. Where Sony seems to shine, though, is with their overseas sales for these animated films. Hotel Transylvania made $200 million on foreign shores, and the two Smurfs films have combined for $660 million in overseas sales. Currently, Sony Animation has no titles on tap for 2014, but Popeye and sequels to their biggest films (Hotel Transylvania, Smurfs) are set for release in 2015.


Second place goes to last weekend's number one film, Prisoners, starring Hugh Jackman and Jake Gyllenhaall. Prisoners stumbled in its second frame, earning only $11.3 million and dropping a large 46%. Given the strong opening last weekend, I thought this one would have held better, but with a lot of new product out this weekend, and both Rush and Enough Said expanding, adult viewers went elsewhere. Remember, this is a dark, adult thriller – a film that wouldn't normally open beyond $20 million, but did thanks to the star power involved. Prisoners cost $46 million to make, and has a domestic take so far of $39 million. It should find similar business overseas, where it's just getting started. It opened in the UK this weekend, followed by its Australian debut in mid-October.

Finishing third this weekend is Ron Howard's Rush, a film that just about everyone knew was going to struggle at the domestic box office. A film about Formula One racing, centered around real life racers many Americans have never heard of, is destined to struggle, despite starring Thor and being directed by Opie. Last weekend, Rush opened in limited release where it took in $187,289 from five theaters, good for a venue average of $37,458. Sounds pretty good, right? Problem is, the romantic comedy Enough Said also opened in limited release, and earned almost $50,000 more than Rush, despite being in one less venue. That simple statistic told me that while some were interested in the well-reviewed Oscar contender, the walls weren't being pushed down to get in to see it.

Rush expanded to 2,297 venues this weekend, and earned $3.7 million on Friday night. Neither really good or really bad, the Universal release parlayed that opening day into a weekend take of $10.3 million. Universal will be happy that they were able to eclipse the $10 million mark, but I imagine they were looking for a $15-20 million debut, like Argo's $19.5 million last year. A higher amount would have reduced the pressure to hold well in its follow-up weekends, as this one does not want to lose the eye of Oscar. Reviews have indicated that the two lead performances here are worthy of Academy Awards.

Given the venue count Rush was given, Universal has left room for the movie to expand, but with Gravity opening next weekend (with $30 million plus expectations) and Captain Phillips the weekend after, it is going to get crushed underneath early Oscar contenders (see Prisoners this weekend). The good news financially for Rush is that it was not an expensive film to make, with a budget at $38 million. That's a number this one could make domestically given its A- Cinemascore, as well as big amounts coming from overseas, since this is about a European sport. Rush has already taken in $7.5 million from the UK, and $2.5 million in Italy, which means that the producers of this independent release are pretty much guaranteed to make money. I predict that Rush will make as little as 25% of its overall take from North American box office.

Baggage Claim, a film starring several beautiful people, takes fourth place. A rom-com that features Paula Patton, Djimon Hounsou and Taye Diggs, Baggage Claim earned $9.3 million from 2,027 venues. That's about what it cost to make the film ($8.5 million), so financially this one should be in pretty good shape. It did not find the success of Jumping the Broom, Paula Patton's last rom-com. That 2011 release opened to $15.2 million and finished with $37.3 million.

Fifth place goes to is the independently produced pick up for Relativity Media, Don Jon. Directed by and starring Joseph Gordon-Levitt, Don Jon is a tough movie to market to the masses, as it is darker than your usual Katherine Heigl rom-com. However, with Gordon-Levitt and Scarlett Johansson above the title, Don Jon did do decent business this weekend, taking in $9 million from 2,422 venues. The cost to produce Don Jon was only $6 million, with Relativity picking up distribution rights for only $4 million. Reviews were good for this one at 81% fresh, but this appears to be a critic's movie, as the Cinemascore came in at a poor C+. Don Jon should see $25 million plus domestically, and go on to similar business overseas.

Now that he has written, directed and starred in a successful independent film, Joseph Gordon-Levitt has become the IT thing in Hollywood. Following appearances in some huge movies like the Dark Knight Rises, Inception and Lincoln, Gordon-Levitt is making some seriously good choices about who he works with. He has completed filming on Sin City: A Dame to Kill For, another buzz-worthy sequel directed by Robert Rodriguez.

Insidious Chapter 2 finishes in sixth, and it was hoping to a have a better frame than last weekend when it fell 66%. It did do slightly better, as the sequel pulled in another $6.7 million, off 51%. While the drops here are not quite as severe as The Purge (76% first weekend drop, 57% in weekend 2), Insidious Chapter 2 is following the same pattern as the last Jason Blum release. The Purge opened to $34 million and finished with $64.5 million; Insidious Chapter 2 opened to $40.3 million and has a gross so far of $69.5 million.

Another film struggling to hold is The Family, the Robert DeNiro/Michelle Pfeiffer mob comedy. Since opening to $14 million, The Family fell 50% last weekend to $7 million, and falls another 48% to $3.7 million this weekend. Made for $30 million by Luc Besson, The Family will have to hope for brisk business overseas, as domestically it has earned only $31.7 million so far.

Eighth, ninth and tenth go to films that have been in the top ten for a long time. Eighth is Instructions Not Included, the Spanish language comedy. Instructions earned another $3.4 million this weekend, down 37%. It will pass Pan's Labyrinth shortly as the fourth biggest foreign language release ever next weekend. It has pulled in $38.6 million domestically against a $5 million budget.

We're the Millers is ninth, as it earns $2.9 million in its eighth weekend. It is now the 32nd biggest movie to never reach number one, as it passed Slumdog Millionaire and The Blair Witch Project this weekend. It has amassed $142.4 million so far domestically, and is approaching $85 million overseas.

Tenth is Lee Daniels' The Butler, which pulled in another $2.4 million this weekend. The $30 million feature has now earned $110.3 million for The Weinstein Company.

In limited release this weekend, Metallica: Through the Never had a strong frame. It tallied $1.7 million from 308 venues for an average of $5,482. Produced in 3D and showing at IMAX theaters, this one cost $18 million, so Picturehouse will have to hope it holds for a while.

Enough Said also had another strong frame. The James Gandolfini posthumous release earned $2.1 million from an expanded 227 theatres. This weekend it had a venue average of $9,317, and has a gross so far of $2.5 million.

Overall this weekend, things were better than last weekend's showing, but returns still lag versus last year. The top 12 films this weekend earned $98.1 million; last year, with a strong debut by Hotel Transylvania, the top 12 managed $106.7 million. Next weekend brings the much anticipated Gravity to theaters, along with Runner Runner, the card shark movie with Ben Affleck and Justin Timberlake.