Friday Box Office Analysis
by Tim Briody
September 28, 2013
BoxOfficeProphets.com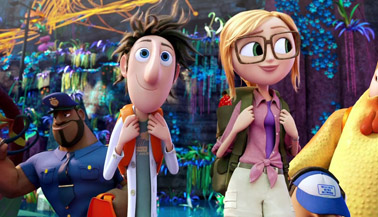 ---
Cloudy With a Chance of Meatballs 2

Animated sequel Cloudy With a Chance of Meatballs 2 starts off with $9.3 million, which is a nice start. There hasn't been an animated entry since Planes nearly two months ago, so Meatballs 2 is also benefiting from some demand for something family friendly. It's actually been four years since the first entry, which started with $8.1 million in September 2009 and finished with a $30.3 million weekend. Expect as strong a Saturday here as the original had, which would power it to a $34.6 million weekend.

Rush

[bp:1802_]Ron Howard[/bp]'s Rush expands into wide release with a bit of a thud, earning only $3.7 million. Despite strong reviews, the Chris Hemsworth film couldn't find mass appeal, probably because the subject matter just isn't appealing enough. Give it a weekend of $11.4 million.

Don Jon

Joseph Gordon-Levitt's Don Jon earns $3.3 million on Friday, an okay start for his directorial debut. The good reviews and appealing leads should be good for a few extra bucks as it makes the best date night option of the weekend, so look for it to start with a weekend of $9.5 million.

Baggage Claim

The African-American targeted romantic comedy Baggage Claim started with $3.2 million, just fine for a targeted, niche demographic film in just 2,000 theaters. Let's just give it a not terrible weekend of $8.9 million and call it good.

Metallica: Through the Never

With the bottom half of the box office consisting mostly of driftwood, an IMAX concert film featuring Metallica was able to crash the top ten with $783,000 in 308 theaters. By the end of the weekend, it will be the most successful Metallica film ever (their 2004 documentary, Some Kind of Monster, earned $1.2 million in limited release). A weekend of about $2.3 million is pretty darn good.

Prisoners

Last weekend's winner drops 51.2% to $3.4 million, which was probably to be expected considering the darker subject matter. The [bp:195_]Hugh Jackman[/bp]/[bp:1336_]Jake Gyllenhaal[/bp] film should come in with a second weekend of about $11 million.